SXSW Diary - Thursday, March 16
I hung out with my family and missed everything that I meant to see in the afternoon. The first shows kicked off at high noon – too early even for parents. But I had my father drop me off at the Roky Erickson show at the downtown Threadgill's in the late afternoon. It was a lot like high school. I had him drop me off a block away so no one would see that I wasn't old enough to drive yet.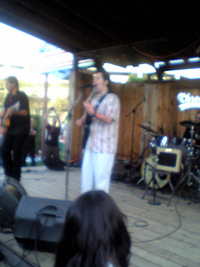 Roky's super-important to me. I had the advantage of inheriting the first two 13th Floor Elevators albums from my step-father during my adolescence when I was just getting into classic rock – and growing up hearing all kinds of Roky lore throughout the twenty-six years I lived in Texas. Though I got him to sign my copies of Psychedelic Sounds of and Don't Slander Me at a 1990 in-store, and saw him performed publicly a couple of times during my decade in Austin, those were some of his only public appearances. So seeing him for me is the equivalent you getting to witness Hendrix – improbable, incredible, and… I peed my pants…almost.
The only tragedy is that, at this point in life, parents drag their feet getting to the gig more than even drummers so I only caught the last three songs in their entirety. I can tell you right now that they were "Bermuda," "You're Gonna Miss Me," and, for an encore, "I Walked With the Zombie." But it was fifteen minutes of pure heaven. The outdoor playpen was full - but not so much so that you couldn't walk right up and put your finger on Roky's shoe. That oh-so-familiar voice, one of America's great natural wonders, was, while not at the peak of its power, intact and escaping his mouth much more effortlessly than you'd imagine. The Rock was cool and confident – and playing guitar to boot. It was a drastic improvement over his few awkward appearances in the 1990s – both in that you got the sense that Roky's gonna be all right and that he was much more in command musically. Also it didn't hurt that he was backed by one of his better bands ever - The Explosives. I'm not exactly sure how many original members, but they rocked with passion and taste. That voice is still in my head. A total revelation. I gotta find some more of that - and soon. Of course, since I was so excited, I forgot my camera, but at the top of the page there's a lame photo I took with my phone after about a dozen even lamer attempts.
Next I found myself at Trophy's checking out Atlanta's A Fir-JuWell, whose music impressed me on record but much more so live. I don't know how long those fellas have been on the road, but they had this look that I know all too well – low-guarantee band paying their dues in the middle long tired run. Bags under eyes, messy hair, dirty clothes, sweating out hangovers by playing the hell out of their songs whether or not there's anyone to witness it. The audience wasn't actually that bad and they were phenomenally quirky in a very informed southern way - fusing 60s and 70s pop, Muscle Shoals soul, Piedmont blues, kazoo hokum, even raggy stuff, and all things good and decent about American music. I wouldn't mind another taste of that either.
On another Trophy's stage I found the legendary Texacala Jones, the shouter for Tex and the Horseheads. Tex looked and sounded great – particularly with her all-star Austin duo guitar team of Kurtis D. from Liquid Mice and Rigo from Drunken Thunder. Sadly I had to split before they finished to go help prepare Viva l'American Death Ray Music drummer Jeff Bouck for his shows with Cause for Applause,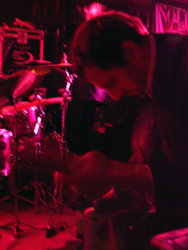 After practice Jeff and I popped out just in time to get to the Goner Records showcase to catch the solo project of his bandmate Harlan T. Bobo. Harlan's a really interesting cat with a really prolific, wide-ranging, and somewhat bizarre secret musical history. I'd been hearing about his orchestral singer/songwriter project for some time but had no idea what to expect. Harlan came out with only a rhythm section and proceeded to do one of the better sets of the festival. His eyes popped out of his head and his head popped out of his neck and his veins popped out of his neck and his neck popped out of his collar with the type of intensity that you don't come across every day. Even better, it's totally for real. If you didn't know better you might think he's a serial killer. But far from it, he is in fact a man playing his unusual guitar rhythms and phrasing his unusual voice against them with a poetic tension. The songs were structurally-soud gems with some seriously heavy-duty lyrics. Also his backing fellas did a fine job of being tastefully invisible but indispensable. Unsettling but intriguing - and probably addictive.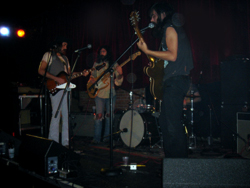 Next we slid a few blocks south for something a bit more familiar - my favorite NYC band Vietnam. It was a bit of a reunion of sorts as three-fourths of that band is originally from a similar peer group in Austin – so there was lotsa huggin and kissin and hi-fivin and pushin and shovin all over the room. In New York Vietnam is a sonic link to home for us Texas migrants - but that relationship is turned on it's head in Austin, where they represent us citified New Yorkers. When I saw legendary producer Spot behind the soundboard I knew they were in good hands. They had a fifth member this time adding lap-steel and keys and put on a helluvah set. I'm so used to these guys and they're so consistently soulful, rockin', and tight that it's hard for me to discuss their sound. All I can say is that, where-ever they are and whatever they signify, they can represent my sonic world any time.
After that we hurried up to Room 710 to see one of my all-time guitar heroes, Helios Creed, playing under the moniker of one of my favorite bands ever, Chrome. I wasn't exactly positive why he chose the name – as he was the only Chrome member on stage when they came up. Spotting Jerry Page from Crust plugging in his guitar encouraged my notion that I was in for some pure amazement. The band started out really strong with some oldies including a superb and faithful "March of the Chrome Police" – which was, needless to say, a cold clammy bombing. Helios' vocabulary of guitar sounds is as artful, masterful, and spectacular as ever - and he did a fairly credible Damon Edge. Then Fabienne Shine got on stage. She was singer of the 1970s French hard-rock band Shakin' Street – and ex-wife of Chrome's Damon Edge. She also did backing vocals in Edge's late-period Creed-less French band that was also named "Chrome." She looked great and could sing – but totally dominated the sound and the set with her overbearing voice and persona - and robbed it of everything it was before she entered the picture - an allegory of the story of Chrome.
After meeting the lovely Jennifer Krako who just fell off of her plane, we shuffled over to the Velvet Spade and caught a little of the n0 things – whose sound mix was so bad that I thought they were doing an instrumental set before I looked up from the bar a few feet away to see HiM's mouth moving. I missed An Albatross and dug in to check out Measles Mumps Rubella on the patio. The band played well - but, though you could hear their vocals, they had an ear-bleedingly horrible mix that drove a number of folks out. After we located a spot directly in the front-middle of the stage and out of the line of the P.A.'s assault on the band, the audience, and all things sonically pleasing, we were able to get down. MMR really knows how to establish creative instrumental relationships that are never at the expense of their hard groove. Their new trumpet-wielding vocalist also deserves a shout out. He deserves to meet Will Lemon from Moon and Moon, who, if blurred a bunch, and sans moustache, is definitely this fella's musical and physical doppelganger.
And then it was off to find the vehicle in a labyrinth of drunken industry folk and frat boys. Are you going to any of the afterparties? Fat chance...
Three more days? Can you take it?
Go forward to the March 17 SXSW Diary
Step back to New York Night Train's SXSW Home
© New York Night Train , 2006