SXSW Diary - Saturdaay, March 18
Again, photos by Deb Pastor... and they're clickable...
We filled another carload of equipment and went back the Velvet Spade. After devouring some quick dinner and dealing with the downtown parking fiasco and the walk that followed, we sadly missed the first couple of bands, Tsk Tsk and Sistas in the Pit, and were there just in time for Nervous Exits. I saw a few amazing songs and was looking forward to more, but went upstairs to put my guitar up in the band room and get my stuff ready as my band was playing next. I gave Jello Biafra a couple of CDs, and started getting my stuff together. A few minutes later Kid Congo came upstairs with news that the singer/bassist for Cause For Applause and bassist for the Pink Monkey Birds, David Lloyd, had been arrested and probably couldn't make the show. I called Jack Martin, guitarist for both bands, who was with him. He said Lloyd was handcuffed and was being held for driving without a license. I told the stage manager, she got in touch with the person in charge of SXSW on the Red River strip, who got in touch with the SXSW liaison with the Austin Police Department. They got back and asked the name of the officer and the street they were pulled over on. Ten minutes later Jack called back and said they were taking the handcuffs off of David. Praise the lord for good ol' Texas back-slapping behind-the-scenes machinery. The festival arranged for them to give the car to some interns and hop on stage.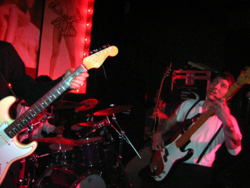 In the meantime Cause for Applause was scheduled to go on. Jeff (our phenomenal pickup drummer) and I took our time setting up the equipment. He got one of the longest drum checks in SXSW history and I checked all of the amps and mics. our two bandmates suddenly appeared, tuned up, plugged in – and we gave 'em the best twenty minutes we could considering our many handicaps. It seemed OK but can't really say because I didn't see it. But the energy was good, the place was packed, the audience was enthusiastic, and we were sweaty.
Jeff and I then abandoned the stage, Kid plugged into my amp (actually Aaron from Knife in the Water's beautiful Vibroverb - thanx again Aaron) and Lyman sat down behind Jeff's kit and,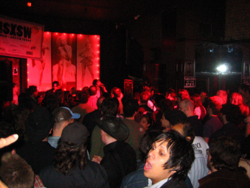 within minutes, Kid Congo and the Pink Monkey Birds were dishing it out to a crowd overflowing into the bar next door . They did "History of French Cuisine" from his new one, "La Historia de un Amour" from his 1989 solo EP (re-released this year on Solo Cholo), and a few others. A crowd was eating out of Kid's hand for the second time that day, particularly when he did "Sex Beat." He and Jack's exercise in dual guitars was breathtaking and the pickup rhythm section sounded like they'd been playing together and with the band forever. One of the best Pink Monkey Birds shows I've ever seen.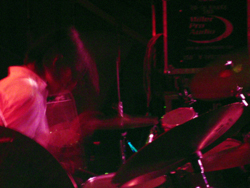 Finally Viva l'American Death Ray Music took the stage for what proved to be the final show I witnessed that day. Though Nick lives in New York, Harlan lives in Memphis, and Jeff lives in Austin, Death Ray always astounds me in that they can just show up unrehearsed and sound like they never skipped a beat. Due to earlier events, tonight's set was a little shorter than they'd hoped but they really pulled out all of the stops. Since every few days or so someone or another tells me that Death Ray is their favorite band, it wasn't unusual to find audience-members singing along here and there – but not too much as the band did quite a few newish songs. The perfect finale for an exhausting but amazing day of music.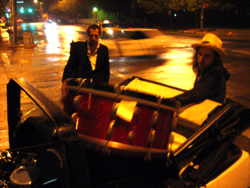 We slowly scooped up all of the gear and Death Ray, Lyman, Jen, Deb, and I loaded everything into a couple of cars. Though everyone was talking about hitting all of these fancy parties – even one that ZZ Top was rumored to be playing at, I couldn't wait to go back to my parents' house and collapse. I must've been really tired to have picked zzz's over the possibility of ZZ - but didn't feel so bad the next day when I learned it was a ZZ Top cover band called Tres Hombres instead of the genuine article.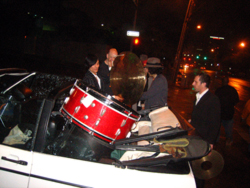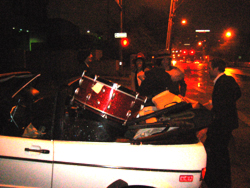 Go forward to the March 19 SXSW Diary
Step back to New York Night Train's SXSW Home
© New York Night Train , 2006