June 6, 2006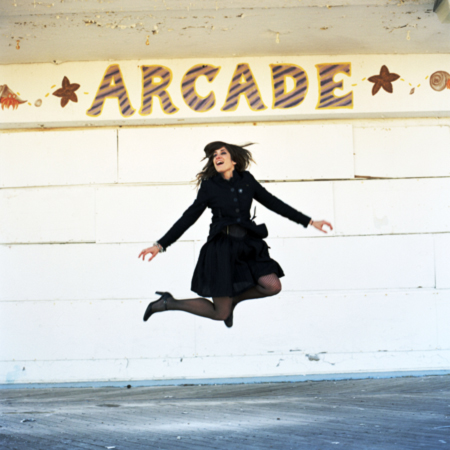 Nicole Atkins & The Sea, This Story, Roger Marin, Ezra Furman - Knitting Factory Tap Bar $8
Every now I stumble upon a point where my taste intersects with that of the buzz mongers. This time it's the shimmering dynamic pop of Nicole Atkins. They love her because she writes catchy accessible songs and possesses an instantly appealing huge warm vocal tone and wide range. I like her music because its organic and soulful – but the factor that wins me over is that she tackles her compositions with a rare sensibility that I understand and admire: her songs could be early sixties A.M. radio pop hits by pop singers that came from the country end of the spectrum. Aesthetically she could be Roy Orbison if he was Peggy Lee on the verses. She has the class to restrain her voice and meld it into immaculate phrases before unleashing it and letting it float up into the clouds. Her accompaniment is layered and harmonically sophisticated without ever reaching baroque proportions – though I could totally imagine her singing a 1960s James Bond theme ("You Only Live Twice," etc.). In other words, she's a class act.
Also, I'm thrilled when I find contemporary pop that isn't a British-based phenomenon. For example, when someone says "pure pop," you're immediately to imagine Beatles-informed progressions and harmonies. Here though, we find a combination of the Brill Building and Music Row – late-period Tin Pan Alley and transitional Nashville – that strange and beautiful era at the dawn of the girl group and countrypolitan sounds – when pop turned a little more beat-oriented to cater to youth culture and country was given some polish to appeal to a pop audience. Purists hate it – but I think that the pop of the post rock'n'roll/pre-Beatles era is one of the best conceived and most interesting in recorded history. And this approach is what separates Nicole Atkins from her contemporaries. Hopefully these marks of distinction won't vanish now that she's signed to Columbia Records.
Finally, don't get me wrong, Nicole Atkins & The Sea is unmistakably of our time – not at all self-consciously nostalgic and containing enough quirky contemporary elements to remove it from a retro fate. Also, I fear that my accentuation of the 1960s pop side of her music dwells insufficiently on it's folk elements. But I don't have all day to write this thing... listen to the stuff here for more...
P.S. Don't forget about the Nick Garrie/Ladybug Transistor show tonight at Tonic - which i recommended here..
MEDIA:
Nicole Atkins & The Sea, "Skywriters" MP3
LINKS:
Nicole Atkins & The Sea official site
Nicole Atkins & The Sea on Myspace
ALSO:
Bubblyfish – The Stone 10PM $10
Castanets, Phosphorescent - Brooklyn Fireproof $7
Dub is a Weapon, DJ President Carter, Cedric – Knitting Factory Old Office $8
Nick Garrie plus The Ladybug Transistor –Tonic $10/12
Ela Troyano – The Stone 8PM $10
Slavic Soul Party – Barbes $8
Ex-Lion Tamer, Japanese Flower, Hey Willpower – Piano's $8
The Devil's Food Cakeparty of Death with We Bite, Suckers, Mouth of Leaves and the Daughter Cemetary, the Redcoats Are Coming, Yeasayer, Moldh – Cake Shop $5
Van Hunt – Maxwell's $15