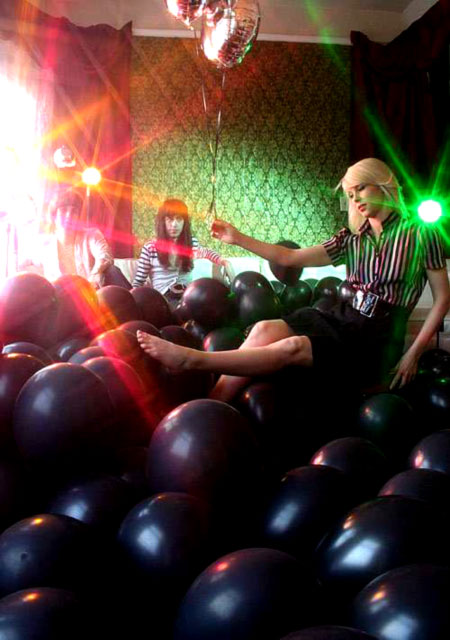 Glass Candy, Chromatics – Don Hills $10
I've been waiting for this bill for some time. These two bands from the same Pacific Northwest scene, both going at it forever, are gradually growing into a couple of the best things out there.
Portland's Glass Candy and the Shattered Theatre, better known as simply Glass Candy, are one of the few bands that actually sound like their name. Shiny, clear, sharp, brittle, synthetic, futuristic, and fractured, yet syrupy sweet dance pop pleasure. While began more rock, they now sound sort of like Giorgio Moroder and Lee Perry fighting for the affection of Debby Harry while remixing the soundtrack to Wild Style. Nothing's off limits to this trio - disco, funk, dub, early new wave, no wave, kraut rock, early hip hop, electro, you name it. They miraculously retain a sound of their own through all of this eclectic experimentation. Conversely, Glass Candy's sound is defined by this very sonic adventurism. They're one of the only contemporary bands who actually belong on the trendy twelve-inch format. And they're capable of re-creating the sounds live - assembling it piece by piece in front of your eyes. The last time here, in the moldy basement of a Bed-Sty community center, the lonely drum machine'd start off most of the numbers, soon joined by looped riffs by guitarist Johnny Jewel, and drummer Dusty Sparkles' matching and banging against the beat with metronomic accuracy, power, and soul. In contrast singer Ida No came in each time cool as a cucumber through layers of delay, artfully stretching her phrases across measures. By the end of each number they'd wound up somewhere else and, as in some sort of tribal ritual, they were encircled by a small circle of Brooklyn rock kids, who danced, were entranced, and woke up wondering where the heck they'd been transported.
Seattle's Chromatics, who're now labelmates with Glass Candy (on Troubleman), just finished recording their new record with Johnny Jewel. I have no idea where they're taking it this time - but guitarist/vocalist Adam Miller tends to do something cool wherever he's coming from. While you definitely classify their music under the "post punk" label, and it is all about dirty guitars over dance grooves, Chromatics do a much more unique personalized version than other folks. Like Glass Candy they certainly have some dub and Kraut elements, but on the whole are more organic, brutal, and grimy in a no wave sense. On their last record, and thus far their best (I haven't yet heard the new one), Plaster Hounds, they won extra points by connecting themselves to the American experimental minimalist lineage when they included their version of the Silver Apple's "Program." You can click here to read what I had to say last time they were around.
The Witnesses, The Fame, Limousine, and Silent City - The Continental
Also tonight, it's important to note that The Witnesses, some really fine people and great musicians who've been a fixture in our scene since the sparse musical landscape of the turn of the century, are finally calling it quits. They'll be playing at another vanishing New York icon of an even more remote era, The Continental. Here's to you Witnesses - I look forward to seeing where you each go after this.
James Brown - B.B. King Blues Club & Grill $80/$85
Home Record Release with Oneida, Parts and Labor, Awesome Color – 98 Ingraham (toddpnyc.com)
Moon & Moon – Tonic MIDNIGHT $5
The Coup, T-Kash, Iselyfe – Southpaw $13/$15
Gogol Bordello, Kultur Shock - Irving Plaza $22.50/$25
Mephista (Sylvie Courvoisier, Susie Ibarra, Ikue Mori) and guests – The Stone 8PM and 10PM $10
Home, one of the most prolific and under-rated bands of the last couple of decades, have reformed and are celebrating the release of their latest LP Sexteen - which, when you tally it up, just might be their sixteenth - and all about sex. With nationally and internationally renowned local heroes Oneida and Parts and Labor and the soon-to-be-famous Awesome Color. Other shows I would typically write about if there wasn't so much tonight include James Brown (the winner yet again disqualified for being $80 for the cheapies), Moon and Moon's midnight show at Tonic (which you should attend after everything), The Coup, Gogol Bordello, and the avant improvising supergroup Mephista (Sylvie Courvoisier, Susie Ibarra, Ikue Mori).

MEDIA:
Glass Candy, "Life After Sundown" demo version mp3
Glass Candy, "Night Nurses" alternate take mp3
Glass Candy, "Black Veil" Live mp3
Glass Candy, "Labrea Tar Pit" mp3
Glass Candy, "Crystal Migrane" live mp3
Glass Candy, "Brittle Woman" live mp3
Chromatics, "Ice Hatchets" mp3
Chromatics, "The Guest" mp3
Chromatics, "Program" live mp3
Chromatics, "Program" demo 1 mp3
Chromatics, "Program" demo 2 mp3
ALSO:
Cat Power - Town Hall $22
Gospel, Limbs, Gold Streets, Kalpana – Union Pool $6
Hot Iron Swallows, Unbusted, Morning Theft, Monkeypod, Scary Mansion – Northsix $10
Mighty High, Demolition Doll Rods, Breakup Breakdown, The Art of Shooting - Trash $8
The New Cars (?), Blondie – Jones Beach $20
Festival of Mixology - New and Unusual uses of Technology in Music and Intermedia Art:Benton-C Bainbridge & Evidence - Location One
Mixel Pixel, Yip Yip, Rusty Santos – Micheline's $6 (toddpnyc.com)
O Death - Brooklyn Fireproof $7
Sentimentalist Magazine Party: Phoenix Foundation, Cities, Moto:Rosa - Cake Shop FREE
The Martinets, Tough & Lovely - Magnetic Field $7
The Spinto Band, Dr. Dog, The Lovely Feathers - Bowery Ballroom $13/$15
We Are Wolves - Canal Room $13/$15
Young People, Bear in Heaven, Christine and Emily – Tonic $8