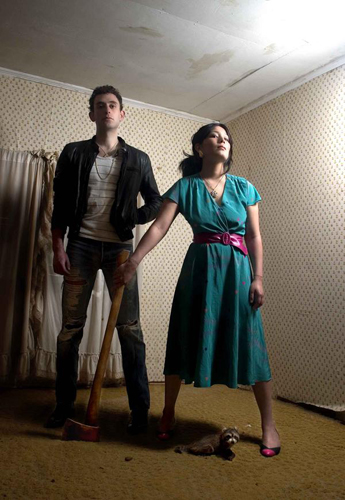 The Chromatics
Wednesday, November 16, 2005
w/Oxford Collapse, Northsix $8/$10
Friday, November 18, 2005
w/Shellshocked, Scoville Unit, Heros Severum, Lit $8
Saturday, November 19, 2005
w/Oxford Collapse, Knitting Factory Tap Bar $8
As the post-punk underground has wound down while bands like Franz Ferdinand and Bloc Party have found mainstream audiences, the only survivors of the post-punk revival worth a crap right now have little or nothing to do with Gang of Four. Gogogo Airheart, who I recommended last week, is a prime example of a band that is fresh, diverse, and unique enough to hold my attention at this point. And then there's of course The Chromatics.
While they were around and making all kinds of racket for some time before, on last year's Plaster Hounds, The Chromatics tweeked both the post-punk groove and American sludge templates simultaneously. Though there's certainly some Metal Box here, and plenty of dub meets rock, the British influences are less apparent than in other bands coming from that side of the spectrum. Adam Miller's guitars and vocals are filthy and atonal - owing much more to New York noise than anything across the pond. When juxtaposed against Ron Avila's progressive, almost Kraut-y drums you have a perfect marraige of melodic sloppy fuzz on one hand and rhythmic precision and clarity on the other. Miller's band has revolving membership - so it will be interesting to see who he brings along.
As they attempt to place themselves within a certain American experimental minimalist tradition by covering the Silver Apple's "Program ," or name-checking of bands like Chrome, they find success by assuming an abstract adventurous stance while remaining more informal, twangy, and reckless than Europeans – IE – they rock out. Furthermore, there are a number of moments which locate them within the tiny swath of the American underground landscape that often doesn't get enough credit for influencing the British post-punk and getting this whole ball of shite rolling in the first place – the no-wave (why doesn't Arto, Lydia, or James get a Return the Gift?).
If you're like me and prefer your grooves served a little dirtier, your arrangements a bit more dissonant, and your art a little less pretentious, The Chromatics may be just what you've been looking for.
And fortunately for you, you lucky so-and-so, the band is playing three shows this week around town – a couple of which are with Oxford Collapse and another on a local bill at Lit.
© New York Night Train , 2005