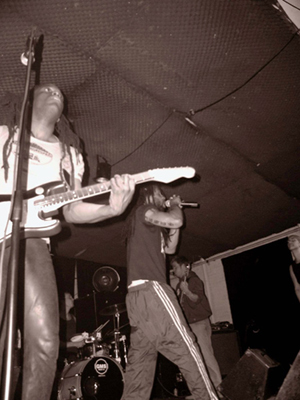 Dr. Israel and Dreadtone International Record Release
Dub Trio
Apollo Heights
Brujeros
Friday, November 18, 2005
The Delancey
Dr. Israel is back!
ROIR, the fine folks who bring us everything from The Bad Brains to Television, just signed up Dr. Israel and this is the release party for his new LP Dreadtone International: Patterns of War. The label also just re-released the Dr's classic Inna City Pressure (read NYNT review here). So there's a whole lot to celebrate.
Dr. Israel was crossing over to all kinds of audiences with Inna City Pressure's ragga, dub, jungle, techno, punk, hard-rock fusion when his label folded in 1998. He's kept a relatively low profile until recently – quietly laboring at Revolution Sound in the heart of Williamsburg. But the Dr.'s time has come once again.
Dreadtone International – the band on the album, features two new vocalists – newcomer Lady K and Chemda from Conjure One. ROIR claims the new stuff sounds like "Massive Attack vs. Sade vs. Bob Marley". I think the good Dr. will be better than all of that.
Dub Trio is a live revisionist dub band who has backed up G-Unit and Maxie Priest. Apollo Heights, also a trio featuring renowned studio musicians, recently went on tour with TV on the Radio. These self-described "afrofuturitsts" were formerly Chapel Hill's The Veldt. Brujeros is a side project featuring members of Latin funk outfit Radio Mundia.
© New York Night Train , 2005