Services
Saturday November 19, 2005
Tonic (midnight) $5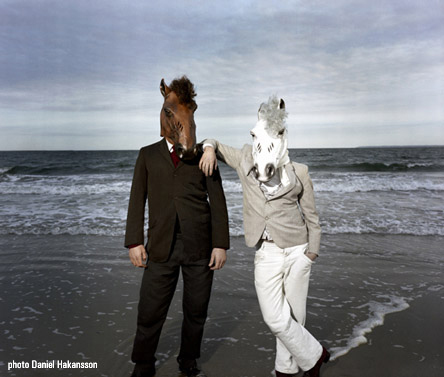 Trztn and Chris of Services are two of the most important and underrated figures in New York's underground.
Both were central in a rather quiet and transitional era in New York music – pre-Strokes days of the late 1990s (what a weird marker, should we call it pre-9/11?), when the bleak landscape was strewn with residue of early 1990s noise and blues revisionists, when most of the bands featured "so-and-so, formerly of…" At this time Trztn was the leader of Flux Information Sciences – a band, or art project, that also advertised his man-with-van business. Chris played bass in what was probably the most popular of a new crop of local bands, the ever-moody Gunga Din (featuring five "formerly of's"). After the demise of Gunga Din, Chris joined Flux and over time he and Trztn became the condensed version of the band. They also gradually streamlined their approach and changed their name.
While the trends have come and gone, Chris and Trztn have remained resolute in their creation of challenging high-concept music. They were never dancey and poppy enough for the clubbers and the later electroclash fans. They are a bit too unusual and technologically oriented for fans of the emerging punk, rock, post- punk, and, of late, metal scenes. And they possessed too much humor to be taken seriously in downtown art and experimental music circles.
Nonetheless their influence has been felt among a number of musicians who also never felt at home with the indie music trends of their time understood the value of a good joke shared by few. This list even includes The Yeah Yeah Yeahs – who were certainly odd-men-out at the time and in a similar peer group. I ran into them at South by Southwest and asked where they were playing. They said that they didn't have a showcase - but had come to see Flux.
As for what to expect on Saturday, Services are a new take on pop-art. The synths emit pure rock bombast now – with lots of musical jokes – a collage and parody of every rock cliché in the book – just without guitars. The lyrics remain sarcastic and playful. Thought Tristan played bass in Flux and Chris played bass in Gunga Din, don't expect any bases. What you can expect is two men torturing keyboards as you've never seen before. I've never seen the duo pull off a performance that was anything less than electrifying. On a final note I should mention that they are the only synthesizer band that I've ever seen smash their instruments at a the show.
Services have a new record out called Your Desire is My Business. Maybe you should make desiring it your business?
© New York Night Train , 2005