June 16, 2006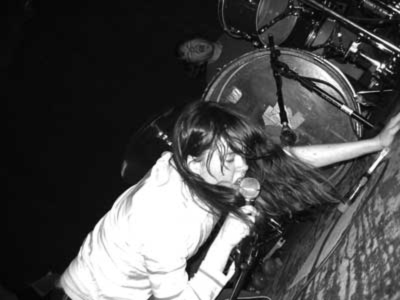 Country Teasers, Young People, Magik Markers, Lambsbread, S-S-S-Spectres - Syrup Room
Once again New York Night Train recommends Country Teasers. See last night's preview to learn why. Tonight they'll be on an amazing Todd P bill at Bushwick's Syrup Room. Young People are a LA duo on Too Pure who play spacious elegant songs that range from quiet to quaking. The Magik Markers are one of the more exciting bands of the last couple of years - a wild ear-splitting no-wavy trio who, in addition to all kinds of high profile touring with the likes of Sonic Youth and Dinosaur, have left a cryptic slime trail of CDRs, cassettes, and vinyl across the indie landscape. I'm not so familiar with Lambs Bread who apparently play noisy free rock. But I do know the S-S-S-Spectres are one of the town's more under-rated bands – featuring two former fixtures of the Austin underground, SSSS conjure up unique angular weirdness that you would merely call post-punk if they didn't have so much character and originality.
VisionFest2006: 05:00 PANEL DISCUSSION - NYC Community Based Organizing: What's Wrong in Gotham? 07:00 Donald Byrd Spectrum Dance Theater featuring Danielle Wilkins and Julia Wilkins dance and Hamid Drake percussion, 07:30 Bindu: Hamid Drake (dr), Sabir Mateen (rds), Daniel Carter (rds, trpt), Greg Ward (alto sax), Ernest Dawkins (tnr sax), 08:30 Rob Brown Quartet: Rob Brown (alto sax), Craig Taborn (pno), William Parker (bs), Gerald Cleaver (dr), 09:30 Billy Bang Quintet: Billy Bang (vln), James Zollar (trpt), Andrew Bemkey (pno), Todd Nicholson (bs), Newman Taylor Baker (dr)
10:30 Henry Grimes (bs), Sekou Sundiata (poet), 12:00 Vision Festival / JazzCorner.com present: VISION FESTIVAL XI AFTERPARTY at Mo Pitkins House of Satisfaction (34 Avenue A btwn 2nd & 3rd Streets) Featuring a performance by Dennis Gonzalez' Yells At Eels: Dennis Gonzalez (tpt), Aaron Gonzalez (bs), Stefan Gonzalez (dr) + many special Vision guests. $5 with Friday night Vision Festival hand stamp, $10 all others
Vision Fest continues with another mind-blowing night. see above and, in addition to the rest of the all-star cast, note that the quintessential free jazz bassist, the recently rediscovered Henry Grimes, plays a set with poet Sekou Sundiata at 10:30.
Awesome Color Record Release with Bad Party and Mothus – Cake Shop $6
Another one of New York's finest, Awesome Color have a record release. Go here to read my recommendation from a couple of months ago.
MEDIA

Y oung People, "R&R" MP3
Young People, "El Paso" MP3
Young People, "Death Don't Have No Mercy" MP3
Magik Markers, "Song With Yelling" (F U!) MP3
Magik Markers, "Track 1" MP3 (live audience recording 4/22/2006)
Magik Markers, "Track 2" MP3 (live audience recording 4/22/2006)
S-S-S-Spectres, "Your Faux Pas" MP3
S-S-S-Spectres, "Witches Vs. Wolves" MP3
S-S-S-Spectres, "Ghost Family" MP3
ALSO TONIGHT:
Band of Horses – Bowery Ballroom
Chuck Berry – BB King Blues Club $90
Chuck Bettis – The Stone 10 PM $10
David Linton's StereOptiCon – The Stone 8 PM $10
English Beat, Fear Nuttin - Canal Room $27/$30
Folklore Urbano – Tonic 10:30 PM $12
Hello Nurse, The Walkup Club Midway $5
'JVC Jazz Festival': Ornette Coleman Quartet - Carnegie Hall $30 - $75
KAPOW!, My Teenage Stride, The Reverse, The Shondes - Northsix $10
Matt & Kim, Hawnay Troof, Big Digits & the Serperxed (Casual Rob from Bad Whaste) – 718 BRKLYN Diner
Melanie - Cutting Room $35
Morricone Youth - Knitting Factory $10
Nine Inch Nails, Bauhaus, Peaches – Continental Airlines Arena $30-$50
Robin Eubanks' EB3 – Tonic 9 PM $12
Slayer, Lamb of God, Mastodon, Children of Bodom – Contental Airlines Arena $41
TK Webb, Pure Horsehair, Robbie Lee - Brooklyn Fireproof $5
Tiempo Libre, Javier Garcia, Cuban Cowboys – Prospect Park Bandshell
Trio BraamDeJoodeVatcher - Tonic 7:30 PM $8