August 21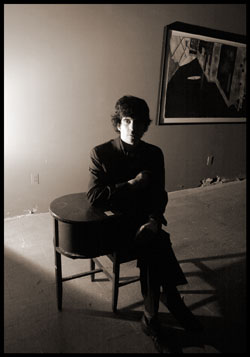 Ian Svenonius reads from The Psychic Soviet – Bluestockings 7PM FREE
Ian Svenonius & Calvin Johnson (DJ Party) – Monkeytown 11PM FREE
While I will be eternally grateful to the immortal Archie Bell for providing me with a few rare consecutive transcendent moments yesterday, which were not without an illustration of how one does the "Tighten Up" (now that those of us who witnessed it possess this special knowledge direct from the source, we will be selflessly passing it on to everyone we come into dancing contact with), and Bell and The Dansettes do in fact perform once again this evening, I would be a hypocrite not to recommend the event I've been spamming you about for the last couple of weeks….
That's right, Ian Svenonius' The Psychic Soviet and Other Essays is finally out on Drag City, and the Weird War, Make-Up, Nation of Ulysses vocalist will be reading selections from it this evening at Bluestockings. For the last couple of days I've managed to pry it out of the hands of my girlfriend a couple of times before she's demanded its return, and, ladies and gentlemen, in it you will not only find Mr. Svenonius' unique perspective on contemporary culture, written in his concise and systematic, yet colorful prose, but you will also find the namer of names at the peak of his wit. When you're not laughing, crying, or just sitting in "The Thinker" position, you'll be appreciating the binding. Don't hate 'em cause he's beautiful, go hear the man read to ya already…
Also, speaking of super-important characters in the underground music history who've both directly and indirectly made your life much better in a number of ways no matter who you are, Ian has Calvin Johnson in tote. The two of 'em've been barnstorming the Midwest and East Coast – fearlessly pushing their heavy crates of records forward and leaving a snail's trail of shaking booties in their wake. Now its New York's turn for a little taste, tonight at Monkeytown and tomorrow at sub-Tonic.
LINKS:
Playlouder feature with excerpt from The Psychic Soviet: Ch. 16: "THE SEDUCTION OF PAOLO HEWITT, The Oasis Story"
MEDIA:
Dub Narcotic Sound System, "F*ck Me Up" MP3
Dub Narcotic Sound System, "Hand Clappin" MP3
Weird War, "Girls Like That" MOV
Weird War, "Illuminated" MOV
Weird War, "Mental Poisoning" MOV
Weird War, "Grand Fraud" MOV
ALSO:
Alog, David Grubbs, Matthew De Gennaro – Tonic 8PM $10
Archie Bell with the Dansettes – Joe's Pub 9:30PM $20
Darmstadt with Gisburg, Moth, Mathew Welsch's Blarvuster – Spiegeltent 8PM $10
Jack and the Cutoffs, The Vibration, Ralph Handel, Rachel Mason, The Bloodsugars, Zachaery Mulden – Cake Shop $6
Leonardo Suarez Paz, Cuartetango String Quartet – Spiegeltent 8PM
Les Paul and His Trio – The Iridium $40
Reverend Vince Anderson and His Love Choir – Black Betty 10PM FREE
The Foundry Field Recordings, Deathrat, Mollie King - Goodbye Blue Monday
You in Series, As Tall As Lions, Brazil, Nakatomi Plaza - Knitting Factory Main Space $10