12/12/2006: DOWN AT THE ROCKandROLL CLUB....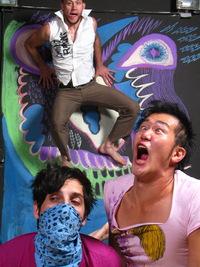 Dmonstrations or Bellmer Dolls in color?
Bellmer Dolls, Fresh Kills, Falcon and the Snowman, Dmonstrations – Fat Baby $5
While there's plenty to do tonight, I'm gonna suggest a show at a joint I don't often recommend or turn up at, Fat Baby, because tonight they have a fine dark, loud, and somewhat indy-ish bill and it ain't a bad little room for an intimate listening experience. Bellmer Dolls are fresh off of a European tour so their artful brood should be tighter than panty hoes two sizes two small. Fresh Kills have a new bass player and are back from the west coast supporting their Arclight Records Creeps and Lovers LP - so their intense churning tonight, as ususal, will be nothing to sneeze at. And, speaking of sneezing, yes ladies, tall sexy poet Zack Lipez has learned a few new tricks.The newish band here, Falcon and the Snowman, have just returned from the heavy duty rock'n'noise dimension and brought back some moon rocks and other novel souvenirs to share. But seriously, go early to check out the first band, who are not returning from anywhere as they're the only out-of-towner of the bunch, San Diego spazz trio DMonstrations - whose work on Gold Standard Laboratories is dizzyingly powerful.
You can also find Dmonstrations later on a bill headlined by the warped metal nitrous of White Mice at a Todd P show at the makeshift venue with the coldest PBR in town, Uncle Paulie's - smack dab in the stankiest part of Greenpoint's industrial area. The reasoning I'm mentioning Swedish popster Nicolai Dunger is that he's playing Southpaw backed by one of the finest drummers to ever beat on stuff, Mssr. Jim White, plus an allstar cast that includes Collen Burke, Dylan Willemsa, and Matt Sweenie. And, if I didn't have such a strong desire to rock, I'd definitely be checking out art and music legend Selwyn Lissack - who will be joined by a collection of legendary talents that easily beat the pants off of Dunger's impressive assembly - Brice Winston, Roy Campbell, and William Parker. Not bad for his first New York show in four decades...
And, other stuff I've recommended in the past, Slavic Soul Party, Taj Mahal Trio, Mingus Big Band, etc... Don'tcha wish you could be everywhere at once?.... go here for the complete list
THE LIST:
Bill Baird, Lights, Dave Bryant & Clint Newsom, Gabe Duncan - Cake Shop $6
Bellmer Dolls, Fresh Kills, Falcon and the Snowman, Dmonstrations – Fat Baby $5
Nanuchka, Vic Thrill, Actualities - Club Midway $8
Nicolai Dunger, Jim White, Collen Burke, Dylan Willemsa, Matt Sweenie, DJ Mikey Palms – Southpaw $10
Peter Walker & Jack Rose - Knitting Factory $10
Ryan Mackstaller Apostles of Light, Jeremy Udden Quartet – Goodbye Blue Monday
Selwyn Lissack with Brice Winston, Roy Campbell, William Parker – The Stone $15
Slavic Soul Party! – Barbes $10
Taj Mahal Trio – Blue Note $35/$45
The Cheap Dates, Wau Wau Sisters, Moi? – Union Pool
The Mingus Big Band – The Iridium $25
White Mice, demonstrations, PRINT, Stay Fücked – Uncle Paulie's (toddpnyc.com)
Wrikken, FS Blumm, Ivo Bol, Daniel Carter & Missy Mazzoli – Monkeytown $10 + $10 min