12:18:2006: DOWN AT THE ROCKandROLL CLUB....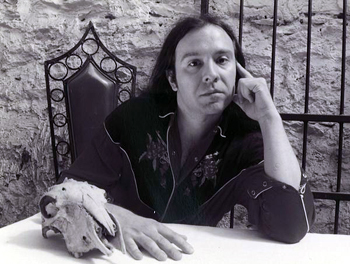 Martin Bisi, Gena Mason, Kosmic Daydream – Club Midway $5
Martin Bisi, one of New York rock'n'roll's relatively unsung heroes, is musician, producer, and engineer who not only for recorded classic downtown avant albums by Material, John Zorn, Elliot Sharp, and their circle in the 1980s, but also indie classics like Sonic Youth's Bad Moon Rising and EVOL, Lydia Lunch/Clint Ruin's Stinkfist, The Boredoms Wow 2, and dozens more. Bisi even worked on seminal hip hop classics by Afrika Bambaataa, Fab 5 Freddy, and even Herbie Hancock's breakdance opus Future Shock ("Rockit"!). He currently runs B.C. Studios and records folks like Serena Maneesh and Angels of Light.
Martin Bisi's been so prolific behind the boards that it's sometimes easy to forget that he's a bandleader/multi-instrumentalist who's made a quite a few internationally renowned solo albums over the years. Bisi's records on New Alliance in the late 1980s and early 1990s fused his New York avant background and Argentinean heritage. His latest solo project, The End Credits, who perform tonight, explore his art rock side. Aren't ya curious to see what this local legend is up to?
THE LIST:
Emergency Party, Longshanks, Shellshag – Goodbye Blue Monday
Freeze Tag, Ladystein, Stepwell, The Inlets – Cake Shop $6
Interactive Telecommunications Program Winter Show - Kanbar Institute of Film and Technology (721 Broadway, 4th Floor) 5PM FREE
Les Paul Trio – The Iridium $35
Macitajs on Acid, Sweetheart - Europa $10
Martin Bisi, Gena Mason, Kosmic Daydream – Club Midway $5
MC Lars, MC Frontalot - Mercury Lounge $12
Precious Metal: Hells Hills, Souvenir's Young America, Friendly Bears, Sentient - Lit
Reverend Vince Anderson and his Love Choir – Black Betty FREE
Yasunao Tone w/Zeena Parkins - Experimental Intermedia (224 Centre St.) FREE