12:19:2006: DOWN AT THE ROCKandROLL CLUB....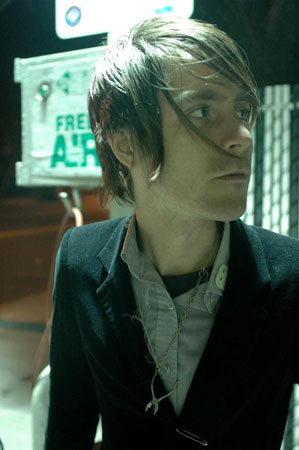 Chris Leo/Vague Angels, Grimis, Tigers and Monkies, Suzan Hartuk – Cake Shop $6
You know Chris Leo as the sprechstimme-ing angular guitar-slinging leader of the Van Pelt or The Lapse. Or as the author of White Pigeons or, more recently, 57 Octaves Below the Middle C Buzzed by the Bee (or Really) How I Lost This Place (along w/Marcellus Hall)? Or as a bar DJ? Or as your local tour guide? Or as a raw food chef? Or maybe as the brother of Pharmacist Ted? Even if you don't recognize the laziest man in showbiz from any of these guises, all you need to know tonight is that Chris Leo, who's had a project called Vague Angels for the last couple of years, will be performing an intimate set of the band's material all by his lonesome in the comfortable subterranean confines of Cake Shop, which by the way, finally got its liquor license. Chris will be in Europe for the next few months so, if you've been intending to check out this man-about-town's songs, this is one of your last chances to lose yourself in his winding narratives before he becomes a man-out-of-town.
And get their early to check out Shonali Bhowmik of Ultrababyfat fame's band Tigers and Monkeys.
THE LIST:
Bonnie Kane, Mambo Mantis, Ras Moshe Project, The Adam Lane Group – Goodbye Blue Monday
G.A.M.E. REBELLION, DRAGONS OF ZYNTH – Southpaw $8
House of Hearts Benefit: Mountains, Paul Duncan, Stars Like Fleas, Bear in Heaven, Soft Circle, Midnight Motion, Queens, Antelea - Europa $10
Maria Blondeel - Experimental Intermedia (224 Centre St.) FREE
Matisyahu, John Brown's Body - Hammerstein Ballroom $32
Michael Moore, Rob Brown, William Parker, Gerald Cleaver – The Stone $10
Nanuchka, Walter Sickert and the Army of Broken Toys, Scott Crawford, Matt Landis - Club Midway $8
Sean Lennon, Jim Noir - Bowery Ballroom $20/$22
Sephardic Music Festival: Dream Digging in Bar Yochai's Cave– Tonic $8
Slavic Soul Party! – Barbes $10