For this week's New York Night Train show list go here. For information about the venues go here. Click the names in bold to learn more about the artists.
Sunday, April 9, 2006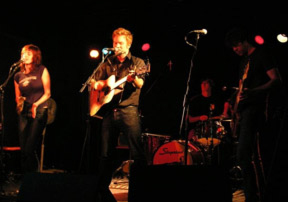 Marcellus Hall
reedom Festival featuring Marcellus Hall, Tigers and Monkeys, and more - Cake Shop, Piano's, and Living Room FREE:
If you're not the biggest Wolf Parade or Holy Fuck fan (I'm actually quite fond of Holy Fuck and don't mind Wolf Parade either), and think that the noise bill at the Knitting Factory with Gospel and Death from a Thousand Cuts or the almighty Sword at CBGB's may be a bit too harsh for today (I don't think so - I'd go to both!), and, if you think I recommend Gang Gang Dance way too much (and I certainly have nothing against Moriccone Youth's sophisticated instrumentals), and particularly if you're econimically challenged, the Periodic Label's Freedom Festival on a few stages up and down Ludlow may be something to do. While there's some sort of ironic explanation for the theme of the event, it seems to boil down to the fact that there's no cover at any of the venues. If you feel like untangling it yourself, read the festival's manifesto here or go to their Myspace page here. As always for that particular street, the best stuff is at the Cakeshop. While I'm a fan of Ultrababyfat's Shonali Bhowmilk and her new project of Tigers and Monkeys, I'd like to call special attention to the fact that Marcellus Hall of Railroad Jerk and White Hassle fame, who provided the excellent tour diary that appears in this issue, is making a rare solo appearance at 5 PM. Tonight his band will include Damon Smith on bass, Ali Smith on vocals, Settly Smith on drums, and Joachim Kearns on guitar. If you wanna know what I like about Mars and his songs, go here. And get off the computer and go outside allready forchristsakes...
What follows is a repost of the Free Festival's order of events:
Larune's "Bulgaria" @ Cakeshop
2:00P
Nova Clutch @ Pianos
3:00P
La Vernissagerie @ The Living Room 3 - 6pm
3:00P
Rockwell's Free Music Propaganda Soapbox upstairs @ Pianos 3 - 6pm
3:30P
LIVE GIRLS acoustic! @ Cakeshop Upstairs
3:30P
Wrest @ Pianos
3:30P
Robert Stillman's Horses @ Cakeshop
4:00P
Ben Brewer of The Exit @ Cakeshop Upstairs
4:15P
Monuments @ Cakeshop
4:15P
Us Against Them @ Pianos
4:30P
Serena Jean @ Cakeshop Upstairs
5:00P
Matt Whyte of Earl Greyhound @ Cakeshop Upstairs
5:00P
Kickstart @ Pianos
5:00P
Marcellus Hall @ Cakeshop
5:30P
Andy Abelow @ Cakeshop Upstairs
5:45P
Basement Band @ Cakeshop
6:00P
Honky Tonk Happy Hour @ The Living Room 7 - 9pm
6:00P
Larune @ The Living Room
6:15P
Air Waves/Nicole Schneit @ Cakeshop Upstairs
6:30P
Tigers & Monkeys @ Cakeshop
7:00P
Kelly Slusher @ Cakeshop Upstairs
7:15P
The Bones Royal @ Cakeshop
7:45P
Blly D. of Human Television @ Cakeshop Upstairs
8:00P
Dreamdate @ Cakeshop
8:45P
Rockwell Rockwellian @ Cakeshop
9:00P
We Heart Canadians! Katie Moore @ The Living Room
9:30P
Vague Angels @ Cakeshop
10:00P
We Heart Canadians! Harmony Trowbridge @ The Living Room
10:15P
Earl Greyhound @ Cakeshop
11:00P
We Heart Canadians! Lenni Jabour @ The Living Room
11:00P
The Exit @ Cakeshop
Also recommended:
Donna Parker/Brian Osborne, John and Richard of Sightings and Rebekah,Ed Chang, Motoko Shimizu, Jeffrey Shurdut, and Daniel Carter (yep - THE Daniel Carter), Right Moves - Glass House Gallery
Gang Gang Dance - Anthology Film Archives!!!
K.J. Holmes – The Stone 10PM, $10
Shahzad Ismaily in the Unknown – The Stone 8PM, $10
The Sad Little Stars, Morricone Youth, Francis Starlite – Tonic $8
The Sword, Torche, ASG, Tarantula A.D. - CBGB $10/$12
Unearthly Trance, Gospel, Communion, Death By A Thousand Cuts - Knitting Factory Tap Bar $8/$10
Wolf Parade, Holy Fuck, Besnard Lakes - Webster Hall $17
Go to NYNT's Live Archive here.
© New York Night Train , 2006