Introduction
"I'm hi-fi but I'm lowbrow... This is the Nineties / not the Sixties / not the Seventies / not the Eighties..."
- Railroad Jerk, "Gun Problem," One Track Mind (Matador, 1995)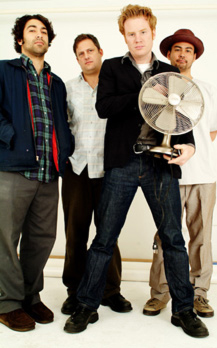 I've been a fan of White Hassle's Marcellus Hall and Dave Varanka since they were in the quintessential early Matador band the unsung Railroad Jerk. I can thank local Austinites The Cherubs for my introduction - as they insisted that everyone get downtown early on a rainy night to see their friends from New York open - and I doubt I missed one of their many swings through Texas after that. I went out and grabbed their new album Raise the Plow (1992) and realized I'd found something I'd been looking for but didn't know existed. The way they totally tortured Bukka White's "Fixin' to Die" revealed a band that loved what I Ioved about the blues and hated what I hated about the purists - here was a contemporary group that were interesting enough characters to explore the amazing old stuff and equally OK with destroying it a bit and making it contemporary - and totally unhip. I was already super-absorbed in old American music but liked most of it because it was unique, revolutionary, and contemporary - just to a different time than my own. Austin was full of all kinds of retro-cliques - blues purists, rockabillies, honkytonkers, hippies - you name it - you'd've thought you fell into a casting call for a period piece flick. The rest of everybody could've cared less about anything other than the new Am/Rep band or whatever. In Railroad Jerk I finally found something that expressed where I was at the time - naturally immersed in both the past and present - but self-consciously post-modern. Thanks to them and a handful of other bands emerging at the same time I guess I felt a little less alone.
Typically, not everyone was as enthusiastic as I. Despite the odds weighing in Railroad Jerk's favor: that they had a number of releases on a very happening label with money, distribution, and know-how; that they were known and loved by no small number of indie rock stars; and, most importantly, that they were a one of the better bands of their time, the group never really achieved the sort of notoriety that they seemed destined for. They were rare among their New York blues/noise contemporaries in that they could write extraordinary songs – and their racket absorbed the entire Harry B. Smith anthology, hip hop, Beefheart, Dylan, Television, various world musics, and anything else that crossed their path. This is not to say they sounded scattered – Hall had one of the most distinctive voices going, the two guitar slither against Tony Lee's kinetic bounce was quite unlike any other, and, when Varenka's powerful pots-and-pans drum assault fell into the mix, Railroad Jerk achieved an unmistakable sound of their own. You really shouldn't take my word for it. Do a bit of research. My favorite Railroad Jerk album, and one of my favorite albums of the 1990s, period - 1995's One Track Mind, is an excellent place to start (go here for mp3s from that one).
Not long after I began my unintentional yet apparently permanent NYC residency in 1998, I witnessed what proved to be a few of the last Railroad Jerk shows – which coincided with the demise of another favorite – Jonathan Fire*Eater (I think one of the last times they were both on a bill at the brand-spankin' new Bowery Ballroom). As they slowly fell apart, Marcellus and Dave had been doing a side project for some time that weighed more heavily on the early American folk aspect of Railroad Jerk. In 1997 Matador put out the duo's first release as White Hassle. National Chain, as it would be known, a sparse, low-key recording, was a charming and respectable debut full the clang, twang, and thunder of junkyard percussion, guitar, harmonica, and vocals. A few months later Railroad Jerk was melting off the map as White Hassle was doing Peel Sessions, touring the US and Europe, and becoming a real band whose sound was smoothing out, popping up, and moving forward. While their new sound retained some of what Greil Marcus called "The Old Weird America," it now collided against both no-frills lyric-driven pop not unlike post-John Cale Velvet Underground or Violent Femmes and smooth harmony-based pseudo-rockabilly a'la Ricky Nelson or the Everly Brothers (popabilly?).
While White Hassle was becoming one of the better local bands, they thickened their approach with guitarist Matt Oliverio and, a bigger surprise, Japanese super-DJ Atsushi Numata. A great artifact of this period is the upbeat E.P. Life is Still Sweet (2000) – in which Marcellus Hall shed a bit of his cynicism and delivered two of his best penned and most positive, straightforward tunes yet, "Watertank" and "Life Is Still Sweet" ("just forget what I said last week because life is still sweet"). "Life is Still Sweet" is such perfectly pure vocal harmony pop that it could be Traveling Wilburys or the Everly Brothers - and it oddly could hold its own against the works of either artist. Speaking of the Everlies, the track that best illustrates their new live approach as a quartet is a masterful turntable-driven cover of "Let It Be Me" – a triumph in that the unusual instrumentation doesn't take away from the band's sincere respect for the original (the opposite approach of Railroad Jerk's "Fixin' to Die"). And Varanka's tour de force, the percussion instrumental "Futura Trance," anticipates the New York underground sound of today. Click here for an MP3 of "Life is Still Sweet."
By the release of Life is Still Sweet, White Hassle had more than an album's worth of their best material in the can - which was to be released not long thereafter - but didn't see the light of day on record in the states until 2004's Death of Song (Japan and Europe got it a year earlier). It was released in a drastically different musical climate than when it was conceived and the long stretch between records had thrown a wrench in the band's momentum. In the meantime Dave became a full-time video editor, Marcellus began achieving even greater success as an illustrator (check out the ones included in his tour diary), and former Skeleton Key guitarist Chris Maxwell replaced Matt Oliverio. After the initial stirrings of activity that began with the release of Death of Song, Modest Mouse's Isaac Brock (who has "Life Is Still Sweet" tattooed on his arm) invited White Hassle to play All Tomorrow's Parties 2004. Even better recent news is that the French label Fargo Records just released White Hassle's Your Language and re-issued Death of Song in a double CD with Life is Still Sweet.
Supporting our Your Language, White Hassle just returned from their first tour in some time – which consisted of five weeks of back-and-forth throughout Western Europe. They had another local classic, Reverend Vince Anderson (one of my long-time NYC faves as well – and one hard act to follow), in tow as support. Marcellus sketched, painted, and kept notes the entire time. You can find his memoirs in text and illustration form in the pages that follow. It's also worth pointing out that Marcellus is a consumate raod memoirist - his tour diaries have been published here and there since at least the mid-1990s. As you'll soon learn, he is more than just a first-rate lyricist and illustrator – his prose is economical, subtle, and intelligent – but not without detail, warmth, and humor - his overall aesthetic across mediums.
So, without any further ado, I'm handing you off to Mr. Hall…
Marcellus Hall's White Hassle Tour Diary | NYNT's White Hassle Home Page
Marcellus Hall's White Hassle Tour Diary Illustration Gallery | White Hassle/Railroad Jerk MP3s
White Hassle/Railroad Jerk Discography | White Hassle/Railroad Jerk/Marcellus Hall Links
© New York Night Train , 2006