Live Recommendations for January 23 to January 29, 2005
For this week's New York Night Train show list - go here
MONDAY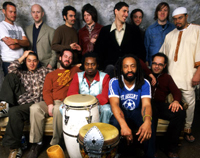 Antibalas Afrobeat Orchestra is back from their extensive globetrotting and playing an APAP (I dunno what that is either) showcase for their booking agency, the Billions Corporation. This twelve or thirteen-piece (maybe more) bunch have been smokin' Fela Kuti style for a long time. And while it's been a while for me, I can't imagine it being anything less than a big funky sweat-fest that's bound to liberate more than a few souls. In an interesting fit, the bill also includes singer/songwriter Martha Wainwright, sister of Rufus. daughter of Loudon III and Kate McGarrigle, and an artiste in her own right. And leading off is The Bell Orchestre – a Montreal eclectic and quarky post-rockish instrumental quintet with two former members of Arcade Fire. Everything is definitely is worth checking out as the Billions folks got good taste.
Also on Monday legendary author/critic/journalist/guitarist/conductor Greg Tate's Burnt Sugar is at Tonic. Modeled after Bitche's Brew, Burnt Sugar employs the unusual improvisational conduction system devised, employed, and made famous by Lawrence "Butch" Morris.
OK Go, who wins the award for best video choreography I've seen all year is at Maxwell's with Controller Controller and Apollo Sunshine. Ramsey Lewis who started out with Max Roach, but became famous with "The In Crowd" playing a jazz-pop version of "Hang on Sloopy" – and famous to me for all of his dollar albums I've found at thrift stores - promises to bring NYC some easy listening jazz.
.
Technological innovator/jazz-pop guitar great Les Paul continues his long-running stint at the Iridium. Reverend Vince Anderson sadly won't be at his weekly Black Betty show as he's busy converting the heathen continent of Europe along with with White Hassle
TUESDAY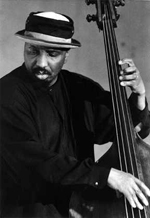 The big excitement of the week is that William Parker has a run at The Stone. For those of you that don't know the joint: It opened last year. John Zorn is the musical director. It is strictly improv and almost always $10. I don't know if there's anywhere else quite like it in the world. A formidable bassist and composer first and foremost, William Parker, if you have to describe him in a single sentence, may be the man most responsible for keeping free jazz going during its dry spell, has played with anyone worth a darn in that area, and is personally responsible for furnishing the great Henry Grimes with a bass for his recent unearthing. This first night of his series, Parker gets The William Parker Quartet together featuring longtime collaborators/heavy hitters Rob Brown, Lewis Barnes, and the unreal drummer Hamid Drake – with the addition of pianist Eri Yamamoto – making it technically a quintet.
Calexico, the Tucson instrumental duo whose music always covers a vast swath of musical territory, will be at Joe's Pub. Formerly in Giant Sand and Friends of Dean Martinez, the duo has gone on quite a sonic journey since. It should be interesting to see where it's currently leading them.
Finally, the East River Bar in Williamsburg presents an eclectic night with Chasm, Room, and Morex Optimo. I mention this because blogging Swiss punk Roman Elsener of the Roman Games is now also a member of Room.
WEDNESDAY
This evening's William Parker performance will be William Parker's Painter's Spring with Daniel Carter and Hamid Drake. This should also be smokin'. Carter and Parker have been on and off for over three decades – including Other Dimensions In Music. And I already warned you about Drake.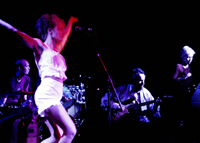 Barbez is playing at the Williamsburg club Barbes. In addition to bass, guitar, and drums, this small eclectic international ensemble features a thereminist, a vibraphonist, and a Russian singer who also dances. They are at once folksy and classical, dark and funny, and definitely far from the sort of gypsy/klezmer thing that you might expect.
The Shindig party should also be fun. They have some rocking bands – Mooney Suzuki, Aberdeen City, The Go Station, and the Young Lords. There's also, DJ's, art, an open bar (after you shell out fifteen clams) and, finally, if you are into getting your picture taken so you can be on a web site, Last Night's Party is credited with "event photos" on the flier. Damned - I should bring a camera and get the girls to take their tops off for me. I mean I do have a web site. Don't I?
THURSDAY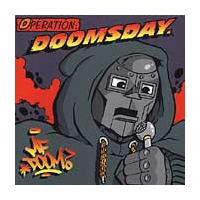 MC, producer, and extraterrestrial lizard MF Doom is at Nokia Theatre tonight with Big Daddy Kane, Pete Rock, and Lord Sear. If you aren't acquainted with MF by now, he used to be Zev Love X from KMD in the early-1990s (and appeared on 3rd Bass' "The Gas Face"). Since then he disappeared after the death of the other half of KMD, his brother, Subroc, and re-surfaced and re-invented himself in 1999 as MF Doom. Since then he's been a central figure in underground hip-hop alone, with Madvillain (featuring Madlib), and, most recently, in DangerDoom (with DJ Danger Mouse). He has a comic book aesthetic, sci-fi music, and masterful Dada-ish rhymes. Of all contemporary rappers, he may be the closest heir to the Rammellzee legacy - less in terms of his rapping or skills and more in terms of aesthetics. I don't know what to expect live but I don't see how it could be anything less than freaky, fun and fantastic - Fantastic Five, that is.... And Big Daddy Kane - one of the greatest emcees, and according to himself, lovers, of the late 1980s. Apparently Daddy's back in a big way with more flow than the East River. Let's find out... Then don't forget legendary DJ/producer Pete Rock and beatboxing MC Lord Sear (who did cameos not only with the Beasties and Big Pun, but also KMD). A super-solid line-up.
William Parker's week at The Stone continues with two project's tonight - Pyramid Trio (8 PM) and Raining On the Moon part one (10 PM). Roy Campbell's Pyramid Trio, once again featuring the unbeatable rhythm section of William Parker and Hamid Drake , has got to be one of the best combinations of the week. Roy Campbell's possesses a rich vocabulary of sounds, tones, and riffs. And, while he's billed on trumpet, will he sneak some exotic instruments through the back door of The Stone? Raining On the Moon may be The William Parker Quartet's most accessible work. Mellow and swingy, the other big difference is that the quartet is joined by the honey-toned voice of Leena Conquest - again the all-star line-up is Parker, Drake, Lewis Barnes, and Rob Brown.
The Rashied Ali Quintet starts their weekend-long run at Sweet Rhythm tonight. An innovator in "polytonal drumming," Ali's virtuosic, metronomic, and asymmetrical betrayal of the steady groove marked a turning point in jazz and, it's safe to say, earned him a place among the most influential drummers in history - particularly in the free jazz tradition. He is best known for his double drumming with, and eventual replacement of, Elvin Jones in John Coltrane's band - remaining Coltrane's drummer up until the saxophonist's death. You can also find him on recordings by everyone from Archie Shepp to Alice Coltrane. Let's see who he brings with 'em.
Jah Wobble and the English Roots Band is at the Avalon. Wobble was the PiL bassist on the good albums who quit at the right time to embark upon a solo career exploring dub, experimental music, and various world genres.
Hopewell, former Mercury Rev bassist J Russo's long-lived project, is at Pianos with Lolita Bras, December Sound, and The Bird and the Vine. Hopewell's take on psychedelic pop is original, well-written, well-conceived, and loud. Apparently the world is finally beginning to open its gates to the lads - and they've more than earned it.
Contemporary Sound Track Orchestra of New York, AKA the talented drummer/artist/electronic musician Fa Ventilato, will be performing tonight at ISSUE Project Room. Fa will be improvising the accompaniment to one of the most visually stunning and important works in cinema history, Dziga Vertov's Man With a Movie Camera (1929) - with loops, samples, and CD manipulations.
Frances, Jones Street Boys, and Christy & Emily at the Cake Shop. Though, Frances typically plays eclectic folky music with toy piano, accordion, guitar, kalimba, Pakistani banjo, autoharp, glockenspiel, violin, viola, percussion, bass, am radio, sampler and iPod, tonight we will find him with a pared-down electric rock quartet.
There's a Todd P show at Tommy's Tavern in Greenpoint with Bent Outta Shape from Brooklyn, Common Vision from Ashville, NC, and International Anthems for Irrational Numbers from Philly. Of particular interest is openers Monogamous Octopus which is billed as "colin from usaisamonster, barbara from animental, meghan from threesome, playing no wave and george michael covers. Either way, Tommy's is always cheap and fun.
The fairly-overblown Canadian collective Broken Social Scene starts another run at Webster Hall. I'd tell you to be ready for a stage full of folks doing lots of instrument switching and jamming, but I think it's sold-out. But not to worry - the dudes who live in the storefront below me would probably gladly let you pay a much lower price to watch their instrument-switching jam session any night of the week. But really, I ain't a playa hata- they ain't as bad as all that - but neither are those dudes downstairs...
FRIDAY
The William Parker concerts continue at The Stone with free jazz supergroup Other Dimensions in Music for the early show. In addition to Parker, the ensemble features longtime Parker collaborators Daniel Carter, on reeds and trumpet, and Roy Campbell, on trumpet, and the legendary and unreal avant drummer Rashid Bakr. Raining on the Moon part two is once again Parker, Hamid Drake, Lewis Barnes, Rob Brown, and the voice of Leena Conquest (see Thursday).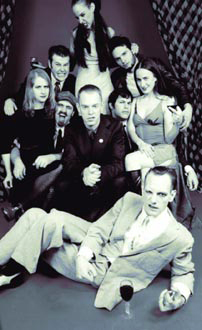 World/Inferno Friendship Society used to irritate the hell out of me for assembling the obvious (punk or ska or generic world music forms) in an unintegrated manner - with a thespian-ish Weimar cabaret presentation - sort of like Joel Gray speeding through the Casio preset menu. That's all changed now and they've mastered the difficult art of incongruence. And, they rock out, really throw down musically, and their shows have become unpredictable affairs with a younger audience that goes nuts.
One of my favorite all-time guitarists, Marc Ribot, is at Tonic with his new band Marc Ribot 's Ceramic Dog. This is Ribot's foray into the hard and the heavy with bassist Shahzad Ismaily and drummer Ches Smith.
John Coltrane drumming phenomenon Rashied Ali continues a stint at Sweet Basil with his quartet (See Thursday). And another jazz drum legend, Paul Motian, brings his octet to the Village Vanguard. Motian played in the 1950s with everyone from Stan Getz to Thelonious Monk, but is best known for his work with on those sublime Bill Evans Trio records. This should be an extension of his wild Electric Bebop Band.
Talibam and Uncle Woody Sullender are at ISSUE Project Room. Talibam is a drums/synth/sax trio that features Kevin Shea from Storm and Stress and Coptic Light. Talibam's music is not easy to categorize but can be described as loose, spastic, and energetic.
Some Action, who sound a lot like their name (a Flaming Groovies song) would imply, but with a little heavier Stooges approach, throw their record release party at Union Pool. Also worthy of mention on the bill is the rough punk band DC Snipers – who have some artful guitar breaks. With Tampoffs, Crimson Sweet, and VCR
Also tonight, Louisiana's Nathan and the Zydeco Cha-Chas, who I haven't seen forever, used to really shake it down. If you're at all into zydeco - go... Philly's Man Man, at the Cake Shop, who go for the carnival/late Tom Waits thing (but sometimes come off a bit more like Supertramp). The Detestable Festevil at Tommy's in Greenpoint features Brian Wilson Shock Treatment, Live Girls, and Action Adventure Systems. Brian Wilson Shock Treatment play some super-low-fi sixties garage rock that has some Detroit in it as well. Broken Social Scene continues to jam Webster Hall (See Thursday). And, finally, Lez Zeppelin, whose name is also self-explanatory, do their shtick in the friendly confines of the Bowery Ballroom.
SATURDAY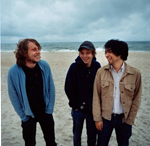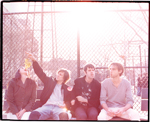 Go here to find out why New York Night Train selects Black Dice, Gang Gang Dance, and Bill Cosby and His White Pudding Pops as the show of the week.
Gary Lucas and Gods and Monsters are at The Bowery Poetry Club. Lucas is of course the bizarre and astounding guitar hero that made his name with late-period Captain Beefheart and has gone on to play with everyone you can think of. In this, his own band, the rhythm section consists of two men who helped plant the early punk rock seeds in Boston and New York - Ernie Brooks of the Modern Lovers on bass and Billy Ficca of Television on drums. I wish everything didn't always happen on the same night.
William Parker's run at The Stone continues to go strong with two multi-media performances. The first, "While We Still Have Feet," features the poetry of David Budbill accompanied by the rhythm section of Parker and Hamid Drake,. The late show is Eloping with the Sun featuring Parker on the sintir, Drake on frame drum, Joe Morris on banjo and guitar, and the dancing of Patricia Nicholson.
Morris Day and The Time and Sharon Jones and The Dap-Kings put on a show at BAM's Gilman Opera House. Anyone who knows about this band know's there's no way they could stink - particularly if they still have that full-band slide-over move they made famous in Purple Rain. Folks from Minneapolis always swear that Prince learned everything he knows from Flyte Tyme and Grand Central – the two mid-Seventies bands that Morris Day and the Time draw from (I found an article about that scene here). Go spend some time with him because "Gigolos Get Lonely Too."
Electric Kulintang is debuting a new piece entitled 7000 Mysteries at ISSUE Project Room. Electric Kulintang is the project of two percussionist/composers Susie Ibarra and Roberto Rodriguez. Kulintang is a Filipino musical style named after a percussion instrument that consists of eight gongs in a wooden tray. The duo navigates the waters of experimental jazz and funk as they loop and sample the kulintang and add percussion layers.
BPM in Brooklyn is hosting a dub battle between the Dub Nomads and Dr. Israel and Dreadtone International. Israel's long gone classic Inna City Pressure was just re-released along with his new one Dreadtone International: Patterns of War on ROIR. Israel takes the dub seriously – knowing good and well its inclusive possibilities. You don't know dub until you've heard it applied to Black Sabbath. Enough said.
John Coltrane's drumming phenomenon Rashied Ali continues a stint at Sweet Basil with his quartet (see Thursday). And Bill Evans Trio beat-master, Paul Motian, brings his octet to the Village Vanguard (See Friday). And once again, Broken Social Scene continues to jam pack Webster Hall (see Thursday).
SUNDAY
Excepter, Fa She Mello and Stefan Tcherepnin, Rubbed Raw Dance Squad, and Andersonic at Sin-e. The ambitious Excepter always seems to get a write-up here. Their trademark among all of more recent underground improvisers is their play with dance music. There's no shortage of synths, space-age samples, loops, club beats, and super-delayed dubby vocal sounds. There're also found sounds, feedback, dissonance, and a number of features that identify Excepter with the noise genre. And modern dance… Stefan Tcherepnin is also on the bill. He's the fourth generation of notable composers in the Tcherepnin family son of Ivan, grandson of Alexander and great-grandson of Nikolai. He works in live analog electronic music.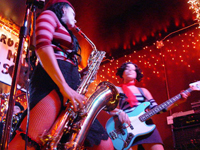 Volney Litmus, Moisturizer, and Re-Tada at Scenic. The lovely ladies of Moisturizer are concluding their residency at Scenic with a celebration of the end of the Year of the Cock and the beginning of the Year of the Dog. Moisturizer, in the middle, is a veteran all-star trio featuring Moist Paula (Burnt Sugar, Reverend Vince, etc.), Moist Gina (World/Inferno Friendship Society, etc.), and whoever their new drummer is. With only a sax, a bass, and some drums, over the years they have become THE funky downtown sweat institution.The headliner, Volney Litmus, features the fellas from Antiballas (see Monday) and plays what they call Lo-Fi AM Rock - but sounds a bit Costello-y to me. And finally, first, and certainly not least, Re-Tada is the talented Tadayuki Hirano's solo version of Tadanoshin. Tada, who you may remember as the drumming monster of Japanese New York noise outfit Ultra Bide, is actually a pretty fun and sexy Prince-like bandleader. A party to say the least.
William Parker's week at The Stone concludes with two benefit shows – each the world premier of a new piece. The early one, "Frames," is with Andrew Bemkey, Matt Lavelle, Sabir Mateen, and Daniel Carter all on woodwinds and Alon Nechushtan on piano. The late show, "Light In The Hall of Whispers," features Myk Freedman, Todd Nicholson, David Moss, and Shiau-shu Yu – all on strings.
Beat Circus and Guignol at Mo Pitkins. Despite their horrible name, Beat Circus are a notch above your average retro-carny band – they're more musically accomplished and their scope is wider. If it's your thing, what're ya waitin' for?
Go to NYNT's Live Archive here.