Live Recommendations for Wednesday, February 2, 2006
For this week's New York Night Train show list - go here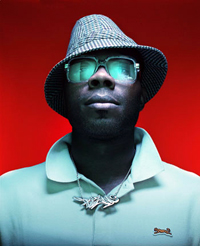 Beans w/ Holy Fuck, APSCI, Free Blood - NYU Kimmel Center $5: Beans, who's dropped a couple of bumpin' solo albums since Antipop Consortium split, describes himself as "The Ornette Coleman of this rap sh*t / The link between Suicide, Sun Ra and Bambaata is Ballbeam." While he might not be exactly that, he has some of the best flow going and some funked-up electro behind him. Holy Fuck do messed-up electronic music with toy keyboards, film tape, drums, and found objects by the seat of their pants. This is the place to get shocked.
Soft Circle, Lexie Mountain, Sandcats, G Lucas Crane Vs Non-Horse – Cake Shop $7: This is a promising bill packed with formerly-of's. Soft Circle is a one-man-band comprised of one of the underground's more prolific figures, Hisham Bharoocha – a member of Lightning Bolt in their first couple of years as a band, Black Dice up until 2003. In Soft Circle, Hisham is accompanied onstage by only drums, guitar, and tape loops. Lexie Mountain 'Boys' are as much boys as Sun City Girls are "girls." I could probably best describe them as retarded field hollers in a pasture of dying cattle. They're from Baltimore – as are husband and wife team Sandcats - comprised of electronic musician Cex and Roby from powerpunk band Milemarker – there seems to be a lot more Cex than Milemarker here . Thank god. G. Lucas Crane Vs. Non-Horse, AKA Gabriel Lucas Crane of Wooden Wand and the Vanishing Voice and Dufus, plays with cassette decks and circuit bent children's toys. This whole bill is so very art school, but somehow worth it
Ex-Models, Growing - Knitting Factory Main Space $8: The Young People had to cancel this show due to illness. Ex-Models is one of those bands that've been around so long that you tend to forget about 'em – but you shouldn't. While I always liked them, their new stuff, which is a departure from the post-punk and a step towards the industrial, finds them finally in their element. Growing are a decent heavy drone-y band from Olympia on kranky
Isaac Hayes - Irving Plaza $37.50: I really don't need to tell you why to go see Black Moses - do I?
Bo Diddley, B.B. King Blues Club & Grill $35.00: One of my absolute favorite musicians of all-time, the immortal Mr. Bo Diddley, who helped invent everything you love about contemporary music and do it better than anyone since, like Mr Hayes, needs no introduction.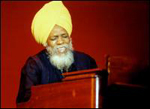 Dr. Lonnie Smith Trio, Iridium, $25-27: Turban-topped Hammond B3 master Dr. Lonnie Smith is one of those rare artists who has been able to cross effortlessly back and forth between the jazz and r&b worlds without having to abandon his style – which is a bit more subtle than Jimmy Smith or McGriff, but every bit as soulful.

Dr. Israel - Tonic $8: Israel's long gone classic Inna City Pressure was just re-released on ROIR along with his new one Dreadtone International: Patterns of War. The good doctor takes the dub seriously – knowing good and well that its best features are its element of surprise and inclusive nature. By the way, you don't know what dub has become in the last decade or so until you've heard it applied to Black Sabbath.
Malphas: John Zorn's Book of Angels: Music from Masada Book Two w/Mark Feldman, Sylvie Courvoisier - The Stone (8PM) Astaroth: John Zorn's Book of Angels: Music from Masada Book Two Jamie Saft, Greg Cohen, Ben Perowsky - The Stone (10PM) $10: John Zorn assembles another impressive cast of musicians once again to perform music from Masada. For more, see yesterday's write-up.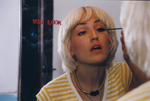 Joan as Policewoman - The Living Room: Joan as Policewoman is actually uber-talented vocalist/violinist Joan Wasser in disguise. OK, it's really not much of a disguise. While best known in the 1990s as a the violinist for the Dambuilders or Those Bastard Souls, she's gone on to play with Lou Reed, Nick Cave, Antony, and essentially anyone else worth a damn (builder). Joan as a Policewoman however emphasized the violin less and explores Joan's singing, songwriting, and keen compositional skills. The stuff is difficult to classify – but I'd call it soulful pop.
PLUG Awards w/ The National, Cage, Beans w/ Holy Fuck, Chad Van Gaalen - Webster Hall $20
It looks like indie rock now has its own awards show. I knew I got off of this carousel for a reason but didn't remember why until now…
Go to NYNT's Live Archive here.