Live Recommendations for Saturday, February 4, 2006
For this week's New York Night Train show list - go here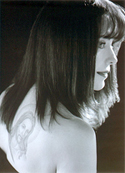 Pamela Des Barres, I'm With the Band - Coliseum Books 6PM: The Don Quixote of groupie books has been reprinted! This time groupie legend-come-celebrated author Pamela Des Barres provides an afterward to keep it up-to-date. Sandra Bernhard and other guests will also read. Here's the 411.
Glenn Branca Hallucination City: Symphony 13 for 100 Guitars - Montclair State University Memorial Auditorium (NJ) - I picked this one as the show of the week. Hear about it here.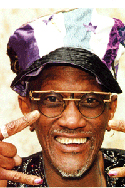 Bernie Worrell & the WOO Warriors, DJ Ori Kaplan - Tonic $15/$18: Bernie Worell, best known as the keyboardist for Parliament, Funkadelic, and the Talking Heads, also has had quite a hand in the production and composition with P-Funk. As responsible as anyone for bringing synthesizer technology to the funk early on, Worell still possesses no shortage of ability, creativity, and booty. Kaplan is a great musician. Wonder what he'll spin? Go already...

Calla, The Boggs, Daylight's for Birds – Northsix $10/$12: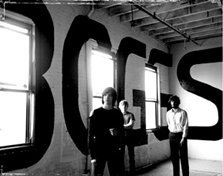 Calla's fuzzyheaded downer-pop is finding a more focused and cinematic edge and may be perfect for a cold February night. But the really amazing news here is the return of The Boggs. If you remember them as an acoustic band, you haven't seen 'em for some time. The Boggs are now electrified and feature singer Jason Friedman, guitarist David Lloyd of Cause for Applause, plus new members Sam Jayne of Love is Laughter, and Matt Schulz of Enon - a supergroup to say the least. Daylight's for the Birds is a dreamy pop band featuring former members of On!Air!Library!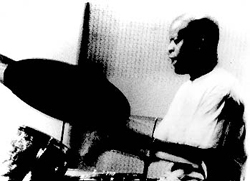 William Hooker, Roger Miller, Lonely Ghost, Electroputas, Olive and Black Hair - Pianos $12/$15
An accomplished drummer, poet, and artist, William Hooker whose musical career goes way back before the 1970s free jazz loft scene, when he played the Isley Brothers and Dionne Warwick, is one wild and crazy drummer. He will be staging collaboration with an equally important underground figure, Mission of Burma's Roger Miller. And I wouldn't doubt if his frequent collaborator Lee Ranaldo steps in. The band that exists where krauty grooves and experimental fragments meetdowntown art tradition, Electroputas feature longtime +/- gang members Joe Frivaldi and dancer/DJ/filmmaker Jaiko Suzuki. Lonely Ghost and Olive and Black Hair also play.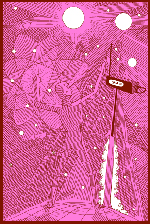 New York Experimental Theremin Orchestra Series part II: an evening of theremin – ISSUE Project Room $10: The New York Experimental Theremin Orchestra, a who's who of the local and international theremin scene, includes a talented and eclectic bunch that come a diversity of backgrounds including indie rock bands, experimental music projects, art instillations, drag performance, the New York Philharmonic, and university lectures. Performers include Dorit Chrysler, Michael Evans, Dalit Warshaw, Pamelia Kurstin, Anthony Ptak, Armen Ra, and Dave Simons. If you are a fan of the this instrument, this is definitely your event.
Heroine Sheiks, Ten Pound Strike, In Pencil, The Silent Years, Baker the Band – Trash $10: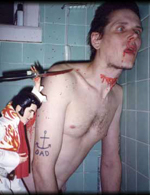 Heroine Sheiks have been around so long that they're often overlooked as being one of New York's finest underground institutions. Shannon Selberg, also of the legendary Cows is, hands-down, among one of the best and most unique rock frontmen of all time – and I don't just mean in the underground. And, from what I've heard so far, the new LP is one of their best.
Mazing Vids, Mazinga Phaser II, Mr. Andersonic, JAWS -Tommy's Tavern $6: Mazing Vids is the sound of artfully assembled.keyboard torture and drum machine malfunction with a dash of angular guitar. Mazinga Phaser is Wanz Dove'sr long-lived project that's been at the center of the Denton, TX space-rock scene since the early 1990s. I had no idea they were still going! A Texas boy myself, I think it's my duty to pop in and see what ol' Wanzy's up to… Mr. Andersonic is total booty music with vintage created live with a sampler and vintage drum machines and synth. And Jawz takes a great big psychotic digital dump – and I mean that in a good way.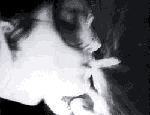 Holly Golightly - Maxwell's $12: Ms Golightly is a charismatic performer with a really distinctive voice, strong songs, and a lot of soul. Totally worth crossing the river and back.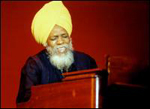 Dr. Lonnie Smith Trio, Iridium, $25-27: Turban-topped Hammond B3 master Dr. Lonnie Smith is one of those rare artists who has been able to cross effortlessly back and forth between the jazz and r&b worlds without having to abandon his style – which is a bit more subtle than Jimmy Smith or McGriff, but every bit as soulful.



Watchmaker, Battletorn, Drugs of Faith, Villians, Dimentianon, Goat - Sin-e: Boston's evil grind metal legends Watchmaker make a return with Troubleman's Battletorn - the leading local proponents of a DRI-style thrash revival. Definitely the place to be for the fast n'loud. P.S. Don't you also love metal logos?
Go to NYNT's Live Archive here.