Live Recommendations for Friday, February 10, 2006
For this week's New York Night Train show list - go here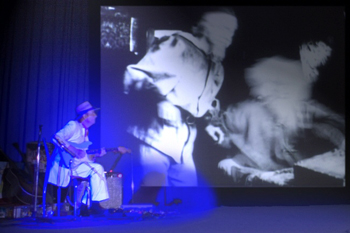 Gary Lucas: 'The Golem' - Rubin Museum of Art $15: Gary Lucas has gotta be one of the best and strangest guitarists in existence. Here he accompanies one of the best and strangest films of one of the best and strangest periods in cinema history – The Golem (1920). I can't think of a better accompaniment. Let's just pray to god Lucas doesn't lose control of his monster.

Mission of Burma, Battles - Bowery Ballroom $20: One of the only reunion bands worth a damn, Mission of Burma came back a couple of years ago with some pretty fine new material and they still play their classics with integrity. The opener, Battles, is a sort of math-rock supergroup featuring Helmet's John Stainer on drums, Don Caballero's Ian Williams on guitar and keyboards, and Dave Konopka from Lynx

The Drones - The Annex $5/$7: I spent too much time talking up the Drones yesterday. Check 'em out and read yesterday's recommendation if you need to know why. They're playing a FIXED party at the Annex and this club is so new that it isn't on my list yet so I guess I should tell ya that its at 152 Orchard.

Shy Child, Parts & Labor, Child Abuse, Querent – ASTERISK ART PROJECT. Shy Child, on Aaron Romanello's under-rated Say Hey label, are a duo that makes a fun and noisy underground take on synth-pop. Parts and Labor is a veteran Brooklyn trio that are on the more experimental end of rock power. Child Abuse's stuff is so rich, dense, and varied that I'm at a loss for words beyond – see 'em. They might just blow your mind.
Jimmy Scott – Iridium $30/$35: If it was valentines weekend and I wanted to get all dressed up with my sweetheart, I couldn't think of a better place to be than listening to Jimmy Scott – pure class. Catch 'em while you can.
Postcard from Brazil: Rosa Passos - Zankel Hall at Carnegie Hall $30 : And if Jimmy Scott ain't romantic enough for you, Brazilian diva Rosa Passos is one of the queens of the bossa nova. The warmth of her mellow jazzy voice is accompanied by subtle acoustic instrumentation. If you love bossa nova and can afford it, I'm sure you've already got the tickets.
Dr. John - B.B. King Blues Club & Grill - $30-$35: In addition to the creation of what may well be the best long-playing record ever cut (if you don't know, ya just gotta figure it out for yourself), the night-tripper has gone on to do everything from the funk to the standards – all with his undeniable stamps of distinction – that voice, those fingers, and all that personality. One of a kind.
Dayton Sawyer Gang, Time of Orchids, Pearls & Brass, Stay Fucked, Modern Day Urban Barbarians - Cake Shop
Drayton Sawyer make some really messed up and misanthropic noisy rock with quite a bit of precision and humor. Time of Orchids, who've been around for some time and have a few records, the most recent of which is on Tzadik, have a more jazzy, experimental, and eclectic approach to the heaviness. Pearls and Brass' stuff is a musically sophisticated on 1970s rock. And Stay Fucked, who played Todd P's Tommy's Tavern show last night, is really mathematical but fun almost Fucking Champsy punkish rock. This show is a must for folks who like their rock complex.
Laura Cantrell - Mo Pitkins $15: I was really pissed when I somehow ended up on this gal's email list many years ago – until I heard her. Cantrell's now on Matador records and continues to make some really straightforward, tasteful, and brainy country that's the perfect tonic for homesickness for expats from below the Mason-Dixon like myself. She can really write a song, has the right pipes to pull it off, and keeps a number of phrasing tricks up here sleeve. Did I mention she's from Nashville?
The Mooney Suzuki, Bling Kong - Southpaw 18+ $10. I haven't really wanted to like Mooney Suzuki since the early 1990s, but they keep crawlin' under the skin and, whatever their line-up, they tend to rock hard, fast, and sweaty. Bling Kong, with enough members to fill a small club, makes party rock punctuated by cheers.
Deadboy and The Elephantmen, The Comas, The Royal Arms - Northsix $10 Dax Riggs of metal cult heroes Acid Bath has recently resurfaced as Deadboy and the Elephantmen. While this type of rock wouldn't typically make this list, the factor tipping the balance is the uncommon Neil Diamond/Danzig sincerity of Riggs' voice. The Comas deliver above average indie rock.

Trachtenburg Family Slideshow Players - Knitting Factory Main Space $10: I really have a hard time listening to this band but they're coming from the right place politically and the reason that they're getting a shout out here is because they have one of the coolest drummers in the biz.

Experimental Art Night - The Glass House FREE. You never really know what you'll find here, but it's often worth stopping in. I have no more info than this – but pop by, it's free.
Go to NYNT's Live Archive here.