For this week's New York Night Train show list go here. For information about the venues go here. Click the names in bold to learn more about the artists.
Live Recommendations for Tuesday, March 7, 2006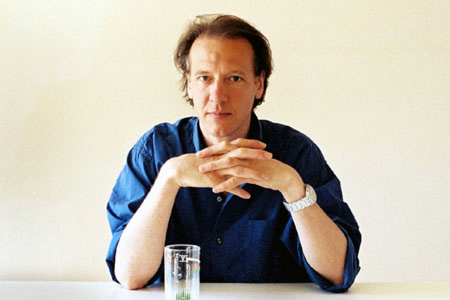 CHRISTIAN MARCLAY
Andrea Parkins and Christian Marclay Duo – The Stone 8 pm $10
Andrea Parkins and Christian Marclay Duo plus Shahzad Ismaily – The Stone 10 pm $10:
If I had to pick only one show tonight, it'd be Andrea Parkins and Christian Marclay Duo (click his name for a really amazing site) plus Shahzad Ismaily at The Stone. Marclay is a towering figure in contemporary art and music whose turntable innovations occurred simultaneous with those of the Bronx hip hop scene in the 1970s. He is perhaps the figure the most responsible for the turntable's early legitimacy as an instrument in the avant garde (though composers have been playing with turntables at least as far back as John Cage's "Imaginary Landscapes No. 1" in 1939). Marclay's importance is much more than that of the innovator as his music tends to be much more playful, interesting, and well-conceived than most of the abstract stuff out there. In addition to Marclay's turntables, Andrea Parkins, who often collaborates with one of the top five living guitarists, Nels Cline (I ain't tellin' you the other four), is an accomplished electronic musician whose weapons of choice tonight will be electronics, piano, and her trademark electric accordion. Parkins, like Marclay, work is also informed by musique concrete. Finally, you may know multi-instrumentalist Shahzad Ismaily for his wild drumming with the likes of Doveman and Gregory Tate's Burnt Sugar.
Gospel, Racebannon, Unearthly Trance - Northsix $8/$10
If electronic improv ain't your thing, Gospel and Racebannon also deserve a shout out for making some of the most monstrous noise going.
Also recommended:
Boostamonte and Colin Stetson's Transmission – Zebulon
Dana Kline, Feathers, The Black – Tonic $8
Nicole Scnheit, Earl St. Ives, Winning Looks – The Cake Shop $6
The Subways, The Shys, Surefire Bowery Ballroom $13
Go to NYNT's Live Archive here.