For this week's New York Night Train show list go here. For information about the venues go here. Click the names in bold to learn more about the artists.
Live Recommendations for Wednesday, March 8, 2006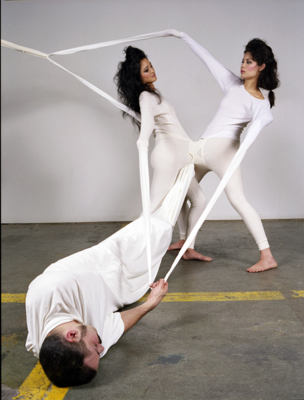 Knife Skills
n0 things, Knife Skills, the Good Good – Union Pool
If I had to pick only one show tonight, it'd probably be n0 things, Knife Skills, and the Good Good at Union Pool. Not only is Union Pool an under-rated place to see a show, but this is one of the better bills they've had. The n0 things are a bit of a super-group featuring guiarist/vocalist Christian Dautresme of HiM and the brutal original rhythm section of Liars - Pat Noecker and Ron Albertson. Like the Liars, the band is rooted in the post-punk, but slithers around quite a few other heavy destinations on the sonic map. n0 things are definitely one of the new things to watch. The trio Knife Skills clearly has some of the best promo photos ever and is quite capable of the occasional chaotic blistering blast through the skull – accomplished and unique as well….
Shout outs:
Jon Langford - Bowery Poetry Club $10: The old man's back again! What hasn't been said... you're already there...
The Chemical Wedding group art show opening - Live With Animals (210 Kent Ave, Brooklyn) 6pm - 9pm: usually art shows don't appear here but we've loosened the rules this time because Micki Pellerano and Vashti Windish have assembled no small number of musical pieces and works by musicians.
Genghis Tron, Akimbo, The Dead Betties - Knitting Factory Tap Bar $8: Plot to Blow Up the Eiffel Tower cancelled but you can't really beat the artful pandemonium of upstate's mighty Genghis Tron.
The Wedding Present, Sally Crew and The Sudden Moves - Bowery Ballroom: The return of a band that's always been a bit of a gamble, but their rabid cult are now gonna find me for saying that they're anything less than brilliant all the time.
Also recommended:
Butch Morris and Kenny Wollesen (Stone Benefit) – The Stone $10
Jonathan Kane's February, Arnold Dreyblatt, Rhys Chatham – Tonic $12/$15
topographies by gill arno, richard garet, andy graydon, adam kendall, jeremy slater – ISSUE Project Room

Go to NYNT's Live Archive here.