For this week's New York Night Train show list go here. For information about the venues go here. Click the names in bold to learn more about the artists.
Live Recommendations for Friday, March 10, 2006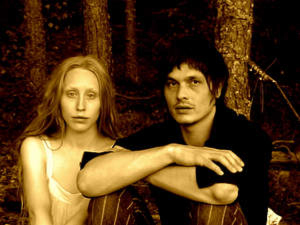 Mi and L'au

If I had to pick only one show tonight, I probably could but I don't feel like it, because I can name at least half-a-dozen that are first class - A#1 - top notch - all the way... baby....
Mi and L'au, Samara Lubelski - Tonic 8pm $10
I missed Mi and L'au last time and wondered if I'd get another chance because, unless it's all crazy Michael Gira authenticity-building media assault, they apparently inhabit some cabin out in the middle of nowhere in Finland. And while Gira recorded their record in Brooklyn, it does feel a lot like a smoke escaping the tiny cabin's chimney and getting lost in the Fluff™-y winter landscape. And did I mention that they look like forest creatures? Sumara Lubelski is also soft but, whereas the Mi and L'au softness comes from sparse nudity, her light psychedelic folk's mellow is a lush and intricately embroidered pillow stuffed with layers of sonic feathers. Though she's certainly unsung for one with so many great accomplishments as an artist and engineer, she won't be for long if all of you that think this sounds like your thing start lending her your ears.
Pterodactyl, BIG A little a, Big Bear, Parts & Labor – Tonic 10:30pm $10
The folks from the early show are in for a rude awakening. Perhaps the best local bill of the night - and of late - chock full'o'heavyness and chaos. If you stay and watch Mi and L'au and Samara Lubelski and stay for this, and know what everything is, and enjoy at least 2/3rds of the entire night, you're my new aesthetic hero of modern life.
Black Dice, White Magic, WIZARDZZ - Secret (tickets at Eat Records – Todd P)
Black Dice also always gets ink here as have Lightning Bolt's Brian Gibson's WIZARDZZ - and they're playing a secret show (oooh – no one knows where it is unless they get a ticket from one of New York's finest - Eat Records - such mystery...) with the mighty White Magic - who I just discovered that I haven't written about (I assumed I did - damn you Google site search). Black Dice just get more and more out there and I've already said enough to defend 'em and will continue to do so. White Magic, who I haven't seen around for a while, are led by Quix*o*tic's Mira Billotte and are totally sophisticated, paced, and ethereal. WiZARDZZ, on the other hand, I've never seen (have they played here?), but so far sound like quite the opposite of White Magic – a goofy cartoon of serious mass culture jamming.
Mike Ladd - The Kitchen $8/$10
OK, so Mike Ladd got the recommendation here yesterday, and I try not to recommend the same person every day - but damn - how often do you get a chance to visit the legendary Kitchen for some cool music? And how often do you get to see Mr. Ladd these days?
Shout outs:
Early Man, Priestess, The Sword - Northsix $10/$12
If you like the heavy stuff you already know this is the place - but do you know that out of these three of the best at their game, Austin's Sword cuts them all?
The Hellacopters, The Datsuns, Nebula - Bowery Ballroom $16/$18
If the Early Man bill is the new metal of the last couple of years, this was the new metal almost a decade ago. But don't be a trend-monger - don't fall for the discusting indie capitalist trends of killing yr idols so you can purchase something a little cuter and younger - stay out of the loop and get rocked - you'll still get whatcha need here.
The Boy Least Likely To - R & R $10
I think these guys get enough ink already from all of the obvious sources, but should be worth checking out live. Who's their publicist? And do you believe that the publicists are now the most powerful force in the post-Pitchfork/Insound indie world? What happened to word of mouth?
Metric, Islands, Men, Women and Children - Bowery Presents @ Webster Hall $20
Damn it - I loved the Unicorns and am also partial to Islands...
Battle, Five O'Clock Heroes - Mercury Lounge $10
I know I'd probably dig Battle live. Why don't I ever try to go see 'em?
Also recommended:
billy martin & cyro baptista – ISSUE Project Room
The Brian Wilson Shock Treatment – Tommy's Tavern
Les Sans Culottes - Magnetic Field $6
Les Savy Fav - Warsaw $16.50
The Presets, Gregor Samsa, A Northern Chorus, The Bonapartes - Cake Shop $5
Ran Blake/Charles Gayle Piano Solos - 8pm $10

Go to NYNT's Live Archive here.