For this week's New York Night Train show list go here. For information about the venues go here. Click the names in bold to learn more about the artists.
Live Recommendations for Friday, March 10, 2006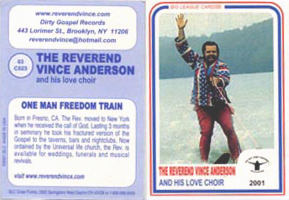 Reverend Vince's 2001 baseball card.
Reverend Vince Anderson and His Love Choir - Black Betty $free
If I had to pick only one show tonight, I'd be at Black Betty dancing to Reverend Vince Anderson and His Love Choir. The Reverend is back after six weeks of converting Europe heathens to his unique brand of funky gospel music. I've been watching the Reverend's services since his weekly gig at the long-gone Avenue B Social Club (now Manitoba's) in the late 1990s through many years at Pete's Candy Store and finally settling in on Mondays at Black Betty. The Reverend's take on Christianity is based on its most humane elements and is centered around the parts of Jesus that people tend to lose track of – his rebelliousness, forgiveness, and the populist hedonism that turned the water to wine. While the Reverend is serious, his brand of religion contains enough humor, fun, and booty to make this agnostic shout "Amen!" And, just in case you doubt his authenticity, The Rev has a weekly private gig at the Salvation Army and has performed no small amount of weddings and baptisms and probably'd even give you a Bar Mitzvah if they'd let 'im.
Perhaps I'm focusing a bit too much on the good Reverend's new old-time religion. My main reason for loving the Rev is the fact that he's a first-rate entertainer, storyteller, songwriter, vocalist, organist, bandleader, and all-around musician. His band, The Love Choir, which continues to feature the incredibly soulful one-woman New York baritone sax institution otherwise known as Paula Henderson (James Chance, Moisturizer, Burnt Sugar, etc.), also includes the entire Pleasure Unit (RIP) – which means one of the best rhythm sections going - as well and choice R&B/blues/funk guitar licks supplied by none other than TV on the Radio's Jaleel Bunton. One of the warmest, most intimate, and sweatiest forms of redemption available… And still free… Hallelujah!
Also recommended:
Battle, Rumble Strips - Rothko $10
Billy Bang – Location One (26 Greene St) $15
The Datsuns, High Strung, The Love Loves -Maxwell's $15
Isobel Campbell - Joe's Pub $15
Purim Party with Hazon - Sway Machinery & Antibalas Horns – Makor $25
The Presets - Fontana's free
Tall Firs, Tunde Adebimpe - Tonic $8
Throat Singers of Tuva with The Alash Ensemble with Kongar-ool Onda – Barbes $12


Go to NYNT's Live Archive here.