For this week's New York Night Train show list go here. For information about the venues go here. Click the names in bold to learn more about the artists.
Live Recommendations for Tuesday, March 14, 2006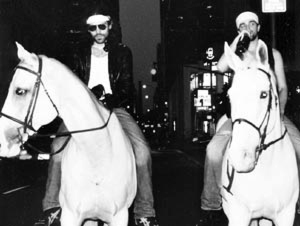 A.R.E.
A.R.E. Weapons, The Mr. Move, Tara Delong, , Moisturizer, Jim Kelly, Last Supper, Matins w/DJs trztn, Porkchop, rufus raxlen, jake boyle, dignity - Don Hill's
If I was in New York tonight and had to go to a show, I imagine I'd be watching the local bill at Don Hill's. When everybody loved A.R.E. Weapons in the late 1990s, I have to admit I thought they were the worst band in town – I just thought the music sucked, or and that the joke wasn't that funny, and that I was trapped in to seeing them every time I went out, and, most of all, I had (have) a bad habit of hating underground flavors of the month as much as mainstream ones. Not that A.R.E. were really so underground at the time - they were more likely to play a fashion show than a real gig and got lots of ink in all of the worst local publications. Anyway, times changed really quickly and people started forgetting these guys, which of course means that the time is ripe for someone like me to give 'em another chance. The big dumb irony is so typical - that, now that these guys have gotten their shit together musically and become really good at what they do, their turn of the century trendoids are either onto something else, living in the suburbs, or dead, or whatever. Maybe you should also give 'em a second chance?
This bill also includes some locals from the same time period that never achieved A.R.E.'s notoriety, but continue to be some of the best around. One is Tara Delong, who used to be in Bedroom Productions with Snax. More than a couple of people asked me the name of the intense rapper with the bloody raw beats at Kid Congo's record release – she's a real show-stealer. Another, Moisturizer, who always gets a shout-out from NYNT, aside from lending their separate talents around town to everyone from James Chance to World Inferno Friendship Society, together have been getting downtown and Brooklyn crowds moving with their unique brand of funky instrumentals for at least seven or eight years now. I also happened to notice Trztn from Flux/Services on the DJ list! The only catch is that ya got to go to Don Hill's – but as long as everybody's relivin' it...
Also recommended:
Skatalites - S.O.B.'s $20/$22
Archaeopteryx, SIDS, Animal - Cake Shop $6
Bill Ware, Jaime Aff, Brad Jones – The Stone $10
The Caribbean, The Malarkies, Nick Butcher - Tonic $8
Dexter Jones´Circus Orchestra, The Virtues - Knitting Factory Tap Bar $8
J. C. & Anphibius , McGinty & McGinnis – Detour 8PM free
Todd Nicholson, Gamiel Lyons, Reut Regev, Andrew Bemkey, Darrell Greene Bang – Location One (26 Greene St) $15


Go to NYNT's Live Archive here.