For this week's New York Night Train show list go here. For information about the venues go here. Click the names in bold to learn more about the artists.
Live Recommendations for Tuesday, March 22, 2006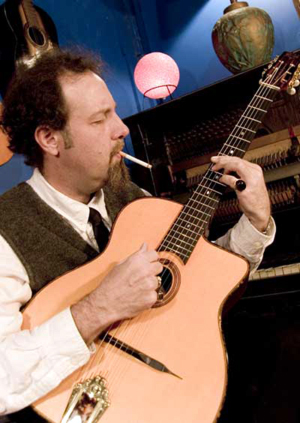 Sir Richard Bishop
Jackie-O Motherfucker, Sir Richard Bishop, The Bunnybrains - Union Pool $8
If I had to go pick a show tonight, it's a no-brainer, I'd be, OK, what the hell, I'll definitely be at Todd P's super-bill in the friendly confines of Union Pool's backroom. Jackie-O Motherfucker is the experimental tri-city project led by Tom Greenwood and Jef Brown. You have no idea exactly what kind of instrumentation to look forward to – it could anywhere from a sextet or an orchestra of twenty. What is guaranteed is saxophones, guitars, and lots of percussion over a foundation of tape-loops. No description does their unique and eclectic sound justice – but let's just call them a contemporary indie underground less-jazzy version of the mid-period Arkestra. While I'm a fan of Jackie-O, the true highlight for me tonight will be the man whose arguably the best guitarist going, Sir Richard Bishop. If you don't recognize Bishop's name, you will certainly recognize his inimitable style if you've ever witnessed a Sun City Girls performance. While Bishop continues to dip into a variety of international influences on his own, his work differs from the Girls in that it's entirely solo acoustic. Completely mesmerizing. As for the Bunnybrains, they've been around for almost twenty years and seem to be making a bit of a comeback with a new box set. If I had to endure some New England performance art with some music, I can't decide if I'd rather watch their singer or the dude from Les Savy Fav.
Also recommended:
Casiotone for the Painfully Alone, the Donkeys, Zeke Healy, Hola Chica - Glass House Gallery
The Go! Team - Northsix $15
Exene Cervenka and the Original Sinners - Avalon $18
Steve Adams and Jon Raskin - The Stone $10
PG Six, Lucky Luke, Apothecary Hymns, Function, Coach Fingers - Tonic $10

Go to NYNT's Live Archive here.