For this week's New York Night Train show list go here. For information about the venues go here. Click the names in bold to learn more about the artists.
Live Recommendations for Tuesday, March 23, 2006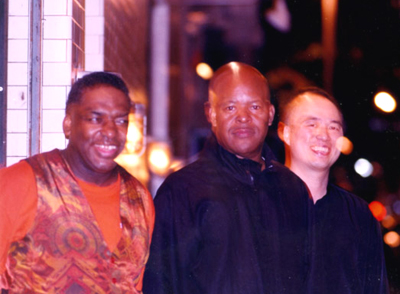 The Gift
The Gift: William Hooker, Roy Campbell Jr. & Jason Hwang - Tonic 8PM $10
If I had to pick one show tonight, it'd be The Gift - a mighty trio featuring William Hooker on drums, Roy Campbell on trumpet, and Jason Hwang on violin. An accomplished drummer, poet, and artist, William Hooker, while recognized for his important role in the 1970s free jazz loft scene, also played with the Isley Brothers and Dionne Warwick in his early career. He is a powerful, passionate, and creative drummer and, with out a doubt, one one of avant jazz's most distinctive stylists. Roy Campbell is an equally important figure in the jazz underworld since the 1970s. In addition to leading his own acclaimed projects, and being a primary figure in William Parker collectives such as Other Dimensions in Music and Pyramid Trio, has performed with everyone from Rashied Ali to Cecil Taylor to John Zorn. Composer/violinist Jason Hwang, who has had a prolific career in the jazz world and beyond, is best known for his work as a solo artist and with his accomplished ensemble, the Far East Side Band. The product of these three voices, The Gift, doesn't really lend itself to words - but it definitely fits within the more ordered half of the free genre. Go and witness it rolling, resonating, and exploring.
Also recommended:
The Affair, The Cops, Looker – Knitting Factory Tap Bar $8
The Ark, Princess Superstar – Bowery Ballroom
Animal Collective, Nix Noltes – Webster Hall $20/$22
Bruce Eisenbeil Quartet – The Stone $10
Cortina, Love of Diagrams, Necking, Grey Deturas – Glass House Gallery
Chocolate Genius - Tonic (10PM and MIDNIGHT) $12
nu-artskool series: My TV's, Mutronium, Elk City, Marcus Congleton – Fontanas
Pumpkin Pie Show: Hungry March Band – PS 122
Sarod Music of India: Tejendra Narayan Majumdar – Leonard Nimoy Thalia at Symphony
Shapes and Sizes, Le Ton Mite, Sophia – Cake Shop $6
Witch, Panthers, Titan - Northsix
Go to NYNT's Live Archive here.