For this week's New York Night Train show list go here. For information about the venues go here. Click the names in bold to learn more about the artists.
Live Recommendations for Friday, March 24, 2006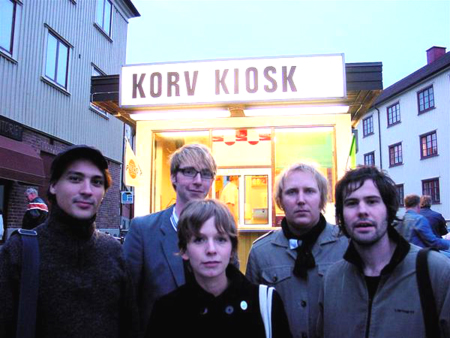 Love Is All
Love is All, Cause Co-Motion! – Knitting Factory Main Space $12
Tomorrow: Love is All, Cause Co-Motion! – Warsaw $13
If I had to pick only one show tonight, it'd be Love is All at the Knitting Factroy. Just when you thought you'd never have to deal with another overblown post-punk buzz band, Love is All has been hyped so much in the last couple of months that wise folk like myself have remained an ocean away. But now they're here for a couple of shows, there's really not much more to do except open our ears. And the secret that all of us cynics try to ignore remains that occasionally the hype is somewhat justified. If you've been avoiding this Swedish fivesome as I have, it's time to give in. They're take on the tired post-punk is just too original, catchy, and well-conceived to avoid. Equally more chaotic and more structured than their contemporaries, Love is All has a brainy immediacy that can't be denied and I can't wait to see how it all translates live. Another great band on New York's What's Your Rupture label, Cause Co-Motion, is opening both shows.
Also recommended:
Jackie O' Motherfucker, Sir Richard Bishop, Theo Angell – Tonic $10
Dorit Chrysler, Jim Thirwell, William Basinski, and DJ Olive - ISSUE Project Room $10
Wayne Horvitz – The Stone 8PM $10
Wayne Horvitz and Marty Ehrlich Duo – The Stone 10PM $10
Clockcleaner, Brown Angel, Missed Crosses – Cakeshop
Jesse Malin – Warsaw $17
Matt and Annie Keating, Bruno Blumenfeld – Magnetic Field
Pumpkin Pie Show: Hungry March Band – PS 122
Ray Davies – Irving Plaza $65
Billy Bragg, Jill Sobule – Society for Ethical Culture
The Books, Jose Gonzalez, Death Vessel – Bowery Ballroom $15
Detachment Kit, Foreign Islands, The Big Sleep, Goes Cube – Brooklyn Lyceum $10

Go to NYNT's Live Archive here.