For this week's New York Night Train show list go here. For information about the venues go here. Click the names in bold to learn more about the artists.
Live Recommendations for Sunday, March 26, 2006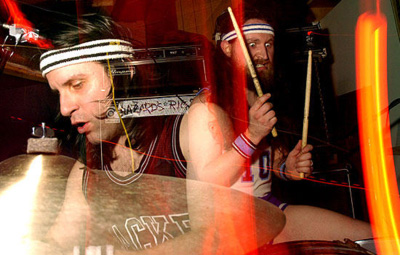 Atheletic Automation - American Apparel ad?

The Fugue, Athletic Automation, No dynamics - Cakeshop
Part Chimp, Oxford Collapse, Die! Die! Die! – Union Pool
Japanther, Show Me The Pink, Mikaela's Fiend, The USAisAMonster - Unidocs
Today we give thanks to noise rock as there're at least three bills gathering the local, national, and international varieties. If you like the sort of Load Records-ish turn-ot-the-century underground percussion heavy noise, you may want to show up early at Unidocs for Japanther, Seattle's Mikaela's Friend, USAisAMONSTER show. Portland's Show Me The Pink is the sore thumb on the bill playing tongue-and-cheek art-school new wave – not that that's a bad thing. Then later tonight at Union Pool there's London's Part Chimp, who are probably amazing live and remind me of early Trail of Dead when they were lest sophisticated, sounded more like Unwound, brutalized the Steve Shelley beat in almost every song, and rocked out with utter abandon. Sub Pop's most recenet signing, locals Oxford Collapse, and New Zealand's Die! Die! Die! Are also on that bill. But I think all and all, if I had to pick one, I'd be at the Cake Shop where the Fugue plays with Providence's Athletic Automation and Toronto's No Dynamics. The Fugue is a local bunch with a few singles to their name – one of which is a split with their aesthetic sibling AIDS Wolf. Don't let the name fool you – no Bach here – just a combination of all things noisy - classic Touch and Go noise rock, Japanoise, and early 80s pure noise and hardcore. Screaming distorted vocals and guitar, heavy beats, and no shortage of dynamics. Despite their quirky elements, they still possess the patience to keep hammering on a riff until it is lodged deep into your skull. And speaking of the turn-of-the-century Providence sound, Athletic Automation, the duo of Steven Mattos from Arab on Radar with drummer Patrick Crunt, wear athletic outfits and make a lot of racket for a two-piece. They're actually quite amazing. No Dynamics, perhaps the most listenable of the bunch, still make quite a clamor, and their name is also a bit misleading as their music is quite dynamic and worth arriving early for...
Also recommended:
Ted Leo & the Pharmacists, Les Aus, The Duke Spirit – Knitting Factory Main Space $12
The Minus 5, Richard Buckner – Southpaw $13
Loudness – BB King Blues Club
Pumpkin Pie Show: Hungry March Band – PS 122
Ray Davies – Irving Plaza $65

Go to NYNT's Live Archive here.