For this week's New York Night Train show list go here. For information about the venues go here. Click the names in bold to learn more about the artists.
Live Recommendations for Monday, March 27, 2006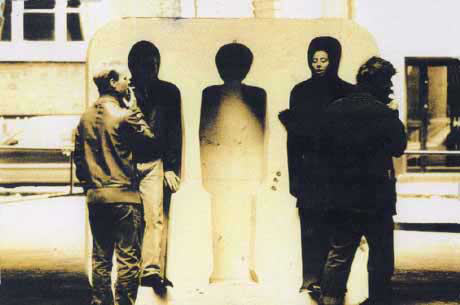 Th' Faith Healers

Th' Faith Healers, Fresh Kills - Northsix $10/$12
Th' Faith Healers have returned from a twelve-year hiatus and are playing Northsix tonight. For those of you that don't remember 'em, they were the first band on Too Pure Records – and were immediately ahead of their time – towering above their English contemporaries except for perhaps labelmates PJ Harvey and Stereolab (OK, plus I guess Psychic TV, My Bloody Valentine, Ride, and Spaceman 3 and their spin-offs - alright, I'm making it public, I always found Britpop shallow and derivative). They explored a variety approaches but were best when they were doing their distorted contemporary take on Can Monster Movie – which doesn't mean much now that everybody and their mama sounds like Can but really meant a lot in the early 1990s when it was more than you could've wished for from a band (go to their myspace page to hear "Dont' Jones Me"). I have no idea what they'll be like twelve-years later but can't imagine it sucking - it'll just be strange to find them finally living in their own time - if they haven't now moved forward another decade. Also you should get their early for Fresh Kills, not only because they just got off a very hungry tour and are tighter than my current financial situation, but because singer Zack just walked out of six years of barbacking at the Mars Bar last night and is sure to be full of the self-conscious anxiety that is his best asset as a performer. Hence, he'll probably require some of you to buy him drinks for a change…
Also recommended:
Part Chimp, Die!Die!Die!, The Drift - Cake Shop $7
J Dimenna, Good Evening, Mason Dixon, Dogs of Winter
Sin-e $8
Go to NYNT's Live Archive here.