For this week's New York Night Train show list go here. For information about the venues go here. Click the names in bold to learn more about the artists.
Live Recommendations for Tuesday, March 28, 2006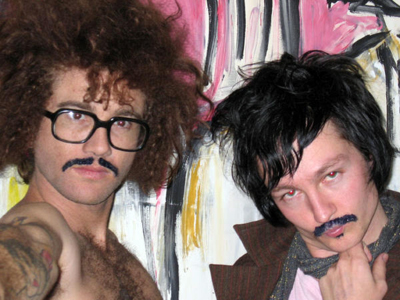 The Deathset

Cinemechanica, The Deathset, Show Me the Pink, The Stabs – Cake Shop $7
Tonight there're way too many good shows, but if I had to pick one, it'd be the underdog. The Cake Shop is throwing down a strong bill of four very obscure touring bands that are geographically and musically fairly removed from one another – but all well worth checking out. The headliner, Cinemechanica plays fast proggy punk with no shortage of speed, intensity, and color – maybe a hybrid of Mars Volta and Victims Family (remember them?). The Deathset are a young Sydney duo that, in only a few months together, moved to States (Maryland), released an EP and a split with Best Fwends, did touring with Best Fwends and Japanther, and already have Baltimore's happening Rabbit Foot imprint repressing their EP. The music is really spastic lo-fi electronic pop or electronic punk – but not electronic pop punk – kid of like a Japanese toy store going berserk – but a catchy chaos. Portland's Show Me The Pink are on Chainsaw Records – who, for those with a memory, introduced Sleater-Kinney many years ago – but what holds more important here is that they put out Tracy and the Plastics – clearing the way for Show Me the Pink - who do a happy tongue-and-cheek art-school thing that people now like to call disco punk or a few years ago would've called electroclash – but people my age are just accustomed to calling new wave. While this kitschy genre was milked for all its worth in this town a few years ago (and will probably always exist in Berlin), you may want to give the Pink a chance because they're one of the only ones using real drums and bass, playing super retardo, and giving off a bit of a D.I.Y. fun sloppy collective vibe that reflects the fact that they're approaching this stuff from a completely different direction. And finally, the opener, The Stabs are also nothing to sneeze at. The Stabs are a new-ish Melbourne trio who totally embody the best elements of their country's musical heritage (anyone who reads this knows I love an Australian-sounding Australian band) – think of a common point between Lubricated Goat, The Scientists, and Birthday Party – heavy swampy feedback-ridden plodding rock'n'roll with that special sway only they can do. There also seems to be that touch of Seattle that keeps creeping in the down under sound the last few years – but I guess that's alright 'cause the Aussie's secretly invented Seattle anyway. Get there early...

Lola Ray, Roxy Pain, Dark Room - The Delancey
Also, a quick shout-out to Roxy Pain at The Delancey. A totally under-rated force in the NYC underground, they're set of all new material at the Glass House a couple of weeks ago was nothing less than brain melting...
Also recommended:
Briggan Krauss (sax) Kenny Wollesen (drums) Robin Holcomb (piano) – The Stone 8PM $10
Free Zone Music Series Fundraiser: John Hollenbeck, John Zorn, Lukas Ligeti, Andrew Barker Sextet – Tonic
New York Dolls - CBGB
The Minus 5, The Silos, The Mendoza Line - Mercury Lounge $15
Wayne Horvitz - Briggan Krauss (sax) Kenny Wollesen (drums) Wayne Horvitz (electronics) 10pm $10
Go to NYNT's Live Archive here.