For this week's New York Night Train show list go here. For information about the venues go here. Click the names in bold to learn more about the artists.
Wednesday May 10, 2006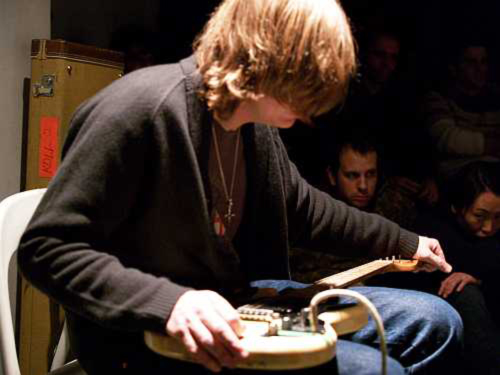 Thurston Moore Solo (8 PM)/Thurston Moore and Special Guests (10 PM) – The Stone $10
As I experiment with this zine I find more and more that my calling is opening minds – including my own – not only to new music but different types of music. This not only includes getting more mature listeners to check out some new young bands, but also getting younger folk interested in sounds that fall outside of the rock realm – particularly rock's secret sibling, avant jazz. Of course I know I'm not alone on this mission and, if you had to select one artist whose done the most to spark rock fan's enthusiasm for jazz and other experimental musics, or new rock bands for that matter, there's not question that it would be Thurston Moore – whose spent years bridging gaps between the likes of Glenn Branca, Cecil Taylor, Beck, and Prurient.
Tonight Moore plays two shows at The Stone. As The Stone is all improv, all the time, it will consist of his free explorations. The 8 PM show he's billed alone. I imagine you'll find him seated in behind a busy quilt of pedals, poking and bending around the neck softly and sparsely until he finds what he wants, excavating it with subtle undertones, microtones, and light picking, laying it out on display it with his trademark dreamy two-note downstrokes, smashing the life out of it in a feedback frenzy, and floating back up to look for another groove as he twists the nobs on his pedals. The 10 PM show features special guests and, since Moore is friends with pretty much everybody from the avant and rock worlds – I imagine that, whoever it is, it'll be impressive.
MEDIA:
Thurston Moore Live - 09/21/02 - Nighttown, Rotterdam (from www.saucerlike.com)
- "Piece Thurstonesque" Movie
- "Altar Boy Church Basement" Movie
- "Marieke Thunderbunny " Movie
LINKS:
Thurston Moore unofficial site
Sonic Youth official site
Saucerlike - fan site

Also:
Brian Jonestown Massacre, Lilys - Bowery Presents $20
Charles Waters Double Duo – Tonic 8PM $10
Eyal Maoz's Edom – Tonic 10PM $10
Freddie Hubbard & the New Jazz Composers Octet – Iridium $30
Gary Lucas' Gods and Monsters w/Jerry Harrison – Bowery poetry Club $15
Happy Hour, Spirit Hawk, Going Nowhere, Jesse Cole – Knitting Factory Old Office $8
Hunchback, United States, Bossy - Goodbye Blue Monday (toddpnyc.com)
Irving, Group Sounds, Beirut, Boulevard - Knitting Factory Main Space $8
Matt and Kim – Bicycle Film Fest Benefit – Union Pool
McCoy Tyner Trio with Savion Glover - Blue Note $30/$45
Pinback, Pleaseeasaur - Irving Plaza $16/$18
'Power Indies Showcase': Rahj & Manjit & Adeline – S.O.B.'s $10/$12
Warsaw Village Band & Luminescent Orchestrii – Makor $18/$22
Go to NYNT's Live Archive here.
© New York Night Train , 2006