For this week's New York Night Train show list go here. For information about the venues go here. Click the names in bold to learn more about the artists.
Saturday May 20, 2006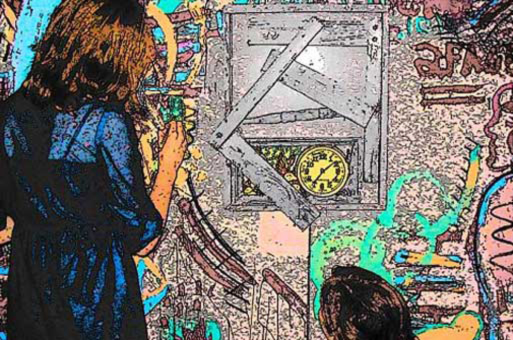 Glasshouse's last stand with Clockcleaner, Awesome Color, Imaginary Icons, Spider Bags - Glass House $7
Though tonight has some amazing shows, whose standouts include the return of Japan's psych-jammers, Acid Mother's Temple, whose NYNT preview you can find here, , the MC5's Wayne Kramer, and Electric Kulintang. The Social Registry bill at the Knitting Factory includes New York Night Train local favorites Psychic Ills (find our preview here and review of their brilliant new record, Dins, here), Telepathe (find our preview here), and Electroputas, who provide an excellent no wavy downtown revision of Kraut rock. Last and perhaps most recommended is the Daptone Records Super Soul Revue's celebration of funky siren Sharon Jones fiftieth birthday with the Dap-Kings, Binky Griptite, The Budos Band, Naomi Davis and the Gospel Queens, and The Mighty Imperials - the closest you'll get to an authentic 1960s soul review in this day and age.
But tonight's pick will have to got to the bill at the Glass House – particularly because this is the last of two years worth of amazing shows that have taken place at this gallery/performance space that's been so vital to New York's underground music scene. After this the venue's two partners will go their separate ways. But they don't go gentle into their goodnight. Awesome Color, who's preview you can find here, will be shaking the place to the ground Detroit rock'n'roll style. And, whatever's left Philadelphia's super harsh and heavy Clockcleaner should make sure to turn into post-apocolyptic rubble. And, if by chance there is anything left, the gallery says you can go home with it. Goodbye Glass House – to say it's been fun would be an understatement.
MEDIA
CLOCK CLEANER
- "In the Shit" MP3
- "Missing Dick " MP3
- "Hands are for Holding" MP3

AWESOME COLOR
- MP3s on their Myspace page
ALSO:
Acid Mother's Temple, The Antarcticans - Northsix $15
Crashin' In Presents: Professor Murder, John Crave, Mixel Pixel, Alan Astor – Cake Shop $8
Daptone Records Super Soul Revue Presents 50 Years of Sharon Jones with the Dap-Kings, Binky Griptite, The Budos Band, Naomi Davis and the Gospel Queens, The Mighty Imperials – Irving Plaza $20
Gal Costa – Blue Note
Green Milk From The Planet Orange, Arboretum, Racoo-oo-oon, Woods - Kingsland Tavern $7
Gutbucket – Tonic MIDNIGHT $5
Jesse Malin, Danny Sage, Don Dilego - Mercury Lounge $15
Mark Dresser – The Stone $10
Momus, Fashion Flesh, Toog - Tonic $12
Professor Murder, John Crave, Mixel Pixel, Alan Astor - Cake Shop $8
Psychic Ills, Telepathe, Electroputas, Visuza - Knitting Factory $10/$12
Silvia Magda with Katende Band and Viva Brazil Dancers – S.O.B.'s $20
Electric Kulintang (Susie Ibarra & Roberto Rodriguez), Jelloslave (Michelle Kinney & Jacqueline Ferrier Ultan) – Location One $15
The Woggles, The A-Bones, Muck & The Mires - Magnetic Field $8
Wayne Kramer – Joe's Pub $15
Zakir Hussain's Masters of Percussion – Town Hall $25
Go to NYNT's Live Archive here
© New York Night Train , 2005