Charles Manson
Sings
ESP Disc 2006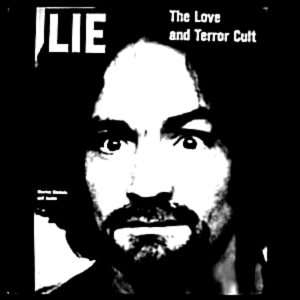 Why listen to the music of Charlie Manson?
1) If you don't think that it would be interesting to see what it would be like to look inside the head of one of America's more fascinating cult leaders, you're either a liar or have no curiosity. It's the closest thing to sitting with the family and getting the serenade/sermon.
2) These songs are some serious rock'n'roll history – everyone from the Beach Boys to Devo plagiarized it, Crispin Glover, Guns and Roses, The Lemonheads, and Marilyn Manson (his namesake) covered it, and, best of all, the Beach Boys weren't even being ironic. Furthermore there're Manson's fascinating associations with members of the California music scene.
3) While it ain't no White Album, it's better than 69% of the freak folk out there – and beat everybody to the punch.
4) The more distinctive songs would be unusual even if he weren't Charles Manson – but why pretend - he is and that makes it much more interesting.
5) The artist royalties don't go to Manson, but to the family of victim Wojciech Frykowski.
Sings is comprised of the 1968 session that became Lie: The Love and The Terror Cult and the lesser-known September 11, 1967 session that became All the Way Alive. You often hear that the Tate-LaBianca murders were intended for a producer that rejected these demos – and everyone who rejected this received a death threat. So maybe if someone would've given Chucky a chance maybe this wouldn't have happened – plus I have no doubt that he would have made an excellent rock star. While he's not the best lyricist, Manson was a decent songwriter and conceptualist with a pretty cool voice. Most of the fare here is middle of the road gentle folk pop. But my personal favorite moments are the percussive beatnicky oddball numbers like "Mechanical Man" and "Ego" and the eerie Family vocals of "Never Say Never to Always." "Look at Your Game Girl," "Home is Where You're Happy," and "Cease to Exist" are solid straightforward hits. "Eyes of a Dreamer" could've been Tyrannosaurus Rex or Devendra. "Arkansas" could be a live post-Cale Velvet Underground outtake with a different singer. And, finally, "People Say I'm No Good," "Don't Do Anything Illegal," and "Big Iron Door" offer a glimpse into Manson's mind about issues directly relevant to the most infamous part of his story.
Also, if you wonder what Manson and his followers are up to these days, check out Manson Direct, a site which promises, "The most accurate and current information available about Charles Manson."
MEDIA:
Mechanical Man MP3
© New York Night Train , 2006