NIKKI SUDDEN (1956 - 2006)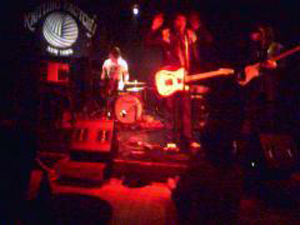 Nikki Sudden with Alan Merrill and Danny Hole at his last show - - March 25, 2006 - Knitting Factory - cel-phone photo by Zumi

March 26, 2006: A couple of very reliable sources have confirmed that Nikki Sudden died in his sleep early this morning. I'm sure that the cause of death and other details will come out in the last few days.
In an article about Robert Johnson, Nikki Sudden asked, "What's really so romantic about death? It's this forever dumb mythology that spreads itself like some stupid, corrupt courtesan, all over rock'n'roll-all over the tombstones of our inheritance… Be it Cleopatra or Brian Jones, Johnny Thunders or Edie Sedgwick, Jimi Hendrix or Marie Antoinette-they probably didn't want it. "Woke up this morning and found myself dead…" Yeah, how romantic. How dumb. But this is what we're brought up to believe - and the trouble is, maybe it's inevitable." (1986)
And with Sudden it definitely seemed inevitable, and, anyone who witnessed him performing or saw him out in the last few years could tell you that it wasn't romantic. But I doubt he was ready to go. Long after I gave up on his music, he recorded what might have been his best solo record, Treasure Island, only a couple of years ago. He had another one in the bag, an autobiography almost complete (and Nikki was actually a heck of a writer), and a bunch of dates in Europe starting later this week. No, he wasn't ready to go and his death isn't romantic. But when someone dies, they leave the rest of us here to sort it out. And you and I have some work to do.
Last night a friend of mine sent me a digital picture of Nikki Sudden's backed by Alan Merrill and Danny Hole at the Knitting Factory (see top of page - it mistakenly included Evan Dando who only opened the show). As the picture came through on my phone, a member of Vietnam told me a bit about their last minute show opening for Sudden at the Fat Baby two nights before – how they backed him up on a song and how he looked near-death.
This led me to admit that I wanted to see the show on Thursday but was a bit under the weather and wasn't quite sure I had the energy to sit through Sudden once again. Then I recalled how, perhaps five years ago or more, I arranged to meet a friend of mine to attend a Sudden show at a yuppie basement club in the West Village. We were both Sudden fans, particularly Swell Maps and early stuff, but had neither seen him do his thing live. After having to sit through a god-awful Warlock's set in this sterile hell of a place with a waitress that wouldn't stop pressuring us for expensive drinks and patrons stuffing their faces with calamari or whatever while they watched the bands, a very wasted Sudden took the stage in one of those flamboyant Johnny Thunders suits – I think it may have even had dragons on it. His rhythm section came off fairly stiff and soul-less and off – or maybe it just seemed that way because they had to keep up with Sudden. He was completely sloppy, but not in the way you would have hoped – just in a jaded, rhythmically challenged way. His solos rarely hit the mark and his vocals were uninspired as he stumbled through a collection of hits and obscurities. I think the best part of the show was just watching him hold court in a chair in the hallway – the guy had plenty of personality off-stage – you tell me where it went. In retrospect, you don't really need to do anything when you have a suit that cool. Anyway, I split before the end of the set and never looked back. Though I can see why I didn't make the effort, now I am of course guilt ridden – intentionally missing Nikki Sudden's three last performances (the Cake Shop threw a last minute one as well – does anyone know if the author of "Cake Shop" played the song at their).
Though nobody was surprised that Sudden cashed his chips before hitting fifty, it's still as unexpected as the early death of Johnny Thunders (which shocked Sudden), Keith Richards (not yet), or Bill Burroughs (who beat the odds). So I'm actually saddened and taken aback and feel that it's my duty to say a couple of words not only about Sudden as a whole. And, despite his low moments, for less than fifty years on this planet, he achieved more than a dozen average people stuck together. Thanks to a bunch of re-releases the last few years, including a bunch that were impossible to find when I was a youngster, a number of young folks have become devotees. Through this process Nikki and Secretly Canadian have already put most of the puzzle together for us so well that there's not really much work to do. You can find tons of biographical information elsewhere and more will come in the next few days so I'll skip that part and cut to the conclusion.
Nicky Sudden is hands-down one of the most important figures in the underground rock subculture and this would have remained true had he died twenty years ago as well. The slim but strong output of The Swell Maps remains some of the only music you can go back to again year after year and be moved by its power, soul, creativity, variation, and overall vision – and I'd take either of their two albums over Gang of Four's Entertainment any day of the week. The more straightforward Jacobites were the exact opposite in the sense that they were traditional – but once again, soulful and well conceived. And starting with Waiting on Egypt, Sudden released a whole slew of solo albums that wavered between greatness and mediocrity.
In terms of post-punk artists, the Swell Maps are in the pantheon with The Fall, Wire, The Pop Group, PiL, and only a few others. But his place in the more straightforward rock genre that he explored for most of the last twenty-five years is less certain. He never could sing like Marc Bolan. He couldn't play guitar like Johnny Thunders – though he followed closely in the fashion, hair, and stance departments. He didn't write songs anywhere near as profound as Dylan's. But when you put it all together: the vocals, the guitar, the songs, the personality, the overall style (which counts most in r'nr) - his take on Stonesy rock was completely unique. I personally think his place in the blues-rock lineage deserves to be secured. His overall body of work is significant by any measurement - particularly when stacking the solo stuff on top of the Swell Maps, the Jacobites, and his many collaborations. His legacy is sealed in Europe and hopefully will grow stateside. If you ask me I'll bet that the future will produce all kinds of rabid devotees - which tends to happen when hard-luck guys like Nikki Sudden are no longer there to reap the benefits.
Here's to you Nikki. Sorry I missed your last stand. I hope you found Treasure Island.
© New York Night Train , 2006