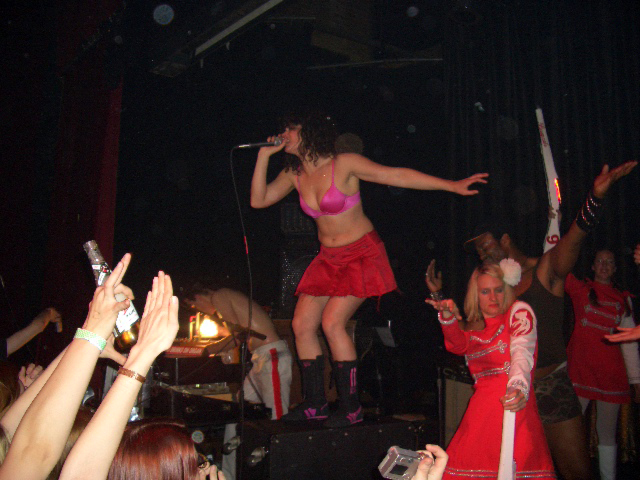 Peaches joins Quintron, Ms. Pussycat, and a cast of 9th Ward celebrities
Day 3 - Monday, February 27, 2006

Peaches on the Ballcony

Quintron's gear

Quintron and Ms Pussycat

Peaches w/Quintron, Ms Pussycat, and Gun Girls

God of Thunder grand finale

Late-night cacophony
Tearing down, returning, and putting away equipment, I missed a good portion of a hilarious and artful burlesque-informed dramatization of a cockfight. Next,
Peaches
set up by merely plugging in her iPod – which just goes to show that you can still travel light and carry a mighty wallup. The audience ate out of the palm of her hand from the start and she in turn fed off of their energy - climbing to the top of the balcony, out in the audience, back on the stage. If you looked away for a minute you found her in an entirely different corner of the room. She's still the consummate entertainer – engaging banter, stage moves, distinctive vocals, and witty lyrics. The high point of the set was her parody of Black Eyed Pea's "My Humps," which was scatologically bastardized into "My Dumps." Blowfly, Princess Superstar, and Weird Al combined have nothing on her.
After Peaches cleared the stage, Quintron began setting up behind the curtain - which is a show in itself – and remarkably fast considering his vast array of equipment and lack of help. In addition to his organ, drumbuddy, mouthman, and other miscellaneous gadgetry, this time he added a second Leslie and a hi-hat to his assault. He was passing through two Leslies, a gigantic bass amp, and a little guitar amp – maybe even more amps and speakers. The minute he touched his organ (no pun intended) the room trembled with a warm, vibrant, and full-bodied tone - unlike anything you will ever encounter. He and Miss Pussycat played a compact but lively set for two folks who should have been comatose by this point in the weekend. The Gun Girls got onstage and did some drills. Some male dancers came out. And, for the finale, Peaches re-emerged and for a house-shaking "God of Thunder" with Quintron, Pussycat, and the gang. The stage was full by this point and everyone was getting down – Peaches busting out some serious rock moves, the Gun Girls playing air guitar, and Quintron somehow finding a final burst of delirious energy. The perfect cap on a perfect Mardi Gras, right?
Wrong.
We tore everything down and were cooling out in the front bar-room when some sort of rag-tag guerilla gothic industrial parody of a marching band emerged from the street and took the room hostage with some of the most jarring ear-torture I've ever witnessed. They were armed with metal-tub drums, megaphones, boat horns (or something similar sounding), and other implements of painful cacophony. Even my noise-loving ears couldn't take it – particularly as it was already so late that the hangover was beginning to set in ahead of time. But still ya gotta love them cuddly kids. I told Quintron that he should watch his back as this raw, disorganized, and harmless new generation of marching band could eventually displace his as the representative mobile parade unit of freaky New Orleans. Of course I was joking but...
Good music, bad music, locals, road bands, lots of crowded shows, new legitimacy for old standbys, new aspirants… Despite the effects of the damage and the mass exodus on the New Orleans Ninth Ward underground music community, many of the key players remain and plan on sticking around. A number of newcomers are willing to get into the fold as well. Additionally, the extended international underground music community is not only interested in the 9th's musical activities, but also happy to come in, hang out, and play. While I recognize that Mardi Gras is more an exception than the rule, the state of the New Orleans Ninth Ward's underground scene is not only alive, but also reinvigorated. Laissez les bon temps rouler… forever.
Go Back to NYNT Mardi Gras Feb 27
View all NYNT Mardi Gras images | Go to NYNT Mardi Gras home
All photos by NYNT unless noted...
© New York Night Train , 2006