For this week's New York Night Train show list go here. For information about the venues go here. Click the names in bold to learn more about the artists.
Live Recommendations for Thursday, March 9, 2006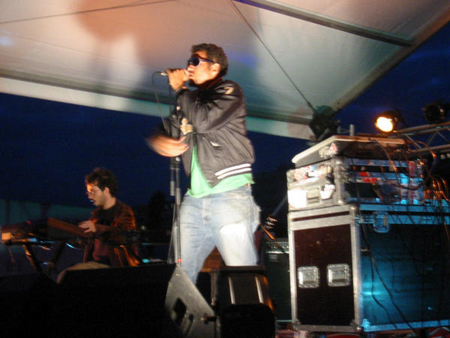 Mike Ladd
Mike Ladd - The Kitchen $8/$10
If I had to pick only one show tonight, it'd be a great big toss-up but I'd have to go with Mike Ladd at the Kitchen, not only because he's one of the most talented and creative emcees out there with a consistantly fresh take on music, but also because Ladd, once a regular fixture in the local scene, lives in Paris and doesn't make it this way frequently enough. If you want to know more about why I love this man's music so much, go here for my review of his latest, Father Divine.
Shout outs:
Blood on the Wall, The Boggs, Elvis Perkins in Dearland, Illinois - Mercury Lounge $10: Blood on the Wall and The Boggs are two NYNT favorites that you find recommended here frequently. Blood on the Wall is guaranteed to play their catchy well-crafted songs with utter abandon and The Boggs, are now electrified and will surprise old fans with their newfound danceable artful sound and all-star lineup (David Lloyd from Cause For Applause, Sam Jayne from Love As Laughter, Matt Scultz from Enon, and Karen Sharky from Boy$/ A-OK USA).
The Rogers Sisters, Celebration - Northsix $10/$12: The Rogers Sisters are totally polishing their act. But the real cause for celebration is their labelmates, Celebration, who, for those not in the know, feature Katrina Ford and Sean Antanaitis from Lovelife. They've widened their scope since their last band and made a refreshing self-titled debut recoded here in Brooklyn by my hero Chris Codey.
Akimbo, Genghis Tron, USAISAMONSTER, Hot Cross- curated by Michelle Panache - Tommy's Tavern: You can't really beat the artful pandemonium of upstate's mighty Genghis Tron and Load's USAISAMONSTER has been consistently peeling paint for some time (despite a light track on their latest, Wohaw.
Jon Langford - Galapagos free: With his own label, The Mekons, Waco Brothers, and a million other projects, this towering figure in a number of underground music threads is always more than worthwhile.
Also recommended:

Barbez - Tonic 10:30pm $10
evidence: stephan moore & scott smallwood, & amnon wolman – ISSUE Project Room
Group Sounds - Mo Pitkins $6
John King, George Lewis and Jenny Lin – The Stone $10
Only Son, Bullies, Cholo, Hearth - Cake Shop $6
The Sutras plus Mary Lorson – Tonic 8pm $8
Viking Moses, Baskettreee, Spider, Mikey Die - Glasshouse Gallery

Go to NYNT's Live Archive here.