MIKE LADD
Father Divine
ROIR 2005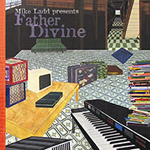 I was initially introduced to Mike Ladd's music via a roommate who was a member of the noise rock band The Cows. He came home one day and was excited about meeting an Ladd - "hip hop guys in the Bronx are sampling my old band!" He was awestruck. While a number of 1990s underground rockers closely followed hip hop, no one was really sure at this point if the relationship was reciprocal. So he gave me a tip to go to Brownies (I think with my roommate's band The Heroine Sheiks) - and there I witnessed Ladd live for the first time - converting a relatively sparse crowd of heavy music fans to his own indie-savvy brand of hip-hop.
Fast-forward seven years or so and of course there are now infinite quantities of hip-hoppers sampling underground rock forms and vice versa - to the extent where the borders are much less defined than ever. After a two year hiatus from recording, Ladd, with Father Divine, proves once again that he's at the top of this heap. As the best hip-hop grabs from dozens of unique sources, it's really never been that unusual for the genre's musicians to integrate rock's more adventurous underground into their mix. Since the 1970s, when legendary figures like Afrika Bambaata were turning uptown on to Germany's Kraftwerk, Japan's Yellow Magic Orchestra, and other forward thinking rock and experimental acts from around the globe, and through the point when the uptowners went downtown to the Mudd Club, Negril, and the Roxy to participate in and help define the early 1980s ar art and club scenes, and the obvious example of early Def Jam artists, hip-hop at its best has always employed a variety of sonic sources, broken the rules, and looked for new ingredients – and in this sense, Mike Ladd is a traditionalist. It's also equally fair to argue that Ladd is an eclectic contemporary underground musician who integrates hip-hop forms into his creations. He's clearly one of those artists who struggles to find his own geography - independent of genre. In terms of indie rock lineage, he is certainly the first who could be placed in the hip hop genre who sings about tender memories of listening to Jonathan Richman with his lover - a tattooed Cambridge girl circa 1985 - who, like Ladd, is "a whole lot of punk and a little hip hop."
Ladd's lyrics, which cover everything from futurism, media, sex, social issues, politics, dancing, love(?!!!), and Father Major Jealous Divine of the Universal Peace Mission Movement, are as wide-ranging as his music. Father Divine is steeped in some really fine dub coupled with really fat vintage synth riffs and some serious hard early-eighties style electro-funk grooves - plus some really mind-bending sounds for extra seasoning. Now recording with the equally inclusive ROIR label, Ladd claims that "the grimy, haphazardly compressed sound" of cassettes, like the legendary Bad Brains ROIR Sessions, on his mind when he made Father Divine. Whatever he did, this thing sounds amazing – and vey analogue.
Ladd's primary collaborator here is Gymkhana – a Spanish/French producer/electronic musician who recorded most of Father Divine at his personal studio. The varied all-star assembly of musicians from around the globe who definitely deserve mention here as well: Jaleel Bunton (of an equally eclectic group of projects – TV on Radio, Reverend Vince Anderson, Pleasure Unit), High Priest (of Antipop Consortium, another eclectico who also played with DJ Spooky, Matthew Shipp, etc.), Apollo Heights drummer Damali Young, virtuosic Indian-American jazz pianist Vijay Iyer (Roscoe Mitchell's Note Factory, Burnt Sugar, Amiri Baraka's Blue Ark, Cecil Taylor, Dead Prez, and dozens of others), Israeli electronic composer Raz Mesinai, or Badawi (Marc Ribot, John Zorn, Elliott Sharp, etc.), and French keyboardist David Sztanke (Dr Israel, Antibalas, etc.).
Ladd is still moving ahead. This whole thing is strange, beautiful, funky, artful, intelligent, and totally refreshing. Now, as it's almost safely 2006, I definitely would like to take this opportunity to throw Father Divine in the hat for the best hip-hop record of 2005. Take that Kayne.
© New York Night Train , 2005