BLACK LIPS
Let It Bloom
In the Red 2005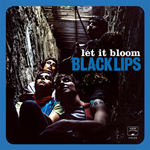 After witnessing Black Lips in a midtown basement when they first came around, I wasn't so sure they were worth all the hype. The band possessed undeniable drunken energy, got naked, and their couple of dozen Atlanta expat friends sang along and went completely nuts. But musically I didn't really see why they were more special than any garage punk band from the local pub. But that was must've been three years ago…
Since I got my hands on a copy of the Black Lips' lastest offering, Let It Bloom, I recognize that I should have listened to my friend Nick Ray when he tried to drag me to one of their shows a couple of months back. These Atlanta young fellas are unreal, I am a one-hundred-percent convert, and this is my feel-good album of the moment.
Todd Killings of Horizontal Action magazine may be right on when calls the Lips a "teetering amalgamation of the Swell Maps covering The Swinging Medallions" - but much more on the Medallion than Maps side. Most of the stuff on Let It Bloom wouldn't have stuck out too much in 1965 or 1966 if it weren't for the sort of punk sensibility and humor that pervades. In addition to the Medallions and their fellow frat-rockers, you definitely could imagine early-Love, early-Stones, Troggs, and all kinds of bands across the Atlantic white post-blues pre-psychedelic pop spectrum. The oddball, "Can't Dance," might even make you think of The Dead Boys.
A number of elements set this band apart from the pack – solid songwriting, incredible musicianship and taste, and a great sense of humor. You can tell these guys had a ball making this and it's infectious. Plus there's nary a dinger among the sixteen tracks. There are a few dirgey tambourine driven jangly midtempo numbers, a few straight-ahead rockers, and even a couple of psychedelic tracks – and it's all very pop. At once goofy and dark – the stuff is not unlike its back cover - which pictures big cartoon flowers on top of a somber illustration of a man hanging from the gallows. Is he pushing up daisies? If this's what the Lips mean by "flower punk," I'll take it.
Finally, Let It Bloom sounds amazing with its reverb-drenched classic analogue feel. It is dedicated to the late Greg Shaw of Bomp fame. Black Lips were one of Shaw's last discoveries – and, considering their success with fusion of elements represented in their music, their former mentor would be very very proud.
Pick it up and get the feeling.
© New York Night Train , 2005