Black Time
Blackout
In the Red 2005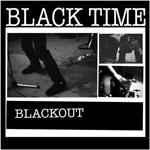 The limited-addition vinyl debut of English garage rockers Black Time was recently picked up by In the Red. And though the band apparently has aversion to CD's, they've reluctantly granted ITR permission to put it out on disc.
While their press release claims a list of influences that range from Suicide to King Tubby to Rites of Spring (?), that's all difficult to locate. On Blackout, Black Time plays filthy abrasive garage punk in the tradition of the earlier-career offerings by other bands on their list like Pussy Galore, Crime, and Guitar Wolf.
While the first ten songs stick primarily to the general template in terms of structure, progressions, beats, and vocal phrasing, what distinguishes this LP is that the vocals are recorded so hot that it could peel paint, the feedback is overwhelming, and they play totally methed out. If you think that, because you lived through the early nineties garage revival that you've heard it all before - and way too often, I might remind you that few bands did it right. And by this I mean loose, frantic, screaming, and noisier-than-all-hell.
The last fourth of the album, where we see the band moving into less familiar territory and taking more chances, is the highlight of the affair. "Mass Production of Corpses" will remind you of a couple of the better Fall songs. "White Heat Returned," an homage to White Light/White Heat, is driven by a distorted "Sister Ray" organ and, like "The Gift," is marked by a spoken narrative. In no way is it a ripoff and is my favorite song of the bunch. Second on my list is the finale – an unrelenting car wreck entitled "Safe in Heaven Dread." The propulsive beat, feedback and shouting here leaves them with nowhere else to go as it sounds like they probably smashed everything. A found voice on a radio over piano tinkles concludes the album as it fades into the changing of stations.
Black Time apparently have a new one on the way and I hope they've moved towards the more original and chaotic direction found towards the end of Blackout. A painful treat.
© New York Night Train , 2005