For this week's New York Night Train show list go here. For information about the venues go here. Click the names in bold to learn more about the artists.
Live Recommendations for Wednesday, March 29, 2006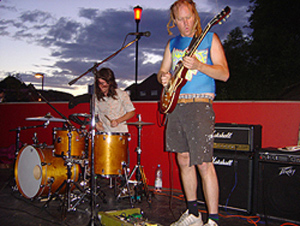 USAISAMONSTER

USAISAMONSTER, Privacy, Adrian Orange & The Future Flag of Sky Thanksgiving Band, Awesome Color, 'a john henry memorial' / The Watery Graves of Portland – Glass House $6 (Todd P)
I always want an excuse to make it to the Glass House! USAISAMONSTER play and tour so much that folks like me take them for granted sometimes – which is a shame because every day they become more and more masterful. As their songs become weirder and more complex, they oddly become more listenable as well – it's usually the other way around. They've come from being one of the more accomplished and distinctive of the dozens (or hundreds?) of duos that sounded like children of Lightning Bolt a few years ago to, of late, creating their own game that matches the Mothers of Invention in intricate eclectic composition – but utterly unique. This isn't to say that their records always didn't have impressive odd-ball tracks, but sometimes live, with the volume and lousy P.A.'s and all, it'd come off like the kind of spastic mush that remains the wet dream that some RISD alum just can't let go of. So if you've only seen 'em live, you should do yourself a favor and surprise yourself with their recorded masterpiece thusfar - last year's Wohaw – and if you haven't checked 'em out for a while, tonight's as good a night as any. Leading up to USAIAM is a confusing bill of Portland artists, all on Marriage Records – which I don't know if I have time to try to untangle for you. But Adrian Orange, who's best known for his prolific Thanksgiving project, will play with Marriage artist Privacy and his own The Future Flag of Sky Thanksgiving band at the same time - but, if you get there early, you can see him playing drums in the instrumental band Watery Graves of Portland who sometimes back singer/songwriter john henry memorial. Please correct me if I got it wrong. Just to mix things up a bit more, the Ecstatic Peace power trio Awesome Color, who sound kind of like Blue Cheer and Sabbath jamming in Detroit, plays between the more somber Portland bands. Todd P's bill as a whole comes off like one four-hour-long quiet/loud fast/slow stop/start song – maybe by USAISAMONSTER?

Th' Faith Healers, What Made Milwaukee Famous, The Oranges Band - Mercury Lounge $12/$14
I already did my job writing up Th' Faith Healers earlier this week - highly recommended, you can find more about that here.
Also recommended:
Behold... the Arctopus, Time of Orchids, Seductive Sprigs - Northsix $10
For Living Lovers - Brandon Ross (guitars, banjo, vocal) Stomu Takeishi (acoustic bass guitar) – The Stone $10
Miho Hatori - Tonic 8PM $10
Skerik's New York/New Orleans Trio – Tonic 10PM

Go to NYNT's Live Archive here.