For this week's New York Night Train show list go here. For information about the venues go here. Click the names in bold to learn more about the artists.
Live Recommendations for Thursday, March 30, 2006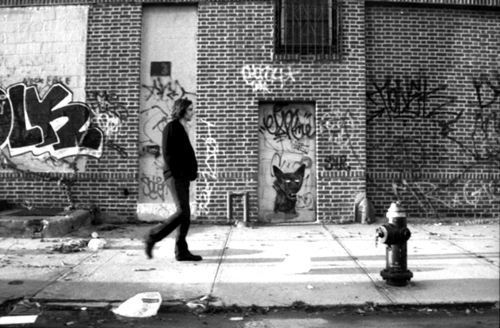 Bill Whitten of le GRAND MAL

Grand Mal Record Release also featuring Vietnam, Damon McMahon, The Silent League, Twilight - Tonic $10
Of course it'd be humble to recommend one of the other shows tonight, but in all fairness, if I'd have to pick one, it'd be the one that I'm promoting at Tonic - and I wouldn't have put my name on it if I didn't think it was the best thing going. The comeback of Grand Mal with their new album Love Is the Best Con In Town is a big deal to me. Bill Whitten's deadpan New Yorky vocals are more tuneful, sophisticated, and real than ever. The arrangements are more ornamental than before yet still super-elegant. Whitten still knows how to turn a phrase, but the lyrics here are a bit more straightforward and less pessemistic than in the past. And, most importantly, the thing's loaded with hits - super-solid well-constructed hits. Of interest tonight is the fact that Whitten's upheld his tradition of finding the best New York musicians - the new lineup, who are members of Mason Dixon, the Silent League, Stars Like Fleas, and Great Lakes, are super-accomplished and soulful - and really smoke live. And, while we're on the subject of bandmembers, all of the other acts on this bill feature former Grand Mal alumni: Vietnam, who's fronted by formal Grand Mal bassist Michael William, are, as you probably already know, one of the coolest and best bands in our fine little burg. Charming and talented Damon McMahon, who used to be the leader of Inouk, recently went solo and has a record coming out on Astralwerks. The Silent League, led by former Grand Mal/Mercury Rev keyboardisy Justin Russo, is a chamber pop band who're on their way into your head with beautiful and intricate compositions. Finally, Twilight, featuring former Grand Mal bassist/keyboardist, yours truly, who re filling in for my other band Cause for Applause, is a new project also including Nick Ray of Viva l'American Death Ray Music and 68 Comeback, Jay Hough of GoGoGo Airheart, and a vintage drum machine - look for a name change as soon as tomorrow. So get ther early and stay a while...
Also recommended:
American Watercolor Movement, Houston McCoy, Dear Electric, Mitsuko, Pony Pants - Cake Shop $7
Audrey Chen, Nate Wooley – ISSUE Project Room $10
Dragons of Zynth, the Jewish, 'a john henry memorial', The Watery Graves of Portland, Privacy, Adrian Orange & The Future Flag of Sky Thanksgiving Band, Flying – Asterisk Art Project (Todd P)
I Love You But I've Chosen Darkness, Hail Social, Blacklist - Mercury Lounge $10/$12
Moe! Staiano's Moe!kestra! Jean Cook, Rebecca Moore, Meredith Yayanos (violin), Karen Waltuch, Pinky Weitzman (viola) George Cremaschi (contrabass) Jason Berry (bass clarinet) Matthew Ostrowski (electronics) Ron Anderson, Steve Silverstein (guitar) Tony Maimone (bass) Shahzad Ismaily (drums) Jon Brumit (percussion) Andrea Parkins (piano) – The Stone $10
Triple Creme, Pants Avengers, The Vibration, The Shondes – Northsix

Go to NYNT's Live Archive here.