For this week's New York Night Train show list go here. For information about the venues go here. Click the names in bold to learn more about the artists.
Friday May 19, 2006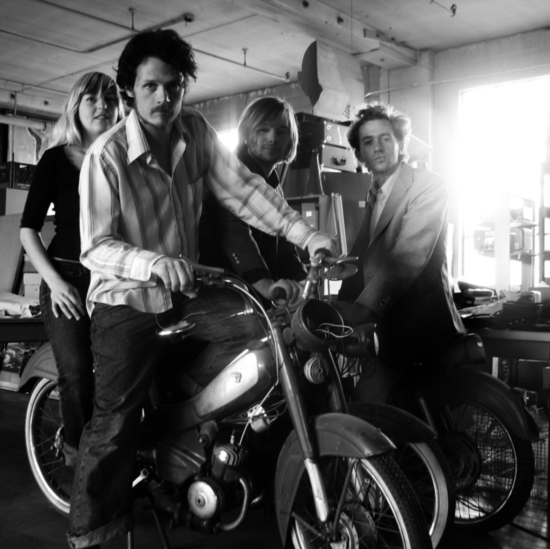 Old Time Relijun, Green Milk From The Planet Orange, Good Morning - Cake Shop $6 (toddpnyc.com)
This is the one K band that I always imagined had a lot of the same records that I do. Old Time Relijun's been going at it for a long time, so long that it's unfortunate that you forget that they're still at it – 'cause they're better than ever. By the time I first heard them in the late 1990s they were a veteran band falling deep into Beefheart's mid-1960s Mirror Man blues, somewhere between that and Screamin' Jay Hawkins' primal "Alligator Wine" swampyness. The Beefheart comparison isn't only from the hurky-jerky percussive alien blues fragments that define the music of most of his imitators, but for the way Arrington de Dionyso captures his accent, phrasing, and other vocal nuances. Don't get me wrong – I never mind Beefheart-informed music because no one can ever do it exactly like the man and the template always encourages experimentation. Now, many years later, I regret that I haven't been checking in as much because, somewhere between 2004's Lost Light, particularly on tracks like "The Rising Water, the Blinding Light" and "Tigers in the Temple," and last year's 2012, OTR's seems to have located their own take on no wave, and I don't mean that crap that people mislabel "no wave" all the time, but the real New York McCoy circa 1979 – and I'm talkin' 'bout the James Brown-informed corner of that genre – meaning of course that OTR's been taking a James Chance and channeling their fragmentation further into the funk. And it sounds like it's where they were meant to be all along. Green Milk From The Planet Orange will also be there jamming on their acid-tinged Japanese prog-rock opuses.
Lubricated Goat, Int'l Shades, Against the Wall, Klimpter - CBGB $10
Australian underground rock legend Stu Spasm's Lubricated Goat (go here for NYNT's on Lubricated Goat) is back in action once again and performing at CBGB with a few more NYC underground rock legends in the Int'l Shades (go here for NYNT on Int'l Shades). Also not to be missed and a rare excuse to go to CB's.
Also, check the list, Tom Verlaine, Brazillian Diva Gal Costa, another traditional Joey Ramone Birthday Bash, the super-heavy Thrones with Growing, and a lot of other amazing shows are happening tonight.
MEDIA
OLD TIME RELIJUN
- "Wolves and Wolverines" video (2005)
- "Chemical Factory" MP3 (2005)
- "Tigers in the Temple" MP3 (2004)
- "Vampire Sushi" MP3 (2001)
- "Earthquake" MP3 (2003)
- "Casino" MP3 (2000)

GREEN MILK FROM THE PLANET ORANGE
- "Concrete City Breakdown" MP3
- "OMGS" MP3
- "Demagog" MP3
- "A Day in Planet Orange" MP3
- "When Every Color Turns Black" MP3
- "Sweet 5AM" MP3
- "U-Boat" MP3
- "Butterfly" MP3
- "In Space, Far Away From This Planet" MP3
ALSO:
Anthony Coleman – ISSUE Project Room $10
Gal Costa – Blue Note
Kanda Bongo Man - S.O.B.'s $22/$25
KEXP Live Broadcast: The Essex Green, Elvis Perkins, Dr. Dog, Land of Talk - Gigantic Studios FREE
Miguel Mendez, Arbouretum - Tonic MIDNIGHT $5
Mountain High, The Plants – Tommy's Tavern
Murphy's Law - Northsix $12
Night of 1000 Stevies – Knitting Factory Main Space
Remembrances of Derek: Karen Brookman and friends – The Stone 10PM $10
Robert Musso – The Stone 8PM $10
Sex Mob – Tonic 8PM, 10PM $12
The Joey Ramone Birthday Bash - Irving Plaza $25
The March Hare, Danica Newell, Meadows - Glass House $6
Thrones, Growing, First Nation - 102 Ingraham St $10 (toddpnyc.com)
Tom Verlaine, Megan Reilly - Bowery Ballroom $25
Go to NYNT's Live Archive here.
© New York Night Train , 2006