NYNT NEWS
The latest on shows, releases, events, and lotsa whatever...

02/03/06
Lou Reed – new photo book and exhibit


Lou Reed's having an opening for his New York photography book Saturday at the Gallery at Hermès. The show'll go on until the 25th.
More: Pitchfork
02/03/06
Paul Wall sells customized tooth ornaments


Rapper Paul Wall is now selling sets of customized grillz. While he offers styles "Ballin For Life" and "Baller On The Rise," my personal favorite's gotta be "Baller On A Budget." Check out his store.
More: Stereogum
02/03/06
New Poll: music buyers dissatisfied
A new poll says American adults think CDs are too pricey and music is getting worse. A real shocker…
More: Rolling Stone

02/03/06
Anti-Sony lawyer sings


Glyn Hotz, who's taking Sony to court over rootkit infested CDs gives an interview.
More: Tinfoil
02/03/06
SXSW - new technology


New digital technologies debut at SXSW
More: Digital Music News


02/03/06
Louise Scruggs R.I.P.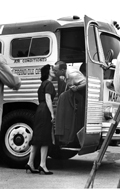 Louise Scruggs, wife and manager of Earl Scruggs passed away yesterday at 78
More: Yahoo


02/03/06
Mussolini's pianist son passes away


Romano Mussolini, last surviving child of the dictator and jazz pianist who played with Dizzie Gillespie, Duke Ellington and Chet Baker, died yesterday.
More: BBC
02/03/06
Bay City Roller off hook


Bay City Rollers vocalist Les McKeown was found not guilty of conspiring to supply coke.
More: BBC


© New York Night Train , 2006