NYNT NEWS
The latest on shows, releases, events, and lotsa whatever...
Busta Rhymes security guard shot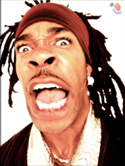 Busta Rhymes' security guard and longtime entourage member Israel Ramirez was shot during the filming of new Williamsburg resident's new video for "Tourch It (Remix)"
More: All Hip Hop
Take Action! Brings punx to capitol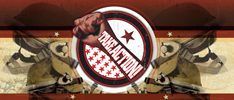 Hot Topic brings you social consciousness and now it's going all the way to the US Capitol Building on March 1.
More: Take Action Tour
Fugees enter the future


Fugees are releasing three new songs only to be available through Verizon mobile. Think of the implications – major artists making music only available on the phone.
More: USA Today

M-1 of Dead Prez denounces Black History Month


M-1, one of the better rappers from one of the better crews, Dead Prez, made a public statement against Black History month – deeming it "offensive to all people of African descent." M-1 also leads theBrooklyn Chapter of the National Peoples Democratic Uhuru Movement and the Malcolm X Grassroots Movement. The man does have a point – but I see the other side as well.
More: All Hip Hop
Rapper Cool C. to be executed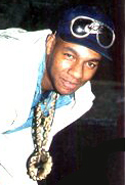 Speaking of Dead Prez, Philadelphia judge stayed the execution Cool C, AKA, Christopher Roney – who was convicted of a 1996 "Cop Shot".
More: KYW
Rolling Stones censored


Dammit Janet! "Start Me Up" and "Rough Justice" were censored out of The Rolling Sto
es Super Bowl half time set.
More: Reuters
Neil Young/Devo collaboration free MP3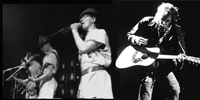 Suckapants found a Neil Young/Devo collaboration from WFMU's Beware Of The Blog. I'm linking you there 'cause I figure pants needs the hits more than WFMU's amazing blog.
More: Suckapants
Gun Club's Terry Graham interview


Terry Graham, drummer of The Bags, The Gun Club, and quite a few other bands has an online interview just posted on Razorcake
More: Razorcake


Lightning Bolt new side project Wizardzz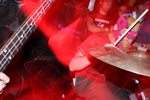 Brian Gibson of Lightning Bolt's has new project with Rich Porter of Bug Sized Mind named Wizardzz - "a creamsicle journey through car commercial jangltastic sound forgery. Rocking...yes… If the Sponge Bob generation ever knew what that bitter almond taste was in their food, they would gladly stop drinking from the spout of diluted Bush tainted death juice. Simple stories expanded into hallucinogenic realities not seen since your last trip into the dark chambers of the devolutionary isolation tank."
More: Pitchfork
Marvin Gaye biopic


A new Marvin Gay biopic, focusing on the What's Going On of the final years of Mr. Let's Get It On's life is set for filming.
More: NME

Bob Dylan recording new LP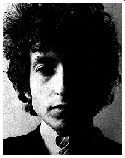 Bob Dylan is finally recording the followup to 2001's Love & Theft.
More: NME
Michael Jackson may get Pope commission


It looks like Michael Jackson might get the official commission to put former Pope John Paul's prayers to music. If you ask me Michael Jackson and the Catholic church have a lot in common.
More: Reuters
© New York Night Train , 2006