JACK MARTIN - KID CONGO'S RIGHT HAND MAN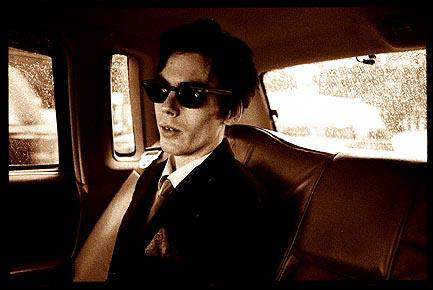 Photo by Nick Zinner
While Jack Martin's list of musical accomplishments are vast, he is perhaps best known as Kid Congo Powers' main collaborator. The current musical director and guitarist in Kid Congo and the Pink Monkey Birds, Jack had been in different projects with the guitar legend for a decade now – including Bottleneck Drag, Congo Norvell, and Knoxville Girls. He's also played with the Honeymoon Killers, The Workdogs, Little Porkchop, Blackstrap Molasses Family, Stuart Lupton, and even spent "half-a-cigarette in the Yeah Yeah Yeahs.". Jack is currently the leader of the Dimestore Dance Band and plays with Cause for Applause. He's also in a new yet-to-be-named band with Ron Ward, Bob Bert, and Patrick Holmes. New York Night Train would like to take a moment to look at an important figure not only in the art, career, and life of Kid Congo Powers, but in underground music - garage and otherwise.
Jack Martin is not what you would call a household name - but anyone who's been around New York's musical sub-terrain knows that Martin is one of the best guitarists going. Giving Kid a run for his money for snazziest-dresser – as well as in the humor and charm departments - Jack is hard to forget after even the briefest of acquaintance. And then you hear his blurry digits flying all over a guitar neck and he is unforgettable. His style is informed by a mix of country, blues, and jazz across a number of generations – and filtered through more contemporary influences like no wave, noise, surf, glam, New York punk, and of course, life experience. I wouldn't know where to start, but the press and friends tend to compare his style to downtown legends like Mark Ribot or Robert Quine – and Jack certainly doesn't mind.
Jack possesses an unusual history for a guitarist of his style and caliber. First off, he didn't start playing guitar until the age of eighteen. He was however the singer in a high school band that performed "Chinese Rocks," "God Save the Queen," and "Clash City Rockers." When still living in his home town (the land of the two poets, Patterson, NJ), his initial inspirations for picking up the instrument so late in life were Television, The Velvet Underground, and Cliff Gallup (Gene Vincent and the Blue Caps). Jack plopped down a hundred bucks and got a Fender Jaguar in return (that tells you how long ago that was). He sat at home and tried to play along with David Bowie and Hank Williams. As his mother was into country, he learned to flat-pick before he learned bar-chords. Also by the age of eighteen, Jack's infatuation with Bob Dylan had led him to Woody Guthrie which led him to the Carter Family which ended up opening the door to all of those Smithsonian and Harry Smith anthologies. By the time Jack Martin made it to New York he was obsessed with old time and downhome blues not New York noise:
I moved to NYC, and funnily enough completely was uninterested in modern music - including a lot of the bands that contained members that I'd play with later. I didn't own any Bad Seeds records, or Cramps records. I wish I would have paid attention to The Gun Club - because it was such an individual take on the music I was obsessing over at the time.
Despite Jack's personal taste, his first New York band, The Crippled and The Burnout was "typical late 80's Sonic Youth damaged scuzz rock." The band had made a singles with another member of noise guitar royalty, the masterful Norman Westburg of Swans, Foetus, Heroine Sheiks, etc. The band's singer thought Martin's style was too "country" and sent him to Westburg's house to learn how to play the songs "properly." Martin remembers, "Even with the alternate tunings and Norman's octave chords my style kept creeping in… But Norman was impressed by my odd little embellishments to his parts and told me not to lose whatever it was that I was doing. It was pretty significant for me, real encouraging, and the first time I realized how important an individual voice was on any instrument."
Even when Jack still lacked his current vocabulary or dexterity, he was already a stylist. This was further accentuated by his learning the slide. Jack then joined the Dust Devils as their bassist ("on the sheer virtue that I owned one") – a downtown band that also featured Mark Ibold of Pavement. Then a project called Methadrone with a drummer named Jon Dale ("terrible as it's name"). And, as Mr. Martin had other interests on the side, he took spent a little time on music's sidelines.
This all changed when he began hanging out at Funhouse Studios with Jerry Teel, then of The Honeymoon Killers. Jerry got Jack on some of the recordings that wound up on their final release on Sympathy for the Record Industry – Sing Sing. Then Jerry, Jack, and Fellow Honeymoon Killer Lisa Wells got together and formed the blueprint for Knoxville Girls, Little Porkchop – who also put a record out with Sympathy.
Jack Martin's Account of Meeting Kid Congo Powers - 1996
The first time I had met Kid Congo Powers was at a dinner party at our mutual friend Ron Ward's Brooklyn apartment. Much excitement had been made about the fact that Mr. Powers had moved to New York and had been seen out and about. Never really having had been exposed to the Bad Seeds, or the Gun Club at the right times (I missed out on a lot of modern music by going through a serious Delta blues/old-timey country and jazz adolescence), and, I'm ashamed to admit, not being too big on The Cramps having had discovered most of the rockabilly records they were aping also at a very young age (I've since reconsidered - The Cramps probably are the only modern band to get the rockabilly aesthetic right), I didn't join the mad fervor to introduce myself to Kid – or pose that question Kid seemed to be asked upon introduction to downtown hangers out and hangers on, "Are you still in touch with Nick Cave?!". However, after our drunken dinner party where we shared information on vets, made each other laugh, and realized we lived blocks from each other, we became fast friends. Kid later told me he was impressed by the cowboy boots peeking out from the trousers of the wrinkled suit I had been wearing for weeks. He said it reminded him of Jeffrey. We were inseparable after that - me dragging Kid back into some less than healthy behaviors. We started playing music together in a unit called the Bottleneck Drag - with Ron Ward on drums and Kid on maracas and, later, occasional guitar. It was a very New York no wave mess of a band with rehearsals that lasted for hours or until the libations ran out. Later Kid enlisted me in the latter day Congo Norvell – occasionally as the second guitarist in the full band and then in an acoustic trio of sally, Kid and me. He has always been an inspiration and a real believer in my talents - even when I wasn't doing so well and couldn't quite believe in myself or get up off the floor for that matter. Of course we wound up as the twin gargoyles on either side of the stage in the Knoxville Girls.
1998 To the Present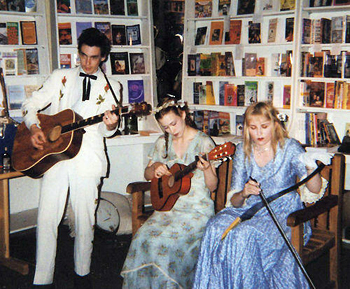 The Estranged Blackstrap Molasses Family
While still in Little Pork Chop and Congo Norvell, Jack also began playing as Blackstrap Jack Shellac along with cartoonist and ex-Caroliner banjoist Dame Darcy and his girlfriend Pandora Pumpkinhead (RIP) in The Estranged Blackstrap Molasses Family Traveling Medicine Show (better known as Blackstrap Molasses family). They cut the quirky record, The Elixir That'll Fix 'er for Transparency. This is around I moved to New York and met Jack. He and Pandora lived literally on an old broken-down boat like pirates. Around 1998/1999 he moved to New Orleans with Blackstrap.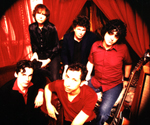 Jack didn't last long in the Crescent City and was back once again in New York and recording with Jerry Teel again quicker then you can say "The Estranged Blackstrap Molasses Family Traveling Medicine Show." This time the project included Teel's Chrome Cranks bandmate, Bob Bert - of Sonic Youth and Pussy Galore fame. Soon Kid Congo Powers and organist Barry London were roped in for what was to become the last garage rock supergroup of the Twentieth Century, Knoxville Girls. Jack and the girls were busy for a bout three years, making records and touring the world to great acclaim. You can read Kid's take on the Gals here or my overview or their discography here. Around late 2001, Knoxville Girls threw in the towel due to the good ol' fashioned artistic differences.
By the end of Knoxville Girls, Jack also began playing and recording DreamWorks demos with Stuart Lupton from the recently-disbanded Jonathan Fire*Eater. He had that half-a-cigarette in an early incarnation of The Yeah Yeah Yeahs but was too busy at the time to jump on that train. He is however is credited with co-writing "Mystery Girl" on their first EP. He performed with Lower East Side Legends The Workdogs. He co-founded a band called Bright and Desperate Sparks with Barry London and Zack, the sexiest bar-back in New York (also from Candy Darlings and Fresh Kills).
Also during this insanely busy period Jack embarked upon three projects that continue to this day – Kid Congo and the Pink Monkey Birds, Cause For Applause, and his own band, Dimestore Dance Band (also known as Dimestore Ensemble). This time Kid got Jack involved in the songwriting process as well as the arrangements. Jack is still bemused, "Somehow he trusts me as 'musical director'?" The two have been busy the last few months – completing their first album and doing a European tour. You will find loads of information on the Pink Monkey Birds if you start here.
Cause for Applause started around 2002 when David Lloyd from The Boggs asked Jack to play on his studio side-project. The band, then also featuring Boy's Life drummer John Anderson, quickly put out a highly acclaimed record on Say Hey and did all kinds of high profile gigs with the likes of The Yeah Yeah Yeahs, The Rapture, and The Kills before Lloyd had a medical emergency and had to move back to Texas. Cause for Applause is one of those highly physical and unpredictable bands with short songs that contain a multitude of dynamics and parts without being particularly proggy. David Lloyd is a talented wild man who grooves hard and tough on bass and emits an urgent sort of Birthday Party-era Nick Cave warble. This is the band in which Jack does the almost-Robert Quine-y licks. They were one of my favorite bands before they broke up so I was particularly stoked when they got back together last spring and asked me to join. Heroine Sheiks/Kelly Township drummer John Fell came out of retirement to get in on it as well. Look for a new record sometime later in the year.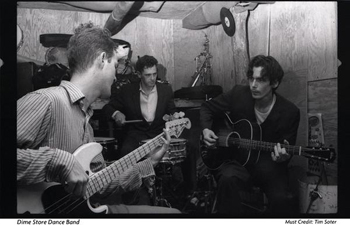 After all of the projects Jack Martin has ever agreed to do, he finally has his own - The Dimestore Dance Band. With a muscular rhythm section comprised of Jude Webre (best known for his work with underground hip-hoppers MF Doom and Aesop Rock) and the legendary Scott Jarvis (of The Workdogs, Mo Tucker, Half Japanese, Julee Cruise, and Tav Falco and the Panther Burns – I think he also has Beastie Boys production credit stashed away somewhere). The trio, which also expands into an ensemble, possesses an unusual hybrid instrumental sound that could very well be called a contemporary cinemetic take on small-combo jazz. While they certainly have some Django and other gypsies in 'em, there's also lots of late 1920s Chicago style, 1930s Kansas City style, Charlie Christian swing-isms, bop-isms, free jazz segments. This is offset by a well-informed international aesthetic, an improvisatory soundtrack vibe, and of course, some good old Lower East Side art fractured blues noise thrown in for good measure. Lurking around the edges of the avant-Jazz and rock worlds, Dimestore Dance Band is one of the coolest things going about now. They recorded a beautiful and exciting full-length that New York Night Train will try to help them release this spring.
So look out for Jack Martin. In Kid's blunt words, "He is a motherfucker. "I have a feeling you'll be hearing a lot more about Jack soon. And for now - you know where to find him…
Listen to free MP3s by Dimestore Dance Ensemble, Kid Congo and the Pink Monkey Birds, Cause for Applause, Knoxville Girls and more at NYNT's sounds page.
Kid Congo Powers Pt 2 home page | Kid Congo Powers Oral History table of contents
New York Night Train home page | New York Night Train table of contents
© New York Night Train , 2005