A Biographical Introduction to Kid Congo Powers Pt. 2
(Go to Pt. 1)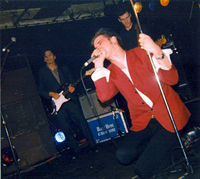 After a whirlwind of back-to-back recording and touring with The Cramps, The Gun Club, and The Legendary Stardust Cowboy, and The Fur Bible, Kid found himself in London in 1986 - with no musical work for the first time since he and Jeffrey Lee Pierce formed The Gun Club in 1979. He was not aware that he was about to fall into one of the greatest opportunities of his career. At a houseboat party Mick Harvey mentioned that bassist Barry Adamson wouldn't be joining Nick Cave and the Bad Seeds on their Your Funeral, My Trial tour. Harvey was thinking of switching over to Adamson's role. Did Kid want to fill in on the tour as Blixa Bargeld's guitar foil? Kid knew Blixa from his early Neubauten tours in the United States, and Mick and Nick from their Birthday Party days, and now was also friends with Nick's wife Anita Lane. Additionally, he was a big fan of the Bad Seeds. It didn't take long for Kid to take the band up on their offer.
Kid packed his bags, abandoned a city that he learned to loathe, and embarked upon a new life in Berlin in 1986. Kid's first two jobs as a Bad Seed were the recording of a revamped version of "From Her to Eternity" for Wim Wenders' classic film Wings of Desire (Der Himmel über Berlin) and an appearance with the band during the movie's climax. The band then commenced their worldwide Your Funeral, My Trial tour – recording bits and pieces of Tender Prey during the breaks.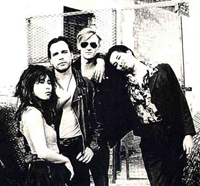 In 1987 Kid received a phone call from Jeffrey Lee Pierce asking if he wanted to reunite The Gun Club. Thought Kid's plate was fairly full with the Bad Seeds, he nonetheless accepted. Within months Jeffrey Lee Pierce, and new members Romi Mori and Nick Sanderson were in Hansa Studio in Berlin recording with the Cocteau Twins' Robin Guthrie behind the board. The resulting album, Mother Juno, was an overwhelming success – catapulting the band to a new level of popularity and resulting in a couple of sold-out tours.
In 1988 Kid Congo Powers became even busier with a number of other projects. During this point he began singing as a guest vocalist with Die Haut - the accomplished instrumental German band featuring Bad Seeds drummer Thomas Wydler. He layed down lead vocals on two songs for 1988's Headless Body In Topless Bar. He also played guitar on Hard for You, the EP from new Australian band The Butcher Shop – with his friends Tex Perkins and Spencer Jones from The Beasts of Bourbon. Kid rounded the year off acting in The Fall's "Hit the North" video.
1988 also saw the release of Tender Prey to great fanfare. As the the Bad Seeds were touring the world once again, director Uli Schuppel brought a film crew along for the 1989 American leg - resulting in the 1991 documentary The Road to God Knows Where. Not long after the Tender Prey tour, Powers found himself moving to London with Nick Cave and Anita Lane. Like Cave, Kid had temporarily cleaned up his act – making his first serious effort at sobriety. There a stripped down incarnation of the Bad Seeds recorded a stirring version of "Helpless" for the excellent Caroline compilation, The Bridge: A Tribute to Neil Young.
While in London, Barry Adamson asked Kid to add some vocal tracks on his brilliant debut solo album Moss Side Story. In return, Kid asked Adamson to play on his first solo recording. In addition to Adamson, Powers recruited an impressive band featuring London friends like The Fall's Marcia Schofield, The Cocteau Twins' Robin Guthrie, and Colourbox's Steve Young (also of M/A/R/R/S – remember "Pump Up the Volume"?). The resulting product, a twelve-inch EP entitled In the Heat of the Night, was a fusion of rock and dance music with the inimitable vocals and guitar of Kid Congo Powers on top. The record was a critical and artistic success but a commercial failure – partly due to a strike in the Rough Trade warehouse that prevented its release until long after the reviews had come and gone and the video for "La Historia de Un Amour" was released.
Nick Cave had written a slew of new piano-based songs in the attic of their new home and, late in 1989, flew the rest of the band to Brazil to record them. The resulting record, The Good Son, was mixed as the Berlin wall was coming down. Not long after the album, Mick Harvey decided that he wanted to switch back to guitar - acoustic guitar. The Bad Seeds no longer required two experimental noise guitarists with their new more accessible sound. So Kid loaded up the truck and he moved to Beverly…
Actually, Kid had already moved back to Los Angeles for love in 1990. Plus, he was already thinking of starting his own band and continuing the solo work that he embarked upon a year earlier with In the Heat of the Night. Plans changed after a friend took him to see actress, singer, and songwriter Sally Norvell at a local jazz club. Kid was so taken by her performance that he immediately abandoned his plans to sing – he wanted to write songs and accompaniment for this striking voice. The two embarked upon a decade-long collaboration.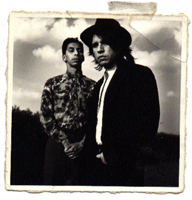 Kid was still a member of The Gun Club at this point. He took a trip overseas to record 1990's Pastoral Hide and Seek album and participated in the tours that followed. By this point he was less than enthusiastic about the direction of the band and Jeffrey Lee Pierce's personal downward spiral. Longtime drummer Nick Sanderson (also of Clock DVA fame) jumped ship and the band was going through a series of drummers. Just when Kid had decided to follow Sanderson's example, Pierce enlisted Fur Bible drummer Desperate, came up with a new interesting batch of songs unlike any others before, and they recorded the mini-LP Divinity (1991). The band toured extensively during this period – releasing a live record (entitled Ahmed's Wild Dream in Europe, and Live in Europe in America) and a compilation on XXX Records, In Exile - both in 1992. not long after this point, Kid had his fill of Gun Clubbing - quitting the band to devote more time to his project with Sally Norvell.
Kid and Sally decided to name their project simply Congo Norvell. The duo began playing small informal shows and eventually morphed into a band. Their first EP Lullabies was released in 1992 – featuring a song that became their greatest hit of sorts, staying with them for over a decade – "Lullaby."
Also in 1992 Die Haut asked Kid Congo Powers back to Germany to appear on their star-studded tenth anniversary album, Head On. In addition Debbie Harry, Alan Vega, Kim Gordon, Jeffrey Lee Pierce, and a number of other notables, Kid laid down some guest vocals. Both of Kid's numbers are duets. "Excited" is performed with Anita Lane and "Parts Unknown" with Lydia Lunch. Everyone had so much fun that a tour followed – this time featuring Lunch, Lane, Powers, Nick Cave, Blixa Bargeld, and Alex Hacke. Two Berlin shows were recorded – one for a live album and the other for a live video, both released in 1993 as Sweat.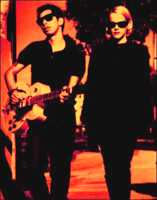 By 1994, as Congo Norvell was picking up momentum, they released their firstfull-length album, Music To Remember Him By, on the Priority Records subsidiary Basura!. The band toured extensively to support the album and recorded a live EP in San Francisco entitled Live in the Mission (1995). Things picked up to the point in which Priority, the label of NWA, Easy E, Ice Cube, and number of other successful rappers, decided to begin releasing recordings by what were then ambiguously referred to as "alternative" bands. They picked up Congo Norvell and the two began working on what is often considered their masterpiece, 1996's The Dope, The Lies, The Vaseline. While Kid Congo Powers complains about "indie torture," nothing was to prepare him for big label assault. Priority decided to dissolve their "alternative" division shortly after the promos for The Dope, The Lies, The Vaseline had been sent out. Congo Norvell tried everything in their power, including offers to buy the recordings, to obtain this piece of sweat and blood they'd been laboring over for the last year. The label refused to relinquish the masters. Due to a fairly bad contract, Priority is still sitting on the record to this day – therefore The Dope, The Lies, The Vaseline has had a fairly active existence in bootleg-land.
Also during this period, Jeffrey Lee Pierce got deported from the United Kingdom, split with Romi Mori, and wound up once again at his mother's house in Los Angeles. In 1995 Mike Martt of Tex and the Horseheads organized a one-off pseudo-Gun Club reunion show at the Viper Room with a new version of the band that featured Martt, Wayne Kramer's rhythm section, and one Kid Congo Powers. The show was a success and, while Kid was not prepared to commit to reforming the band, mostly because Pierce was a mess, this lineup played a few more gigs before splitting town.
Deciding they'd had enough of Los Angeles and everything that went along with it (AKA Priority Records), Kid Congo Powers, once again, loaded up the truck - and this time moved to NYC with Sally Norvell. The duo immediately fell in with the local music scene, developed a bit of a following and signed up with one of the best indie labels of the time, Jetset.
During this period Kid began communicating with a newly clean Jeffrey Lee Pierce - then stuck at his father's house in Utah. Kid had agreed to get the band going again and was in the process of putting a new lineup together when he heard the heartbreaking news that his lifetime musical companion had passed away.
The next Congo Norvell album, Abnormals Anonymous, begins with a slow somber version of Pierce's "She's Like Heroin to Me" and includes an original dedicated to Kid's recently departed friend, "Body and Soul." Despite the success of the album, Sally Norvell was now a single working mother and unable to devote as much time to the band or the road. Congo Norvell slowly petered out.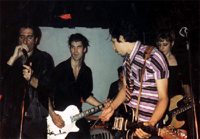 At this point Kid once again began devoting time to side projects, collaborations, and guest appearances. He played in a short-lived band with Speedball Baby's Ron Ward and Honeymoon Killers' Jack Martin called Bottleneck Drag. He began touring as a percussionist with DC's post-Marxist gospel superstars Make-Up and appeared in their movie Blue is Beautiful (1998). He found his way onto Jonathan Fire*Eater's final album Wolf Songs For Lambs again on percussion. He produced the debut LP of a young band named The Factory Press, Smoky Ends Of A Burnt Out Day. The group soon reconfigured as a three-piece and to this day are known as Calla. His friendship with American Music Club's Mark Eitzel resulted not only in Eitzel's five tracks on Abonormals Anonymous but also Kid's guitar work on Eitzel's Caught In A Trap And I Can't Back Out 'Cause I Love You Too Much, Baby (1998). He showed up on Botanica's debut LP Malediction (1999) and became an on-and-off member of the band. Kid also joined Michael Gira's new ten-piece ensemble Angels of Light, appearing on their live Tonic Benefit CD (1999). Finally, he played guitar on the Vanity Set's ornate self-titled debut – which was not released until 2000.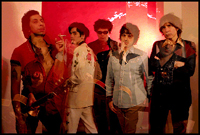 One of these informal side-projects, Knoxville Girls, featuring Martin, Barry London, Honeymoon Killers' leader Jerry Teel, and Bob Bert of Pussy Galore/Sonic Youth fame, became Kid's new fulltime band after the underground hysteria induced by their self-titled debut album. The band crisscrossed the United States and Europe a number of times and remained together for three very busy years. In the Woodshed (2000) is an excellent document of their live show. They also appeared on New Coat of Paint - Songs of Tom Waits. Disagreements over the direction of the band led to a breakup not long after the release of 2001's In a Paper Suit.
Towards the end of Knoxville Girls, Kid continued to record and play with a number of other projects. He assembled his first live solo band - Kid Congo and the Pink Monkey Birds. He produced and played guitar on Philadelphia indie singer/songwriter Chet Delcampo critically acclaimed Fountain CD (2000). He played guitar on another Mark Eitzel success, Invisible Man (2001), Angels of Light's masterpiece How I Loved You (2001), and, finally, German electronic musician Khan's final Matador LP, No Comprendo (2001) - quite a prestigious trio.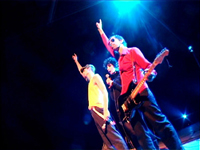 Kid went on the road with Khan to support No Comprendo and quickly became an equal partner in the act - before long the duo was touring and recording as Kid and Khan. In addition to collaborating with Twin Peaks' diva Julee Cruise with Kid and Khan, Kid played for a spell in her backing band. Kid and Khan recorded a number of tracks in Mexico City in 2002 that became the bulk of the duo's 2005 debut LP Bad English and their dance EP Washing Machine. The collaborations between Kid and Khan and Julee Cruise continue to this day.
Not long after he debuted Kid Congo and the Pink Monkey Birds , Kid began penning and recording a number of new songs on his own. "Power," which appears on Botanica's European release With All Seven Fingers, and "Hang the Moon" were recorded with the prolific musicians Paul Wallfisch, Abby Travis, and Jim Sclavunos. These tracks are significant as they are the first to prove Powers' capabilities as a singer-songwriter. Kid collected these, along with others dating back to 1985's Fur Bible EP, as a career-spanning rarities collection emphasizing his singing and songwriting - Solo Cholo. But the compilation fell into limbo as the owner of the label that was to release it ended up going MIA and the label dissolved before Kid's eyes.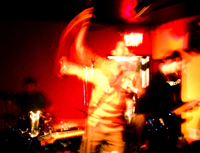 While Kid Congo and the Pink Monkey Birds initially primarily played the songs collected on Solo Cholo, they eventually began coming up with more material of their own - moving towards a glammy garage rock sound. The Monkey Birds, again with Kid's favorite guitarist Jack Martin, remained busy in spurts the last few years - between Kid's other obligations. In 2005 they finally completed their debut album Philosophy and Underwear for the prestigious German label Trans*Solar.
Some of the good news that emerged from this oral history project is that, in the process of preparing for the interview, Kid told New York Night Train about the problems with Solo Cholo and we got together in an effort to get the compilation to the public. Additionally, as of last week, New York Night Train has made a licensing agreement with Trans*Solar to ready Philosophy and Underwear for American release. So not only did this meeting produce Kid Congo Powers' illuminating oral history, but it has also resulted both in the availability of Kid's recordings in the United States and the genesis of a new label based on this web zine.
Kid Congo Powers Pt 2 home page | Kid Congo Powers Oral History table of contents
New York Night Train home page | New York Night Train table of contents
© New York Night Train , 2006