Art Ensemble of Chicago
Chi-Congo
Carson 1973/Fuel 2000 2005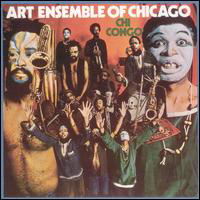 Fuel 2000 just reissued one of the best Art Ensemble of Chicago albums to emerge from their most prolific recording period – in which they cut fourteen LPs in Paris between1969 to 1971. Since the band, up to this point, had no regular drummer and the four members shared percussion duties, this record is significant because it is the first to feature drummer Famoudou Don Moye – who has stayed with the Art Ensemble up to the present day - adding an important and distinctive element to their sound.
While I could easily say that Chi-Congo is a fairly representative album - describing Art Ensemble's sound is no easy task. Their motto, "Great Black Music: Ancient To the Future" is a fairly on-the-mark. Like what Miles Davis was doing with Bitches Brew at the time, the ensemble was creating a unique fusion by going back to their perception of ancient Africa and also, even more so than Miles, looking to the future. Unlike Miles, Roscoe, Lester, and the gang didn't do it through electricity and, like Mingus or Rahsaan Roland Kirk, they very heavily borrowed from early jazz, blues, and minstrelsy in a theatrical and humorous fashion - which also served as a social and musical commentary. And, perhaps more than anyone on this side of Sun Ra, they dressed up. The ensemble's drag however is much more "afro" and less "futurism" than the Arkestra (check out the cover).
Chi-Congo is really under-rated. As usual, there's rich tribal percussion, unusual instrumentation, and lots of play with space and ambience. The opener, "Chi-Congo," is pure Africana driven by layers of beats syncopating in different frequencies all around your eardrums - and really shaking it to the ground. "Enlorfe, Pts. 1 & 2" swings a little bit wilder and freer. And my personal favorite, "Hipparippp" is avant-garde jazz at its most subtle, sonic, interesting, and mystical.
It ain't just for the jazzers. If you are a fan of extraordinary music that's really well-conceived and well-executed, The Art Ensemble of Chicago and Chi-Congo are for you.
© New York Night Train , 2005
.