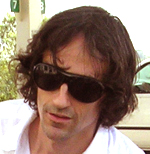 Rock Star Reviews
Grand Mal's Bill Whitten takes a look at the new definitive Richard Hell compilation on Rhino, the aptly-titled Spurts:
Richard Hell
Spurts-The Richard Hell Story
Rhino 2005

Richard Hell is an American hero. He's important on many levels. He co-founded Television and the Heartbreakers. He was a snappy dresser, favoring Brando-esque torn T-shirts and Italian sunglasses. His hair-style was of great significance; it influenced the Sex Pistols and the entire Punk movement. And he could toss off a nice lyric:
I was a child
who wanted a love that was wild
though tight as slow motion
but crazed with devotion
Today, he is a living reminder that New York City was once a sexy and lawless place. It was a sanctuary where exiles and outlaws gathered to reinvent themselves.

Which is what Hell did when he left Lexington, KY in the late '60's and moved to NYC to become a poet. Around 1973, after seeing the N.Y. Dolls at the Mercer St. Arts Center he made a detour into the realm of rock music. Influenced by the Dolls' raw, back to basics sound and fuck-you attitude, Hell and his friend Tom Verlaine figured they too could make their own music.
So they formed the Neon Boys, which consisted of Hell on bass and vocals, Verlaine on guitars/vocals and Billy Ficca on drums. "Spurts" includes 2 Neon Boys songs that had previously only been available on unofficial 'bootleg' type releases. There is an early version of "Love Comes in Spurts" which bears no resemblance to the final version of the song and "That's all I Know Right Now". These 2 songs are our first introduction to Hell's nascent persona; a synthesis of Dylan, Lou Reed, Huck Finn, Iggy, Burroughs and Edgar Allan Poe. The Neon Boys' tracks have all the hallmarks of a great bootleg: the songs are inspired, ambitious, ineptly played, and fast. The sound is raw and the players sound young and intoxicated. From the Neon Boys "Spurts" moves to the Heartbreakers and "Chinese Rocks", a song written primarily by Dee Dee Ramone but musically and lyrically embellished by Hell and Thunders. This version also had not been previously released except on bootlegs. The Heartbreakers with Hell are a dream band for any fan of New York Rock and Roll. The brawn of Johnny Thunders and the brain of Richard Hell. It's almost too much to contemplate. As for the recording of "Chinese Rocks" it sounds like it was mastered from a cassette, but why complain, it's an important artifact.
From the Heartbreakers, "Spurts" moves to the Voidoids mach 1 which features the classic lineup of Robert Quine, Ivan Julien and Marc Bell. The songs from the landmark "Blank Generation" are what Richard Hell will be remembered for and they sound timeless and pretty perfect although if it was up to me I would have used something from the 1976 Stiff Records EP, which was a highpoint I think... Perhaps, the six minute version of "(I Could Live with You) In Another World". The songs from "Destiny Street" which features the Voidoids mach 2 including Fred Maher on drums and Naux on guitar benefit from a new remix. The original release was deeply marred by '80's era technological shortcomings. Save for "the Kid with the Replaceable Head" which was and is note perfect punk rock:
Too young to drink and too smart to think
He's skinny as a snake and fast as a mink
From there "Spurts" hits the skids as it includes tracks from the ill-fated Dim Stars, which featured Thurston Moore, Steve Shelley, Don Fleming and Robert Quine. What went wrong that it could sound so turgid and lackluster? Hell's much noted nihilistic bent may have accounted for the slack and deathly tone of the album. It reminds me of everything that was bad about the sound of '90's rock. You would have thought that Thurston Moore would have been a good foil for Hell. Maybe it was an off day. Pussy Galore would have been a better match, perhaps. At least the T.Rex cover of "Rip Off" has some life to it..
But enough carping, the jewel of the album, in my opinion is the final track, "Blank Generation" as performed by Television live in 1975. I used to have a bootleg of this track on vinyl (it included some other great Television songs like "Double Exposure") and I always thought it was the penultimate version of the song. It features muscular guitar riffing and a more swaggering rock and roll feel than anything Television usually played. A real gem.
© New York Night Train , 2005
.