Various Artists
No New York
Lilith 2005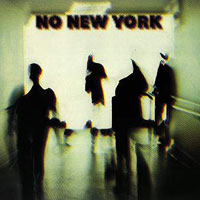 It's really impossible to imagine that this record was ever out of print. Despite the fact that it both documented the very obscure music of a narrow community of young people who had not yet released recordings, and featured mostly bands that vanished with unusually slim recorded legacies, No New York is one of the most influential records of the last thirty years.
No New York came about after Brian Eno witnessed a series of benefits at the Soho Artist's Space and made a deal with Island records to record a few of the best. While he surprisingly passed up on the sublime Theoretical Girls, he did wind up with four rather incestuous bands that were all very unique and far not only from the mainstream but also from the underground currents of their time. I say incestuous because Contortions frontman James Chance was an original member of Teenage Jesus and the Jerks, Teenage Jesus bassist Gordon Stevenson was formerly in DNA, DNA was named after a Mars song, and most of the members of the bands lived with one another in various combinations within a couple of Manhattan blocks. This is a testament to the way in which a few friends in informal musical combinations can permanently alter history.
"No wave" initially signified this specific group of bands and their extended family. Then it broadened to reflect music that merged art and punk sensibilities to create cacophonous and challenging music. Now the term is loosely applied to anything. The bands themselves were extremely distinct from one another and probably wouldn't be able to fit under any label or compilation other than one that grouped them according to what they were not. These contrarians' reaction to the punk/new wave status quo greatly contributed to, and in some cases created, the sounds that we know today as noise rock, skronk, and even the ultra-unfashionable post-punk. These strains not only helped influence subcultural music not only around Europe, Japan, and middle-America from the late 1970s on, but particularly within New York itself – from early 99 Records funky stuff, the "Knitting Factory sound," and, of course, New York noise, to the super self-conscious revival in Williamsburg in the early 2000s. What's particularly criminal about all of this is that, while Gang of Four is out there playing sold out shows to thousands and having bands donate remixes from their brief heyday, James Chance, who had a lot more talent in his pinkie, still plays dives.
No New York revs up with Chance's retardo free-jazz squeal on "Dish It Out" and moves on to three more Contortions' masterpieces: "Flip Your Face" (oh my!), "Jaded," and, the anthem, "I Can't Stand Myself." This stuff is so kinetic. Pat Place's open-tuned guitar is also completely scrapes and slides and funks. A really unreal beginning, which, along with the entirety of their sole album, Buy, make me question whether or not there was ever a better band.
Teenage Jesus and the Jerks, the roots of this movement, are also the most abrasive and challenging listen on the record. In the age of Merzbow or Wolf Eyes or Prurient, "Burning Rubber," "The Closet," "Red Alert," and "I Woke Up Dreaming" still hold up as some of the most jarring compositions in existence and totally pave the way for early Swans, Sonic Youth, Pussy Galore, and an entire generation. While Lydia Lunch's vocals and guitar seem like a more shrill and atonal combination than anything that came before, I'm so used to it that there's something very comforting in the discomfort.
Mars is the band that everyone tends to leave out when discussing the No Wave. This is perhaps because they had no James Chance or Arto Lindsay or Lydia Lunch - because they are every bit as worthy of inclusion as the others. While Mars is makes quite a racket, they also don't sound so harsh in retrospect - because so many later artists adapted to this type of sound. Their gloomy "Helen Fordsdale" is one of the best songs on the record and could've been recorded yesterday.
DNA, like The Contortions, had a great deal of impact on 1980s downtown jazz. Throughout the last four tracks, "Egomaniac's Kiss," "Lionel," "Not Moving," and "Size," Arto Lindsay proves early on that he has one of the most unusual sounds and approaches to the guitar of anyone out there. Robin Crutchfield's really cool ambient keyboard and drummer Ikue Mori's strange beats provide rough accompaniment - accentuating the lopsidedness and creating a highly textured, expressionistic mess of a canvas. Though I love this, I prefer some of this band's later stuff like A Taste of DNA, their posthumous Live at CBGB release, and the definitive comp from last year.
When all is said and done, all of the bands here, perhaps because they were intentionally not of their times, completely belong in ours. Kids are going to continue to discover this thing over and over again. And that's at least one item you can put on your list of stuff to be thankful for...
© New York Night Train , 2005