The Fiery Furnaces
Bitter Tea
Fat Possum 2006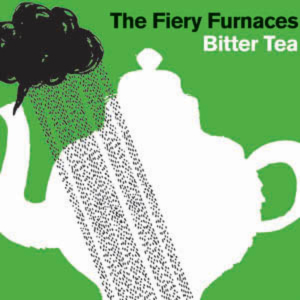 This is the fifth Fiery Furnaces LP in the last three years. While not exactly the promised pop album critics have been clamoring for, it's a bit more accessible than the brilliant and challenging, yet tender Rehearsing My Choir. Bitter Tea is a collection of catchy saloon piano-driven music hall songs - dissected, interspersed, and played backwards – thrown against asymmetrical beats - layered with synths, distorted guitars and library of effects all turned up beyond subtlety.
Not only do I love the way the Furnaces compose perfect pop songs and destroy them from within, but also how they incorporate such a wide expanse of source materials in doing so. This time there's a particular emphasis on exaggerated East Asian motifs (their 21st Century Mikado?).Check out the cartoonish pentatonic scales all over – particularly in "I'm in No Mood" or the title track for a reference. While more conservative critics that wet their pants over Sufjan Stevens give them trouble for their unorthodox approach to composition and editing, I again will come out and say that their collages take a lot of balls, make their albums much more interesting, and distinguish the Furnaces from the rest of the gang. Perhaps these Brechtian alienation techniques annoy people not only for their self-conscious antagonism towards the typical sincerity of the pop-song (or indie-pop, metal, punk, Broadway, etc. song), but also for how they conjure a room full of mirrors in which it is impossible to locate the authentic voices of the siblings - keeping them scrambled, ambiguous, and isolated within their own golem. If they cut the power, have a stranger knock at the door, and make a plane fly overhead each time Matt composes a tender melody and Eleanor comes close to betraying a feeling, if the cable goes out right before the climax of the melodrama every time, I'll continue to pat 'em on the back for sparing me the full-on emotion and leaving me the detached listener that I am. But don't get me wrong, I'm also not one to try diagram it and crack the puzzle because I have an idea that the siblings are as overwhelmed in their own labyrinth as the listener.
On the technical side, Bitter Tea is proof that Eleanor's voice has become one of the finest and most distinctive going - not to mention that her phrasing vocabulary has grown immensely. Matt's production is textured, rich, and huge - both with higher fidelity and more sonic experimentation than ever before.
The first five songs are the strongest – eclectic artpop suites that've become the Furnaces' mark of distinction. Next they break into "Waiting to Know You" which sounds kind of like the title track of Prince's Paisley Park if it was written by Mark Bolan, the backwards ethereal "The Vietnamese Telephone Ministry," the "Billy Jean"-riffed dance collage "Oh Sweet Woods," the ELP-like prog of "Borneo," the naked mid-period Ziggy Stardust folk rock of "Police Sweater Blood Vow," the quaking "Nevers," the keyboard pop of "Benton Harbor Blues," and Matt's Plastic Ono-y "Whistle Rhapsody." The collection concludes with reprises of "Benton Harbor Blues" and "Nevers." Though I love Bitter Tea even more for its excesses, the only thing that's too much for me is the length – the first "Benton Harbor Blues" would've been an ideal point of departure. But I guess no one's stopping you from getting off of this ride a little early. All and all, like their other records, you will find more and more treasure with repeated dives. Definitely recommended.
MEDIA:
Nevers MP3
© New York Night Train , 2006