The Liars
Drums Not Dead CD/DVD
Mute 2006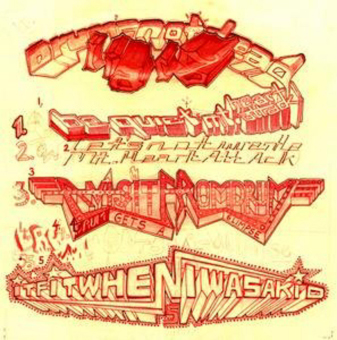 The Liars' divisive They Were Wrong So We Drowned was a deliberate departure from their original Pop Group-y sound. Jumping ship at the perfect time, They Were Wrong So We Drowned stripped everything down to its most skeletal atonal center. And everyone hated it so much that I loved it – not to mention my admiration for the way in which they gave the pigeonholers the finger – and at the time when that kind of thing was starting to make some serious cash… Whether or not it was your cup of meat – you had to respect 'em if only for the way they made the jaws of industry speculators, cheerleaders, and trendoids fall to the floor.
Drums Not Dead takes up where They Were Wrong So We Drowned left off - only these compositions are much more involved and well-conceived. Though it's a paced affair that builds slowly and modally around one-note centers, there's not a second of extra fat on this thing. Heavy tom thuds and ghosts of dissonant melodies float in and out. If I had to describe it, I'd say that this unique animal exists on a tribal plain somewhere between the Kraut and psych but never approaches either. Plus, superbly recorded, it sounds massive.
The thematic material is all based on binaries divided between "Drum" and "Mt. Heart Attack." You'll swear you heard a didgeridoo on "Be Quiet Mr. Heart Attack" – which hums around your ears like a swarm of bees. You also hear Gregorian chants echoing through the dark back hallways. But you definitely hear it during the percussive excitement of "Let's Not Wrestle Mt. Heart Attack." "A Visit from Drum" is also artfully tribal. Angus Andrew's falsetto is given Gregorian Beach Boy harmonic enhancement on "Drum Gets a Glimpse." The kinetic "I Fit In When I Was a Kid" is the only song that has nothing to do with "Drum" or "Mr. Heart Attack." "The Wrong Coat For You Mt. Heart Attack" and "The Other Side of Mt. Heart Attack" are beautiful meditations. "Hold You Drum" and "It's All Blooming Now Mt. Heart Attack" is a noisy ambient ones – "Hold You" has the percussion and "Blooming" has the drone. "Drum and the Uncomfortable Can" is the closest this one gets to the old Liars with its chaotic dance feedback – and it ain't even close… It's much more original.
I'll just spit it out, Drum's Not Dead is the best Liars album to date and one of the best releases of the year.
Finally, I'm not quite doing this package justice because these songs each appear four times - once in audio and three in video - a dozen songs and thirty-six videos. - all for standard CD price. They've really upped the ante for everybody else with this one. Let's see who raises 'em.
MEDIA:
Let's Not Wrestle Mt. Heart Attack Realmovie
A Visit From Drum Realmovie
Drum and the Uncomfortable Can Realmovie
© New York Night Train , 2006